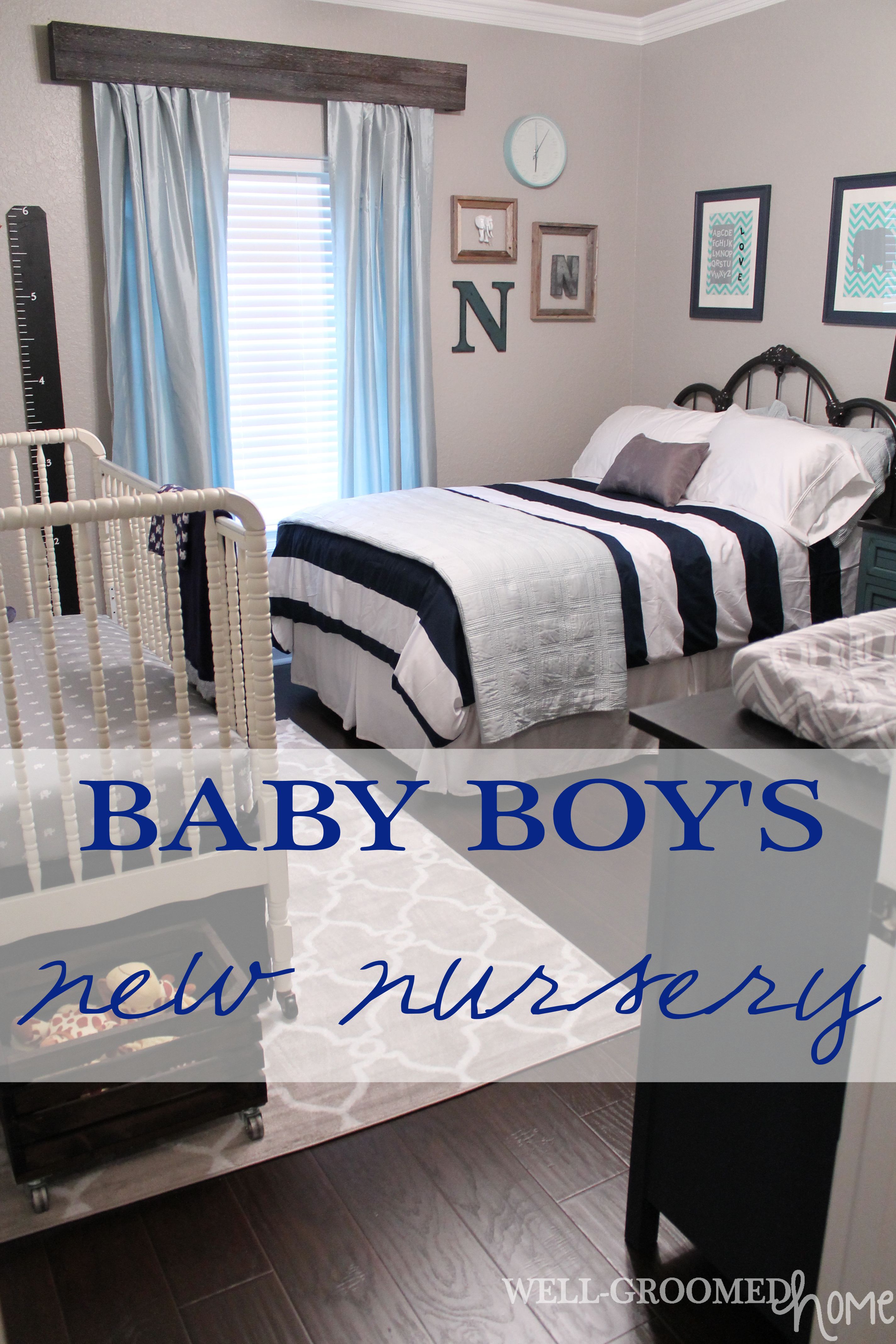 Our baby boy's nursery has finally come together after many months of painting, planning, and organizing.  We recently updated the floors too and I couldn't be happier with how everything has turned out.  (You can read about our experience with Select Surfaces flooring here.)  As a mom-to-be, having a well-groomed and organized nursery definitely eases some of the anxiety about our little one arriving.
I didn't really focus too much on a "theme", but I did want his nursery to coordinate with our home's overall decor and not feel too baby-ish.  As much as I like decorating and design, I don't want to have to re-do his nursery in a couple of years to make it more for a "big-boy", so I opted for things that will easily transition with him as he grows.
I used a few rustic touches along with some elephant decor that my mom couldn't resist buying. Apparently, my nursery had elephants so my mom was feeling sentimental I think. 🙂  This little elephant in the frame was actually a plastic toy elephant from Michael's that I cut in half and spray painted to mimic an Anthropologie style hook.
Moving around the room you can see the glider we purchased from Craigslist for $50 that I recovered.  Too see how I did that click here.
Since we plan on reading to our little one every night (at least) I wanted some bookshelves that would display all the colorful Dr. Seuss books.  Apparently, research states that having all the colorful covers visible gets them excited about reading.  I built these bookshelves for $0 from some scrap wood we had to mimic the Ikea spice racks that many people use. Ikea is great, but sometimes it's just too far away!
I also used a spare crate from our wedding cupcake display as another wall mounted shelf.  See the elephants?  Thanks, mom!
The tree slices are also recycled wedding decorations with a little chalkboard paint added to them.
I love the alphabet wall above his changing table.  I used frames I already had on hand and gave them a coat of paint to match the room.  The letters came from Hobby Lobby, Michael's, and JoAnn's.  The dresser is from Ikea and I also gave that some painting attention before organizing it.
Finally, the crib.  I found this on Craigslist too and it originally came from Land of Nod for well over $1000.00.  We only paid $250 for it. 🙂  As long as it's safe, I don't mind saving money!
I used some more wooden letters for his name and chose to incorporate all the colors on this feature wall…and of course, more elephants courtesy of his grandmother make an appearance on his bedding.
The mobile is a DIY project that's nature inspired.  My dad told me that when he gets big enough to stand I'll have to remove the butterflies and bees, because he will pull them off and eat them, lol, but as an infant it's just perfect.
The soothing sounds owl and elephant (again from grandmother) fit in just right.
In the closet I also added some built in shelves before we installed the new floor.  These really come in handy when organizing all the little things he has. The teal fabric bins and the navy striped bins are from Target. The elephant print baskets are from (you guessed it!) baby boy's grandmother, purchased from Marshall's. The labels on those baskets are another DIY project.  I decided to buy more bins than I currently need, just to have them on hand.
For hanging clothes, I DIY-ed some clothes dividers with washi tape for a pop of color.
Lastly, a small bin for clothes he outgrows will make storage and donation time much easier.
I hope you enjoyed seeing Nathaniel's new nursery.  We can't wait to have him here and start using it!