*This post may contain affiliate links, but all opinions are 100% mine*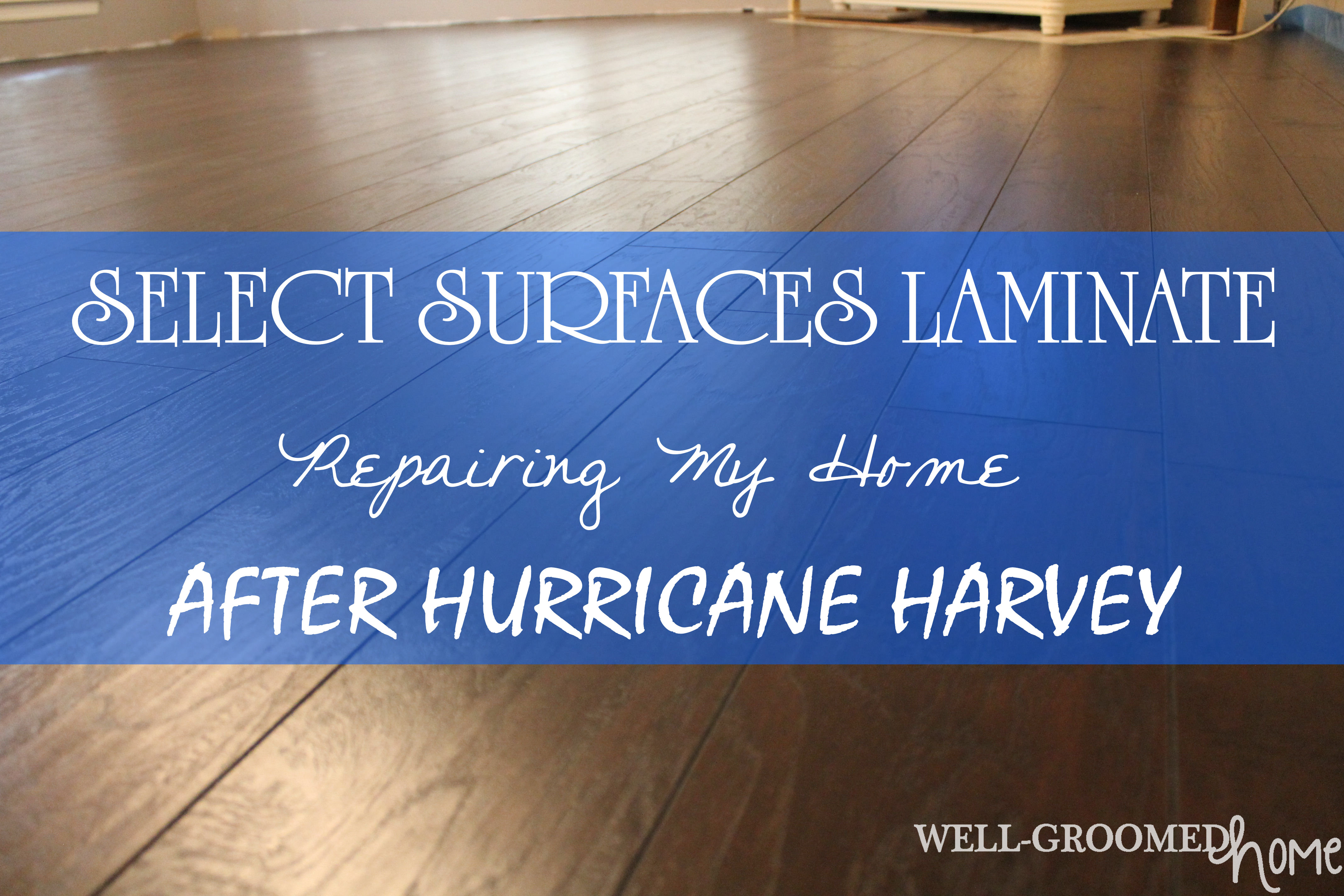 After Harvey came and pretty much destroyed our home I knew I would want to replace the hardwood floor with Select Surfaces Premium Laminate.  I am no stranger to this product and I absolutely love it!  Before the storm we had just finished installing Select Surfaces Brazilian Coffee in the remainder of our home and when Select Surfaces heard what happened to us during the hurricane they didn't hesitate to send replacement flooring to us for free!  I really do love these Canadians and their awesome company.  Their generosity reminds me how truly blessed my family has been through this process.  Ironic to think that a hurricane – a major disaster – could be a blessing, but it truly has shown me people's kindness and willingness to help others in need.
The main reasons I love Select Surfaces laminate are that it's pretty much indestructible and it's actually pretty.  We chose the color Espresso available at Sam's Club.  Most people cannot tell it's laminate until they get down on the floor and inspect it…even then it's tough with the realistic wood grain and the fact that it comes as individual boards.  I loved the durability before Harvey and this time the installation went so effortlessly.  Honestly, I didn't break a sweat, which in Houston is a hard thing to avoid!  The company revamped their popular premium laminate and here are some of the my favorite new features:
Speedloc™ installation system that's a breeze to install
German design and manufacturing
new beveled edges on each board resist chipping and increase the realistic wood look
lifetime residential warranty and 10 year light commercial warranty
pre-attached foam backer that eliminates the hollow clicking sound common with other laminates
even lower emissions rating and CARB Phase 2 compliance
Okay so let's get to the process!  We started with a lovely concrete floor courtesy of Harvey.  After acclimating our new hardwood floor inside the house we were ready to get started – enough of the dusty concrete floors!
The directions are printed right on the box for quick access.  Making sure we followed them precisely, the first step is to see if you have any low spots in your floor.
Hardwoods don't need to be on a level surface, rather a flat surface.  Any dips or high spots will be felt underfoot so eliminating them before you start is the best thing to do.  The manufacturer suggests that anything more than 1/16th of an inch be corrected.  To find the low spots get a long staright board or a long level.  Starting in one corner swing your straight edge over the surface of the floor looking for gaps between the edge of the level and the floor.  As you can see, we had some spots that were way more than 1/16th inch! Mark those places with a wax crayon or chalk so you know where to put your self-leveling compound.
To "level" (or make flat) the floor we used Level Quik RS.  It requires that a primer be applied first and then the mix poured in the low spots. You can choose to apply it to the whole room if you want or you can just spot treat if you don't have many bad places.  It self-levels pretty easily and can be walked on in about 4 hours.
After the Level Quik dried, we were able to put down the 6MM underlayment.  Since we were installing on top of concrete plastic underlayment is recommended as a moisture barrier.
Now it's time to install the floor!  After finding the most square corner of the room (and keeping in mind the floor had to be installed left to right) we were ready to go.  Just one problem…the fact that we had no baseboards meant that using spacers next to drywall proved challenging.  Regular plastic spacers were slipping under the drywall's edge so we had to temporarily nail in 1/4 inch boards to create stable spacers.

Getting the first row stable and straight is really the hardest part.  We cut off the tongue closest to the wall to make the edge nice and straight up against our spacers.  After the first row is complete, the last board you finish with gets cut and the left over piece is used to start the next row. Just make sure to stagger your seams at least 8 inches apart. Everything else just snaps into place and there is very little waste unless you measure incorrectly!  A rubber mallet and a saw were all we needed to put this stuff together.  Stopping to make cuts was the only thing that slowed us down.  After the boards were installed, cutting the baseboard and the transition moldings were the last step.
The installation process took us less than 2 days to complete and that's with taking care of a very rambunctious toddler! We still have quite a bit of work left to do (like curtains for example!), but it feels nice to have a functional living room again.  One room 99% done and only 9 more to go…