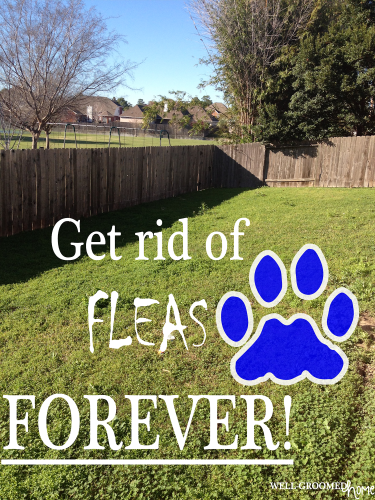 First let me say that this is NOT a replacement for your pet's monthly flea preventative.  Our fur babies still need that stuff to be completely protected.  That being said, the best way that I have found to get rid of fleas naturally in your yard are nematodes.  My mom has been using this stuff for almost 20 years and she has never had a problem with fleas.  I can say for sure that this stuff works even when the flea preventatives fail…and I have had them fail.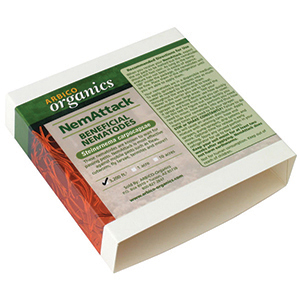 So what are nematodes?  Well they are technically roundworms.  Roundworms are microscopic organisms that occur naturally in the soil throughout the world.  They are parasitic to over 200 insect pests like fleas and even grub worms. Different varieties are sold to attack the specific pest you may have.  Don't be scared by the word roundworm though; most dogs and cats who are regular vet visitors don't ever have an issue with them so it's not dangerous.  It's mainly kittens and puppies that need to be careful.  As for the danger to humans, well don't eat dirt and you should be fine. I'm not a doctor, but common sense says wash your hands like mom taught you and keep yourself clean. Unless you have a medical condition that weakens your immune system I'd say it's not going to cause a problem.  If you are really concerned, talk to your doctor before you order anything.
Needless to say, when we bought our current house, the yard was a little overrun with weeds because it was a foreclosure.
The yard also backs up to an open field and park.  Therefore, we are exposed to more nature and with that comes fleas.  We had all of our animals on flea preventative when we moved in, but to my horror I found a couple fleas on my white poodle Buddy.
As he was getting doused by flea spray, my fiance was on the hunt for these nematode things I told him about.  My mom had always bought them at the local feed store, because my parents live out in the country.  Unfortunately, for us city folk, we couldn't find them anywhere…even at feed stores 50 miles away!
Finally, an online search led is to Arbico Organics.  This company could ship the nematodes in a cooler and have them on our doorstep in a couple days for only $30.00.  This may seem expensive at first, and the website says you should apply them 2-3 times per year, but in my experience and my parents (who have used them for 20+ years) applying them once a year is all that's needed.  They also have a guide to help you determine how much you need for your size yard.  Our yard isn't extremely large so we only ordered the garden size.
| | | | |
| --- | --- | --- | --- |
| Package Size | Quantity | Treatment Area | Shipping Method |
| Backyard Size | 5 million | 1,600 sq. ft. | 2nd Day |
| Garden Size | 10 million | 3,200 sq. ft. | 2nd Day |
| Farm Size | 50 million | 1 Acre | 2nd Day |
| Small Ranch Size | 250 million | 5 Acres | 2nd Day |
| Large Ranch Size | 500 million | 10 Acres | Next Day |
Source: Arbico Organics
Once the nematodes arrive all you have to do is mix them with water in a garden sprayer and apply them to the yard like you would any fertilizer.  The only rule is that you should apply them when the weather is a little warmer (over 45 degrees). Arbico Organics recommends the following application procedure:
"It's easy to apply nematodes. Simply mix nematodes with water and apply using a watering can, hose end sprayer, backpack or pump sprayer or through irrigation or misting systems. Before applying, make sure the soil is moist. Lightly water again after application. Since nematodes are alive and sensitive to light, apply them early in the morning or at dusk. Use beneficial nematodes whenever pest larvae or grubs are present, during the spring, summer and fall months. As pest larvae feed on plant roots beneath the soil surface, severe damage can be done before you realize you have a pest dilemma. If adult insects are present, their eggs, nymphs, larvae and pupae will soon be developing."
That's it!  Once you've applied these little boogers they immediately start reproducing and attacking their host fleas. It takes about a month before the fleas virtually disappear. With continued use you should never see a flea from your yard again!
Linked Up at: