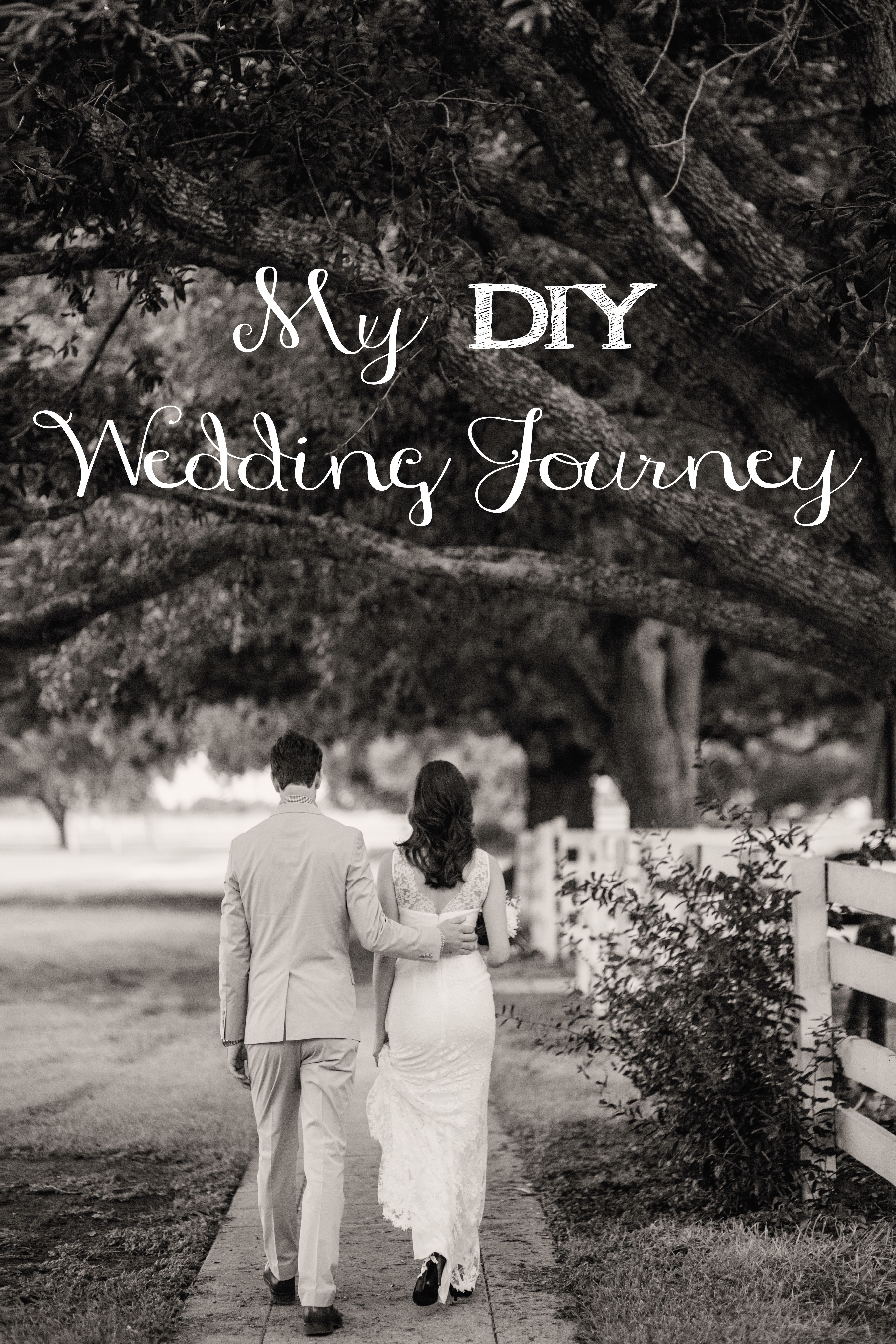 *Warning*
THIS is a long, very long, DIY wedding post.  This post contains TONS of detailed photos and might get a little emotional and word-y when talking about my wonderful, imperfectly-perfect day. 🙂
Married for one month today.  I can't believe it after being engaged so long and feeling like we would never have an actual wedding.  With my fiance in grad school, me changing careers, and just buying a house…it seemed like we were going to end up going to the JP.  Nothing against doing that – the outcome is the same – I personally, secretly wanted a real wedding.  There was no room in our finances for a wedding, but somehow we found a way to make it work.
We started planning this little shin-dig only a little over 5 months from the big day.  I didn't want to spend an entire year planning since we had already been engaged for two years.  Unfortunately, tragedy struck and my husband's step-father passed away suddenly.  Plans were halted and everything seemed too gloomy for a wedding.  Slowly but surely, we got back into it, but our 5 months had suddenly become 2.
Honestly, I couldn't believe it when our rustic venue was STILL available only two months before our selected date.  I kept telling the Mr. that there's no way a photographer, DJ, etc., etc., will be available…but they were…and they weren't the bottom of the barrel ones either.  We really were blessed and I started to see all of these things coming together as one huge blessing bestowed on our upcoming marriage.
In about 8 weeks time, we had flowers ordered, decorations made, and all the boxes checked off our to-do list. Miraculous.  We literally referred to our house as a "wedding factory" and we worked round the clock to get everything done, but somehow we made it.  Another huge blessing:  a cool front in August. In the south.  I'll give you a minute to digest that, because I was prepared to melt.  Really, we should have had 100 temps at 5:00 pm, but somehow the whole day topped out at 85.  Just wow.
Enough with my sentiments…here are the photos as promised.  I'll give you the DIY details as we go.  Enjoy!
INVITATIONS:
This was the first of the DIY projects.  I used a tri-fold card with a pocket from Paper Source, cardstock from Hobby Lobby, and lace ribbon.  I borrowed some ideas for the fonts and layout from A Handcrafted Wedding blog and printed everything myself on our laser printer.  You can read about how I hand-lettered my envelopes for a personal touch here.
THE CHAPEL:
sweet, quaint, historic.  Built in 1910.  Moved to the historical park where we married.  It set the tone for our simple, rustic, DIY theme.
PROGRAMS:
The hardest DIY of the wedding…Omg.  I went through TWO corner rounders making these things and I am so glad I only had to make 60!  I used Popsicle sticks spray-painted as the handle (and one sandwiched between the paper for support).  The front and back sides were glued together and I borrowed ideas for the font and layout from A Handcrafted Wedding.  The program box came from Home Goods.
PEW DECOR:
Andy and I were determined to have tree slices at our wedding…for free.  After every storm we would literally scavenge for fallen tree limbs we could haul back to the house.  One of our excursions resulted in 30 mosquito bites and a termite infested piece of wood. So if you think you might try something similar, avoid anything that doesn't look freshly fallen.
Drilling two holes in the top allowed for these smaller pieces to hang on the pews, displaying verses from 1 Corinthians 13.
A WELCOME SIGN:
THE DRESS:
After a dress failure, I still wanted something semi-formal, long, lace, and NOT strapless.  I hate strapless dresses.  Hate is a strong word, but I hate them.  Why people think they are flattering is beyond me.  This dress – Nordstrom Nicole Miller – I found online 3 weeks before the wedding; had it shipped and it fit perfectly. Miracle.
SHOES:
Easily the most fun DIY project.  A little hot glue, an applique, and some hot-fix Swarovski crystals is all it took to transform these ordinary shoes into something I will treasure forever.  I found my shoes at DSW and put the Alencon lace and crystals on myself.  I saw something similar on Etsy for $80.00, but I didn't spend anywhere near that! 
DIY HAIR:
Okay, I know this is not a beauty blog, and I have no business giving hair advice…but I loved my hair and it was "me".  I didn't look like some weird altered version of myself wearing a stiff prom-like up-do.  I followed some of the tips and tricks on The Small Things Blog, written by an actual hair stylist, and they ACTUALLY WORKED.  They worked for me on my hair that takes no curl. My hair laughs at curling irons really, because my curls can fall out before I finish curling my entire head. Ironically, with the product suggestions my hair stayed put all night…even in the heat and humidity in August, in the south.  YES.  So to those who might think this isn't "curled", well for me, it's pretty darn close and more special than my every day hair.  I think it's really more like "soft waves" if you want to get all technical. The important thing is that I felt pretty, and special, and I am so glad I can say I did it myself. 🙂
GROOM'S ATTIRE:
I searched so many sites for reasonably priced menswear that he could actually wear again. I am really happy with what we picked and  think he actually liked it too. 🙂 The suit is by Perry Ellis and the shirt is Ralph Lauren.  The tie we got at Nordstrom Rack for $15.00.  The shoes were the only splurge for us but well worth it, since they are good quality.
HERE COMES THE BRIDE:
I just love our photographer Jessica Pledger, and the way she captured our day.
OUR RUSTIC LOOK:
It was just about us.  No bridal party. No flower girl or ring-bearer.  Just us.  Simple and sweet.
THE RECEPTION:
The reception was held on the same property just adjacent to the little white chapel.  It was a dance hall that was also moved to the historical park.  I'll talk about my flowers a little later but just FYI I had a total bouquet fail the night before and Kroger has a well kept secret.
FOR THE KIDS:
Since this wedding was all about family and keeping things family-friendly, we set up a kids activity table with crayons, colored pencils, and goodie bags.  The goodie bags had a coloring book, a blank handmade notebook, a Rubik's cube, a tic-tac-toe set, and crayons.  I think that was it… we put a lot in there!  You can read about how I made the tic-tac-toe set here.
The chalkboard sign was simply a wood slice painted with chalkboard paint and hand-lettered.  The colored pencils are from World Market and the Dum-Dum centerpiece was an idea I found on Pinterest.  It took A TON of Dum-Dums, but seriously… so easy.  Get a Styrofoam ball and stab those suckers in there.  Pun intended. 🙂
A roll of craft paper provided even more drawing paper and protected the linens at the same time.
Our sweetheart table was marked with 3 little chalkboards from Walmart, stained with a scratch fix pen, and then hot-glued to a layer of ribbon.  I got it to stay in place on the table with some Velcro attached to the backside of the ribbon and the tablecloth.
My DIY table runner dressed up our table just enough to set it apart.  A small section of blue lace trimmed with burlap ribbon is all it took.  Less than $10 bucks.
Hobby Lobby had these country wine glasses on sale, but since we had a dry wedding (I never drink) they were more like fancy Dr. Pepper glasses for us. I sewed together a little garter of lace ribbon that could easily be stretched over the glass and removed for washing.  The tiny tree slices came from Michaels and the "Mr. and Mrs" hand-written with Sharpie, makes 'em fancy.  Paper straws were found Hobby Lobby.
GUEST TABLES:
The calm before the storm…  Andy spent 3 hours ironing the table overlays I made.  You can read how I made them here.
SAM'S FLOWERS:
Budget centerpieces please? Yes. Sam's Club does "I do's" and any other occasion for that matter.  They sell flowers straight from their website and they are delivered right to your house! I was really nervous about making these but it really wasn't that bad after I got the hang of it.  I followed the advice of A Practical Wedding and it worked perfectly.
TRANSPORTING THE FLOWERS: 
As soon as they arrived, I opened the tightly packed boxes and put them in these 5 gallon buckets so they could open up.  This is messy so be forewarned if you plan to attempt it.  Blue hydrangea stains too, so beware!
"Never deviate from the plan!", a voice shouted, but I ignored it in my excitement… I should have waited to unpack the flowers at my parents, but what's done is done, ya know?  The wedding planning stress sometimes made me feel as if my head wasn't always screwed on tight.   So…after I unpacked them, we drove an hour to my parent's house, (5 gal buckets seat-belted and all) which is close to the venue.
At their house we made the centerpieces and used the original shipping boxes to transport them to the venue.  Cutting holes every 12 inches or so in the 4 ft box stabilized the mason jars and made carrying them really easy.
Thanks mom for getting them there safely!
BOUQUET:
Okay so I wasn't able to DIY everything… I had a failed attempt at a DIY bouquet, but an angel-florist (at Kroger of all places), saved me for a little more than $50.00.  Yes. $50.00 for my last-minute, rustic, hydrangea bouquet, that stayed looking fresh almost two whole weeks! Here it is at home after two days and some abuse…it still looks pretty decent!
MENU ON A WINDOW:
This window is a true antique and we are fortunate enough that my mother in law allowed us to use it for our menu.
THE CAKE: WE PUT A BIRD ON IT
Well, we put two birds on it actually with a DIY cake topper.  I had to show a little sense of humor with this.  Believe it or not there was even talk with our baker about decorating the cupcakes with bird "sprinkles", if you catch my drift.  Ewww.  Now I had to draw the line with that.  Sorry Andy, lol.
Hydrangeas look much better than bird "sprinkles".
The cake stands were DIY too.  They were held together with screws and construction adhesive.  Then I gave them a good cleaning and sealed them.  See the serving pieces?  Yep, DIY-ed that too.
CUPCAKE IN A JAR FAVORS:
Baking 60 cupcakes two days before a wedding?  Not recommended. However, we did it!  Well, I baked and Andy tied all the little spoons on with bakers twine. I made the sticker labels on the computer using the same invitation and program fonts.
The chalkboard painted tree slice serves as a nice little sign and the crates were just $9.00 at Walmart.  I stained them myself so they wouldn't look so "new".
WED-LIBS MAILBOX:
Ironically, this is our old mailbox that hung around in our garage after I updated our mailbox area.  If you aren't familiar with wed-libs or guest-libs, Google it.  Much better than a traditional guest book.  LOL I can't even share some of the ridiculousness we received!
PALLET PHOTO DISPLAY:
Read about my pallet projects here.
MORE PALLET STUFF:
This little sign was so last minute…like two days before.  I made this out of the pallet scraps after I saw it on Pinterest. I wanted something to direct guests to the chapel and then the reception.  This worked perfectly and looked pretty cute!
DUELING PIANOS:
Since we wanted to entertain our guests more than anything and with Andy being a musician himself, we wanted something unique.  Dueling Pianos was his awesome solution! They were able to adapt it to a family-friendly version, instead of the piano bar version.  It took a good chunk of our budget, but well worth it!
They took requests from our guests and even played a surprise song for Andy.
Too much fun!
I don't know what this is… lol
ANDY IS A DRUMMER (boy) MAN:
Andy contributed to the entertainment too.  He played at least half a dozen songs with them!
PIANO MAN (last song):
My contribution was not as great.  No I don't play the harmonica, but I was the "assistant".  It was all in good fun, but really, before they played it I was asking, "What is 'Piano Man'?"… LOL I know, okay.
SEND OFF HORNS:
DIY horns followed our musical theme.  Spray-painted (we took the mouthpiece off first!) party favors from Party City at 6 bucks for a bag of 25 horns.  Not too bad.  A little bakers twine gives them a little decoration. Simple. Yes. Obnoxiously loud…YES.
GOODBYE, FAREWELL:
Here we are "running" from the toots and noise-making horns that were almost piercing my eardrums!
Bye, Y'all and thanks for comin' to our rustic weddin'!