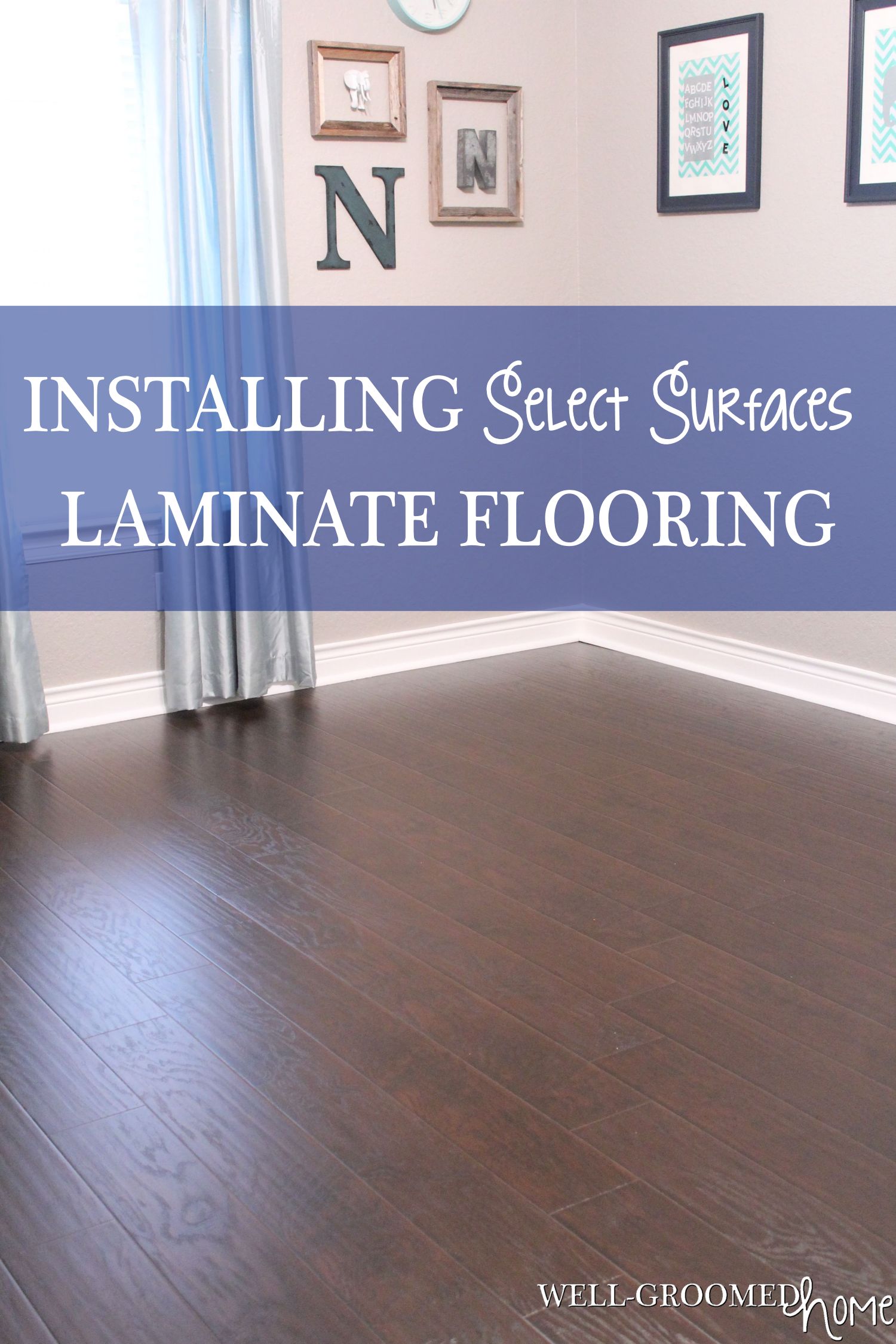 ***Disclosure: This post contains affiliate links, but all opinions are 100% mine! Read my full Disclosure here***
Recently, we updated our living room with Sam's Club Hardwood Floors.  After posting that article the flooring manufacturer, Select Surfaces, contacted me and they agreed to supply flooring for our nursery!  I was so excited for this opportunity to share with everyone, not only how great the laminate flooring is, but also that Select Surfaces is a wonderful company.
We chose the Brazilian Coffee color again to match our living room.  This particular laminate flooring is extra thick (14.3 mm) and is a plank style laminate, which in my opinion makes it really difficult to tell that it is, in fact, laminate.  Each board has a hand-scraped, wood grain texture, and an attached pad.  Installation is so easy with the click together v-shaped grooves, that even at 7 months pregnant I was able to help tap the boards into place!
Okay, so lets get started with the actual process:
STEP 1: Remove nasty carpet, tack strips, and carpet glue. Eww.  My husband was kind enough to help this preggo gal out and remove all the carpet in the nursery.
To easily remove carpet here are the tools you'll need: 
Prybar
Mallet or Hammer (a rubber mallet is MUCH quieter in an empty echoing room!)
Utility Knife
Gloves and Mask
When ripping out carpet, cut it into manageable strips about 3 feet wide with your utility knife.  Roll them up and carry them out as you go.  You can also tape the rolls with packing tape to keep them nice and neat.  Repeat the process with the pad.
Next, we had to take out the tack strip used to hold the carpet in place.  This is where you'll want your rubber mallet (so you don't go deaf) and pry-bar.  Tapping the pry-bar under the edge of the nails on the tack strip will allow you to pry out each strip from the concrete sub floor.  After that, we scraped up the glue residue from the pad and swept up all the mess. A shop vac is also very helpful during this part.
STEP 2: Roll out the moisture barrier.
Fortunately, our slab is very flat and level in this room, so no self-leveling compound was needed before installing the moisture barrier.  We used Dream Home brand plastic sheeting since we were installing the floor over concrete.  It comes in a roll of over 300 sf for about $20.00 when purchased from Lumber Liquidators.  The plastic keeps the moisture in the concrete from warping the boards over time. We didn't need any additional padding because Select Surfaces plank laminate has an attached pad.  Woohoo!
The plastic sheeting manufacturer recommends overlapping any seams by a foot or so.  They say you don't have to tape them together, but for me, a little clear packing tape prevented any shifting while we worked. Here's another shot of the room before we started on the planks.  The blue is kinda pretty, don't you think?
STEP 3:  Find a straight wall and begin clicking the boards together.
Before we started laying the flooring down we had to check to see if the walls were square.  Otherwise the whole room would begin to look crooked and that's not pretty.  Luckily for us, our builder got one wall perfect in this room, so we didn't have to do anything complicated. Here's a great link with more information, in case you don't happen to be as lucky.
To install your laminate properly these are the tools you'll need:
Rubber mallet
Tapping block
Pull bar
Spacing blocks (1/4″ thick)
Miter saw
Table saw
Jig saw
Dremel saw or hand jamb saw for door jambs
Quarter round to cover expansion joints and caulk
After getting our first row down we were making progress quickly.
Hubby made the cuts and I tapped the boards into place.  The boards are easy to cut with a miter saw and they don't splinter or chip as long as you cut them laminate side up.
The boards click together like magic with just a couple of taps at each end.  It really is that easy!  Some laminate brands can be very frustrating because there are irregular pieces and messed up grooves.  Not with this product.  We didn't have any boxes with messed up boards or poorly cut grooves, therefore the whole process was virtually painless.  Here is a shot of the backside of a board showing the attached pad and the groove:
Being very pregnant this time around it did go a little slower, but we still finished in a few days.
One of the trickier parts to any hardwood installation is cutting around door jams.  I referenced this article for tips on how to do it like a pro.
STEP 4: Install quarter round.
The easiest way to install quarter round over laminate, IMO, is to paint it first.  Since laminate is a floating surface it needs to expand and contract, therefore, it can't be caulked along the edge of the floor.  This makes for tedious painting after installation.  So to avoid that we painted the quarter round, then cut and installed it.  I prefer white quarter round to match the baseboards, because to me, stained quarter round looks as if your floor is running up the wall.
To Install Quarter Round: 
Paint it first
Measure and cut with a miter saw following this guide 
Use an air compressor and nail gun OR use thin finishing nails and tediously nail into place by hand (use a nail set to countersink nail heads)
Caulk seam between quarter round and baseboard
Fill nail holes
Touch up paint
Such a beautiful result!  I couldn't be more thrilled with these floors and I know our baby boy will love racing cars, playing with legos, and much more on this durable surface.
Here's a final look at the before and after:
Stay tuned for the final nursery reveal!
Project Supplies and Cost:
Select Surfaces Brazilian Coffee Laminate (10 boxes for 12×12 room)  $322.00 (with tax)
Dream Home 6 MM plastic sheeting $19.99
Quarter Round from Lowes  $35.00
Caulk and Finishing Nails – (already on hand)  $0.00
Tools (Already had on hand) $0.00

rubber mallet
pry-bar
miter saw
Utility Knife
Jig saw
Pull bar
tapping block
Dremel door jamb saw
Mask, gloves, goggles, ear plugs

Paint colors used:

Walls – Cobblestone: Martha Stewart (Home Depot)
Trim – Behr Latex Low VOC in Ultra White