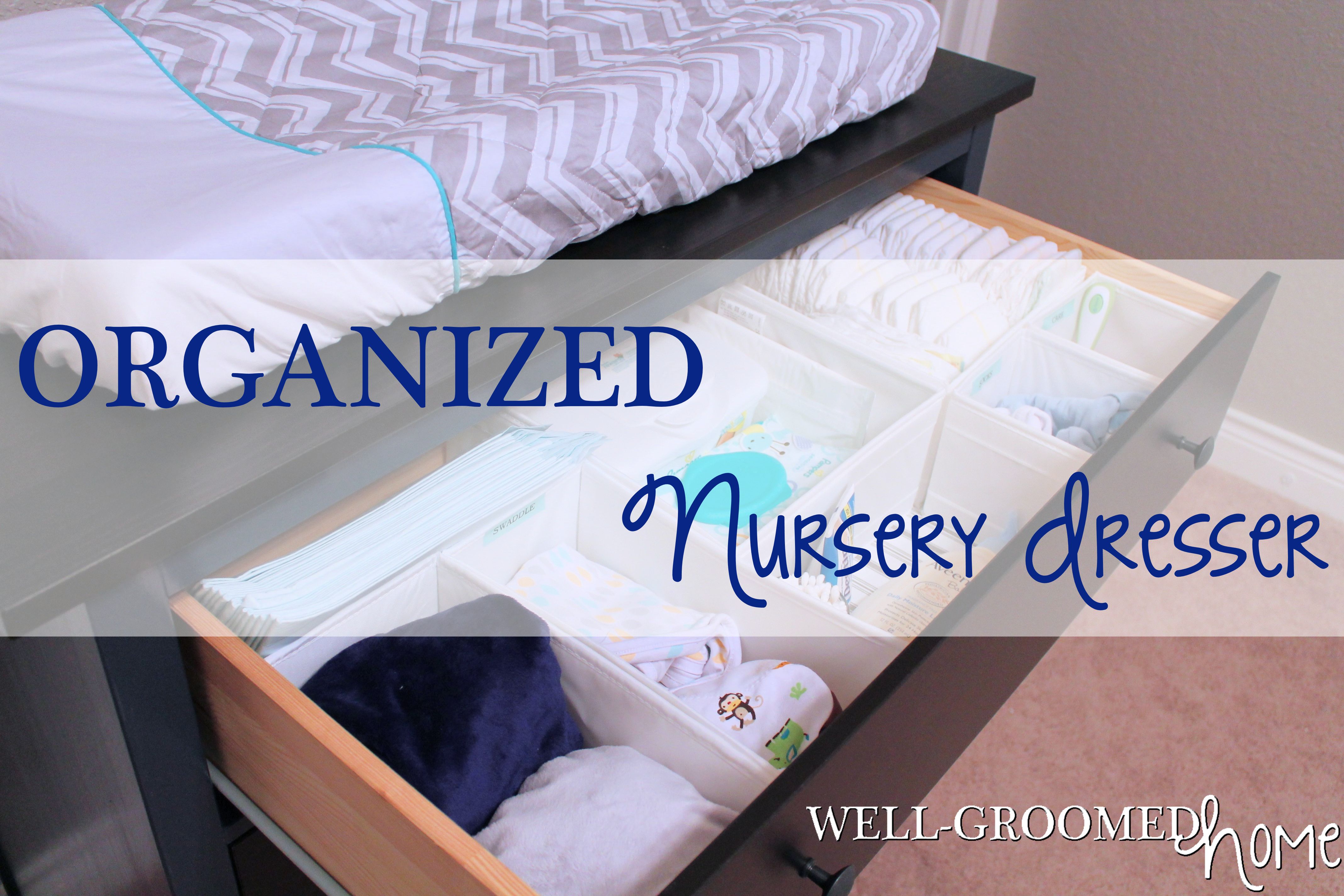 After living with the changing table we originally purchased with the crib, I decided that I really wanted a dresser for our baby boy.  Not only would it be more functional with all the drawer space, but it would grow with him too.
We purchased the Ikea Hemnes dresser in the brown stain.  I originally wanted white, but they were all sold out, so the next best thing was to give it a coat of paint.  I decided on the Navy blue accent color we are using in his nursery.  I primed the laminate really well with Zinsser primer and then put several coats of latex paint on this baby.
Last I finished it off with a coat of my favorite water based clear coat Minwax Satin Polycrylic.
.
Now that it was painted I got to have fun organizing all the cute little baby things.
Drawer 1:
The top drawer will serve as the diapering drawer so I put all my diaper changing accessories in here.  A wiggly baby can't be left unattended, so having all these items within easy reach should work well.  In this drawer I have:
diapers
wipes
grooming supplies (nail clipper, brush, rash cream, lotions, Q-tips, etc.)
changing pad covers and protector pads
Swaddlers
Each category has a holder to separate the items.  These drawer dividers were purchased from Ikea and they fit the Hemnes dresser perfectly.
Drawer 2:
In this drawer I have all the clothes that I will need after each diaper change or bath. They are separated by Dream Drawer spring loaded dividers that can easy be moved as his needs change.  I also put labels on each drawer divider to identify the sizes and on the edges of the drawer.  In this drawer I have:
Onesies (newborn – 3 month)
Casual Tops and Bottoms
Footed Pajamas (newborn – 9 month)
Here's an up close shot of the labels I used.  I used my P-Touch label maker with clear labels and a piece of colorful washi tape behind them.  It makes the label super easy to remove and change as needed, since the washi leaves no sticky residue.
I also put a little clear label on the front edge of the drawer to define each category and make it fool proof for whomever is doing the laundry. 🙂
Drawer 3:
The bottom drawer holds:
swaddling blankets
regular blankets
crib sheets
I used the same spring loaded dividers to keep things separate and put labels on the sides and dividers. Labels help everyone know where everything belongs.
Finally here's a shot of the dresser on the ABC wall.  I love how manly it looks with the blue paint and stained drawers.  Perfect for our little man!