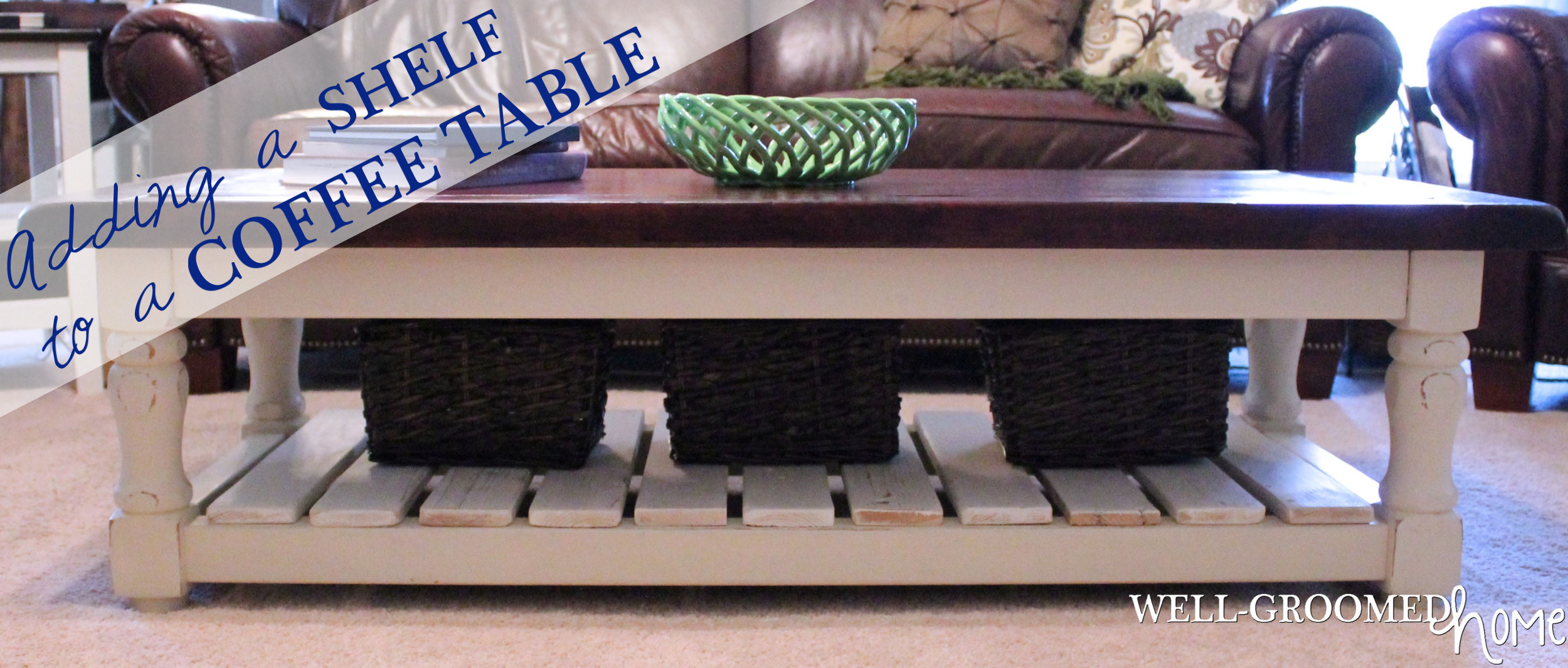 Part of my living room update was updating, or adding a shelf to my coffee table.  It was such a simple project that I was able to complete it in less than a day using chalk paint and some scrap lumber.  I love this little addition because it adds some dimension to our coffee table and it's also very functional for hiding clutter that tends to accumulate in the living room.
This was our coffee table before:
To achieve the planked shelf look I measured the space on the lower supports of our table.  The way this table is designed it looks like it's almost begging for a shelf. I cut enough planks to fit the width of the table with a space of approximately 1/2″ between them.  I actually used the plank turned on end as a spacer as I nailed them into place. 🙂
After I cut the planks I sanded them smooth and rounded the edges using 120 grit paper and my mouse sander.  Sorry I don't have a photo of the painting process, but it was so quick I forgot to take any!  I used my DIY mixture of chalk paint (found here) and gave each plank a quick coating of paint.  I wasn't concerned about perfection because I sanded them to look distressed like the rest of the table.
After painting them, I used Minwax polycrylic to give them a durable finish and waited about 6 hours before nailing them into place.  To nail them onto the supports I used finishing nails that I actually left exposed.  They are smooth on the surface because I counter-sank each one, but I like how they add to the character of the table.
The spaces between each plank were measured using a scrap piece of the same lumber stood on it's end.
Here is the final result – distressed and functional!  I found three little baskets at Dollar General for $5.00 each too.  Can't beat that.  All together this project only cost me $15 for the baskets, because I already had the scrap wood and paint on hand.