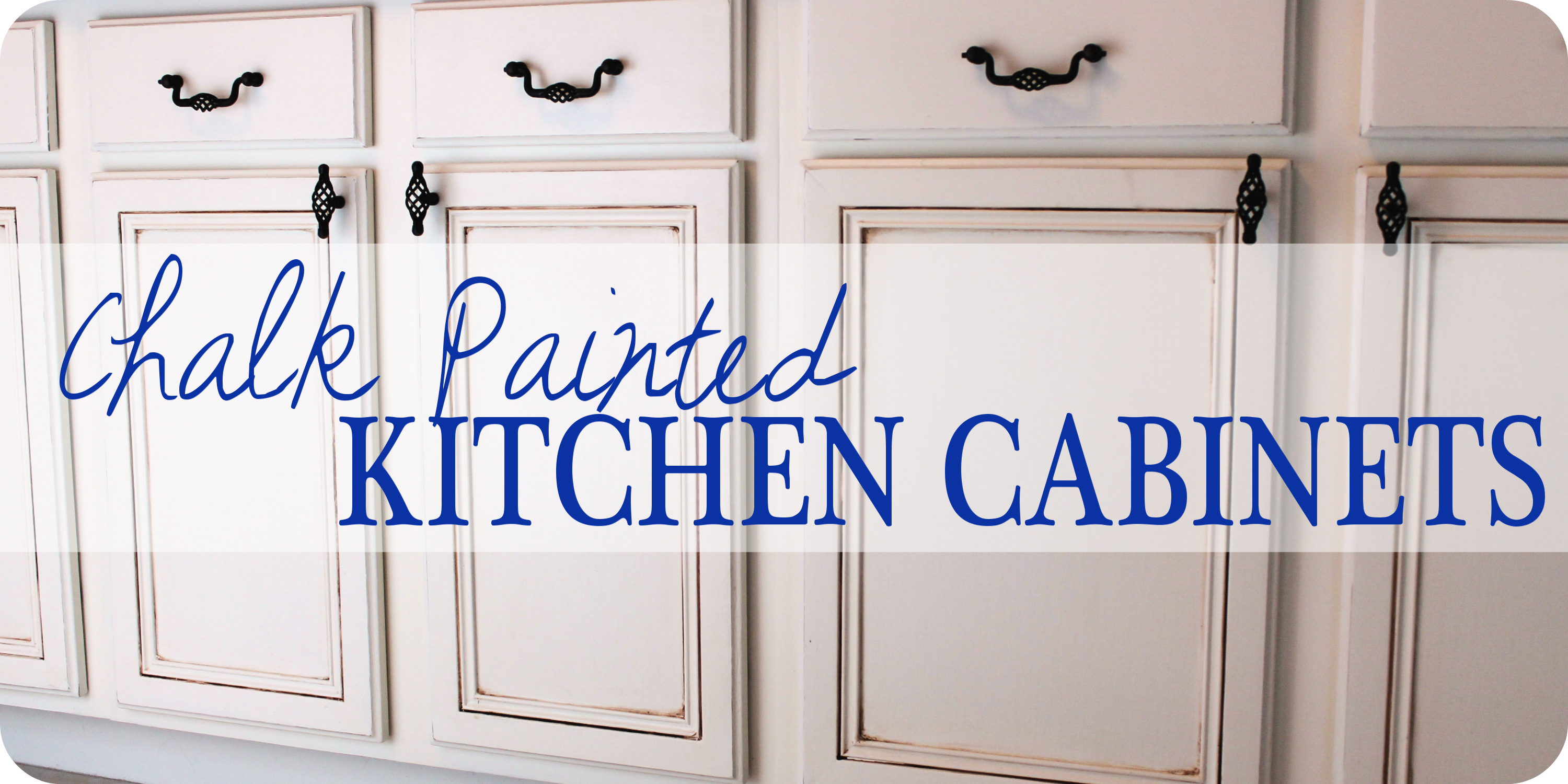 Our kitchen has been a work in progress from the time we moved in. It was in dire need of immediate help.  I doubt you can tell from the before pic (crappy I know…taken with an iPhone), but the cabinets had been stripped of all pulls before the foreclosure….and the foreclosure real estate company had graciously put new pulls on for us…but not one was straight or centered!  So, I began the process of sanding and filling the holes and re-installing new hardware.  Don't you love the GIANT cereal bowl light fixture in the "before" picture. lol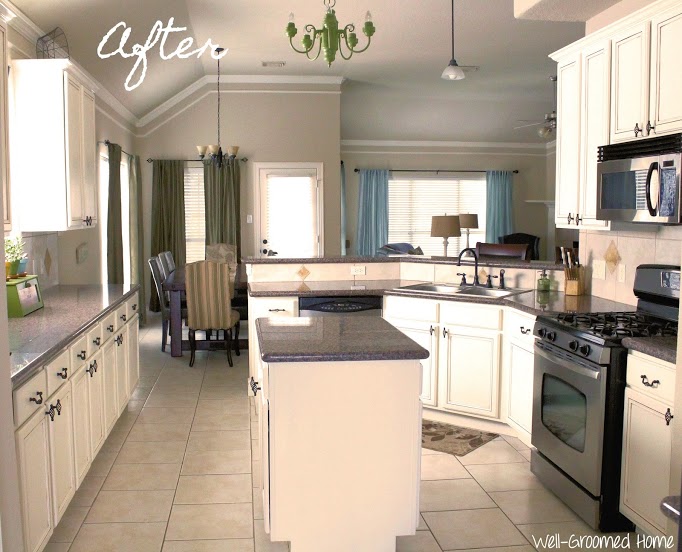 Once we had addressed the immediate issues (pulls, knobs, new faucet…) I decided it was time to repaint the stark white cabinets a creamier shade of white.
Prep Work:
Sanding and prepping the cabinets was key.    I took all the doors and drawer fronts off the cabinets and labeled each one behind the hinge and on the corresponding cabinet box so I could put them back without losing my mind.  Don't worry you won't see the numbers when you put them back – the hinges cover it.  I used a power sander for most of the work since we have soooo many cabinet drawers and doors.  The cabinets were painted with oil based paint and it was done rather sloppily, so when sanding I needed to get the surface smooth (free of all paint drips and globs), but rough enough for the new paint to stick.  I used 120 grit sandpaper for this.
DIY Chalk Paint:
I opted for a DIY version of chalk paint, because for those of you familiar with Annie Sloan chalk paint it is quite expensive…but you get such an incredible finish.  For those of you who don't know Annie Sloan and her awesomeness (and you can afford $35 per quart) click
here
for a link to her website.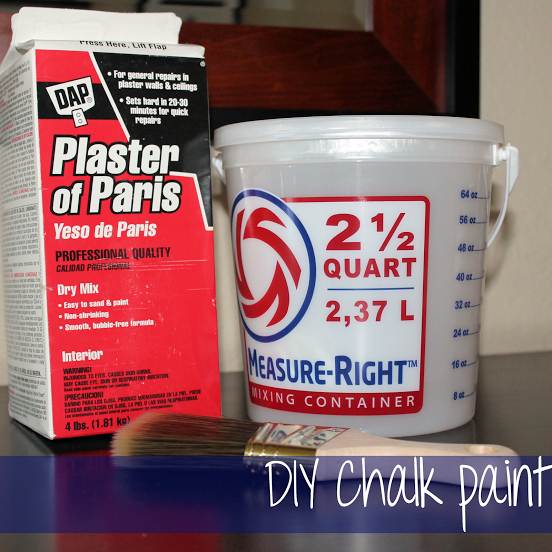 Here's my recipe:
1. Mix 1 part
Dap Plaster Of Paris
 in your bucket according to plaster of paris instructions. (Fill bucket to first line.)
2. Pour 3 parts Latex paint in satin or semi gloss finish (in the color of your choice) in your bucket. * The lines on the bucket make this especially idiot proof – good for me who is not a math genius. (Fill bucket to 4th line.)
3. Mix REALLY well.
4. Now you are ready to paint!  You can use any brush available, but make sure not to let your brush dry out because getting the chalk paint off dry-ish bristles is not easy.
Once the paint is mixed you can seal it in your bucket and it will stay use-able for quite some time.  I've had some mixed for a few months now and it's still good for touch ups after a thorough stirring.
I used 3 coats of paint on these cabinets to get the look I wanted.  I wanted the cabinets to be slightly distressed so when I sanded between coats of paint (using 220 grit sanding blocks) I sanded the edges to allow a little of the cabinet wood to show through. The picture below shows the drawer already painted with the top coat, which gives more sheen than chalk paint alone.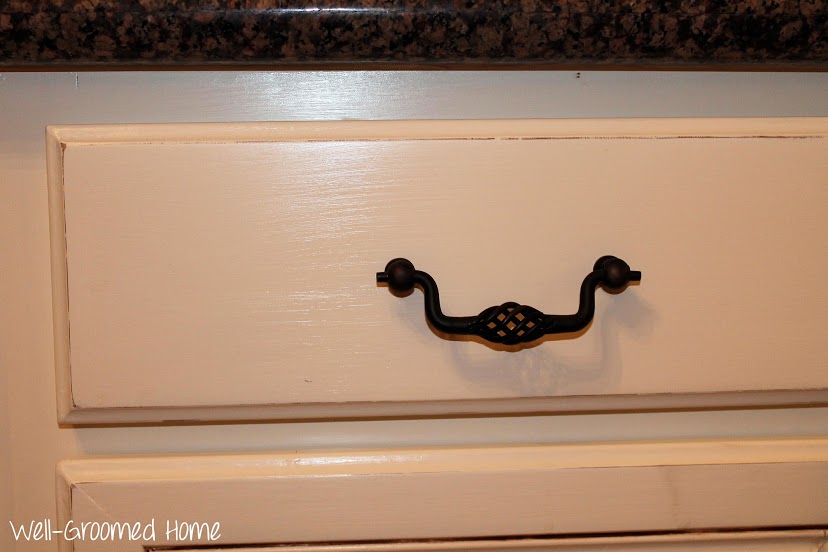 Once the cabinets were painted I used Valspar's Translucent Mocha glaze from Lowe's to give some more dimension.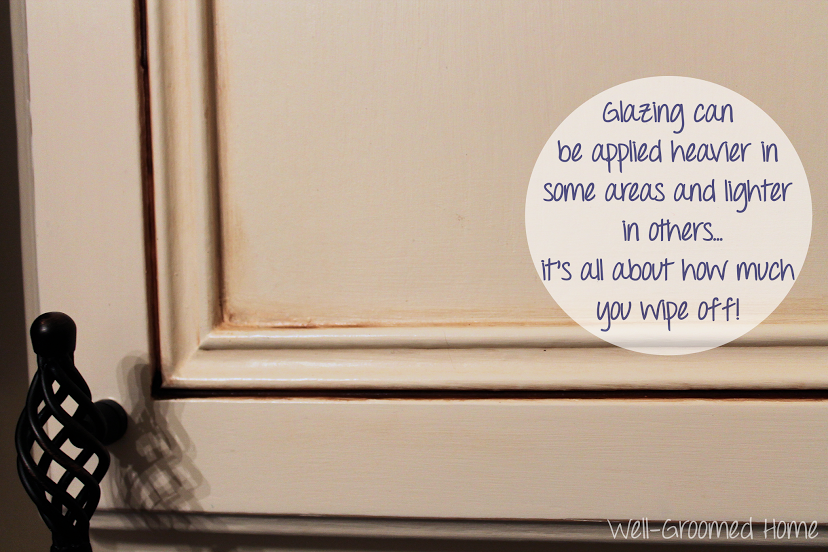 It takes finesse and some practice, but once you get the hang of how much glaze to paint on and wipe off it's not too bad.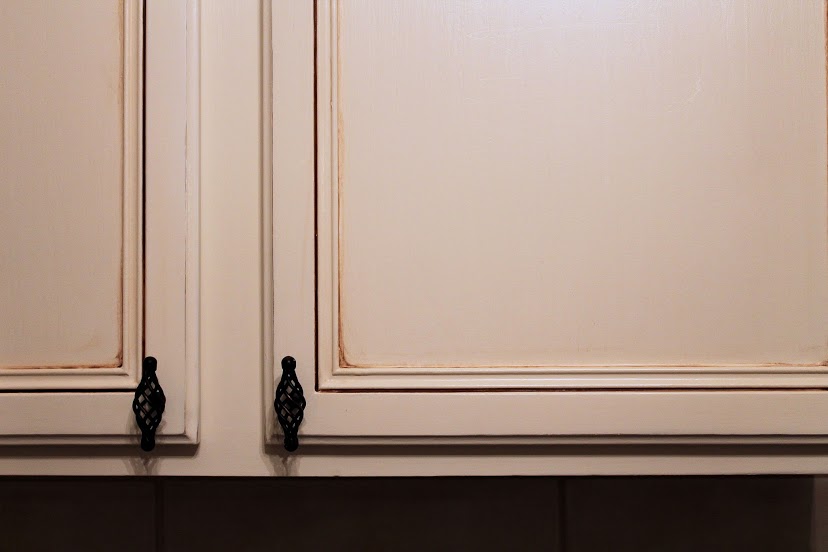 From far away the glaze adds depth to otherwise stark white cabinets.  The glaze was applied only to the grooves to keep the cabinets from looking "dirty".
To seal the cabinets I opted not to use the soft wax that traditionally goes with chalk paint because I wanted something that could be applied faster and would be a little more durable.  I chose
Minwax 63333 Satin Polycrylic Protective Finishes, 1 Quart
.  I chose satin finish because I didn't want the cabinets to be overly shiny or dull matte like the natural finish of chalk paint.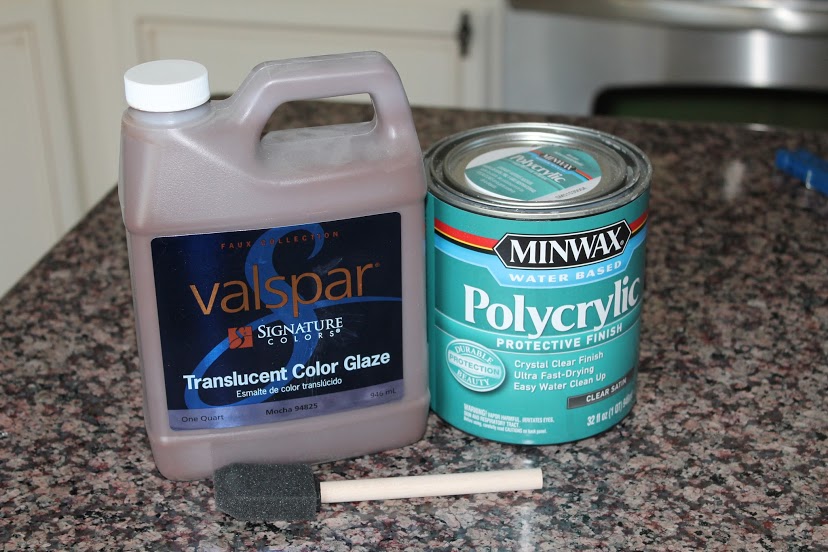 Minwax Polycrylic is great because it's not stinky like many oil based products and it dries to the touch in a couple of hours.  By choosing a satin finish, I retained some of the matte look left by the chalk paint. Once it dries completely this stuff allows the cabinets to be cleaned and easily wiped off with a wet rag.
I applied the polycrylic after the glaze completely dried and used a high quality bristle brush. To avoid brush strokes, keep your brush edge wet and don't go over previously applied areas too soon.  Also, longer more flexible bristles prevent brush marks, so get the best quality brush you can afford.
Distressing Cabinets:
You can see in the photo above how a little light distressing goes a long way… I didn't want my cabinets to look too beat up and junky, but I also didn't want a brand-new cookie-cutter look.  A light hand and the right sandpaper make all the difference.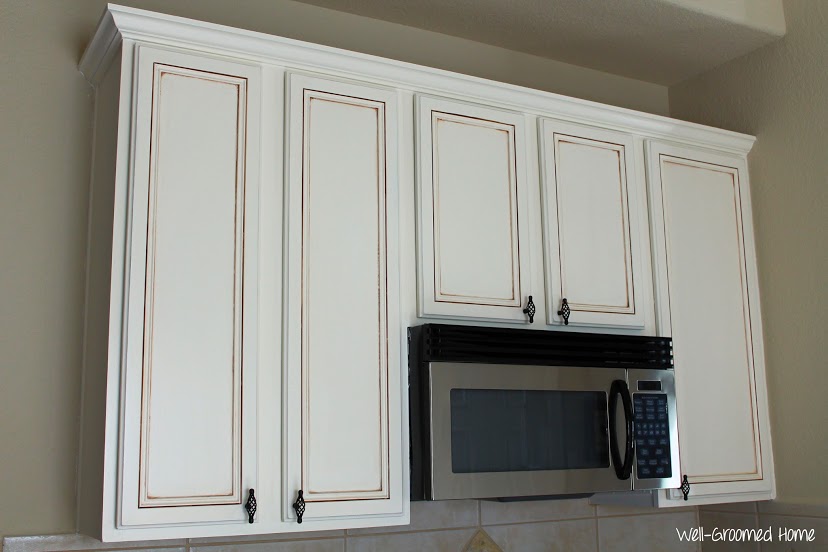 This photo was taken in the morning when the sun streams through the windows.  Depending on the time of day, the cabinets can look more white or more cream-colored. With as much natural light as we have, we could have used a creamier color paint without it looking too yellow.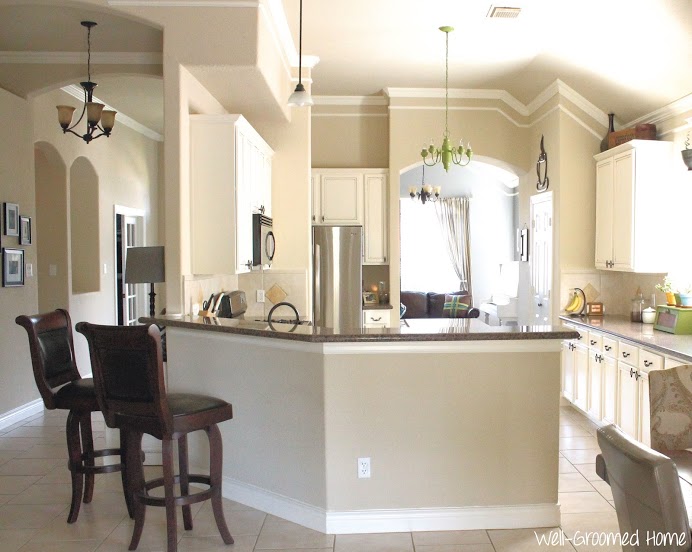 Here's another photo of the drawers up close.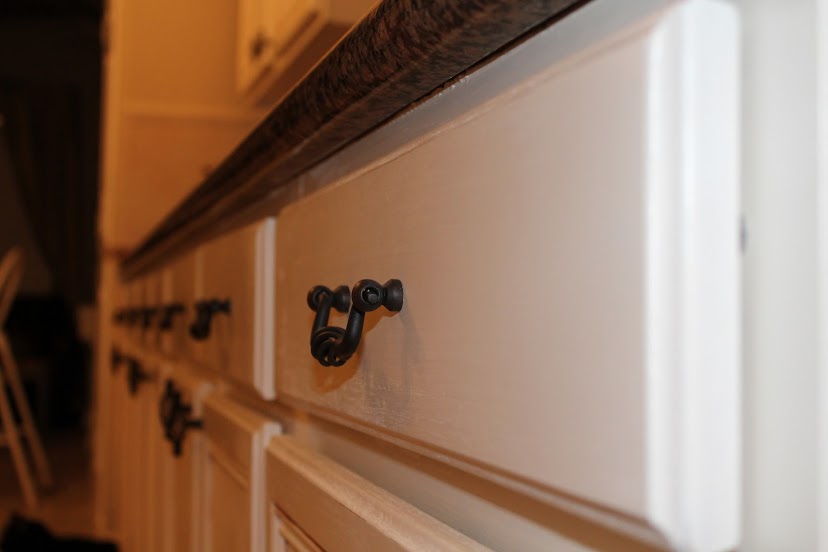 …and the lower cabinets.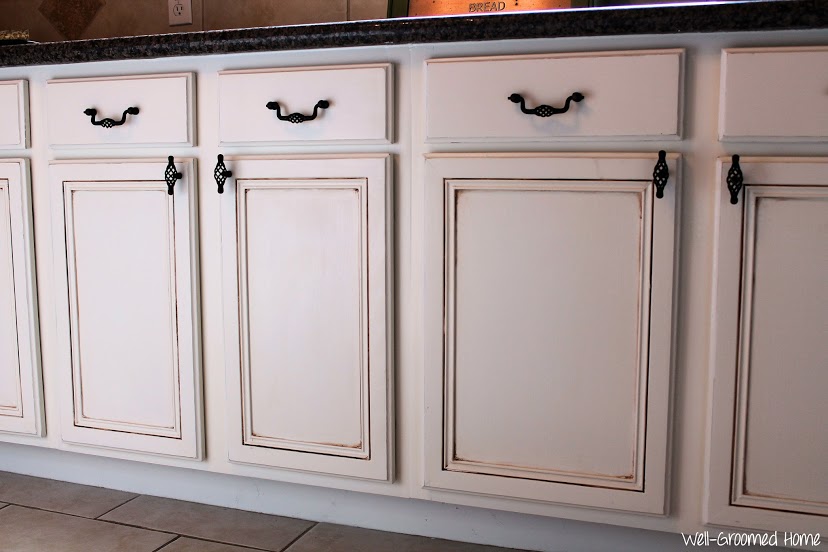 After a couple of weeks of hard work, I am pleased with how my cabinets turned out. They are so much better than before.  Take a look for yourself:

Much better AFTER.  Thanks for reading!