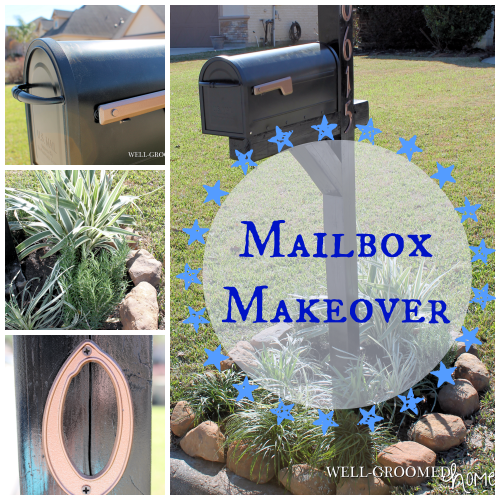 Since the weather was cooperating I decided to give our mailbox an update to match the freshly painted front door (see pic below).  The mailbox makeover was a simple and quick project, but I am loving the results.
I wish I had a better before picture to show you, but this project was one of those spur of the moment decisions.  The only before photo I could find was one that was taken while our house was on the market, lol.  You can sort of see that the mailbox was less than desirable with it's plain white box and faded post.  Honestly, it didn't even have our house number.  Sadly we have lived with this for almost two years.
With the Mr.'s help we pulled the post out of the ground and detached the rusty, worn mailbox.  The cedar post was in decent condition, it just needed a little TLC.  Before I remembered that I am allergic to cedar, I sanded the entire post down to the fresh wood.  Luckily, I took a decongestant and only had a mild rash from being around the sanding dust.  My mom reminded me that I am allergic to cedar after I called and told her what I did, lol.  Oops!
After sanding, the post got a coat of black Rustoleum gloss paint to match the front door.  I chose gloss for the mailbox post, because it's not protected from the sun like the front door is under the porch.  High gloss paint will wear a little better supposedly because there are no additives to take down the sheen.  After the paint dried the fiance and I re-installed the post by digging a new hole, leveling it, and adding new concrete for support.  We followed the installation instructions on Lowes' website and it was really easy.
We purchased an Architectural mailbox from Lowes and I, of course, altered it to fit my style.  Time to break out the spray paint!   Rustoleum Hammered Metallic finish in copper gave the flag on the mailbox a copper splash.  The "dust" you see on top is actually pollen…It had only been up for a day and was already coated with a nice green layer of mother nature's love.  Ewww.  Good thing it didn't stick to the paint though.
I also attacked the plastic numbers with copper spray paint.  I can't believe how great these numbers look painted; the color really pops against the black post.   I purchased the numbers from Walmart and now they look twice the price and as good as any of the metal numbers.  Hammered Metal Copper may be my new favorite spray paint formula.
I couldn't leave the post just bare in the ground…it needed some curb appeal.  I chose plants that would be evergreen for zone 8. To check your own gardening zone click here.  I also chose plants that wouldn't be magnets for bees, since I am allergic to them.  Yes, I am allergic to most everything apparently. 🙂 This means that mega-flowering plants are out for me, so I have to rely on texture to make things interesting.  
Variegated flax lily is described as shade loving, but in my experience it has done well in shade, full sun, and partial sun.  It's pretty low maintenance considering that it likes water, but is drought tolerant.  I chose it for the back of the post, since it grows 1-3 feet tall.  I planted the two rosemary plants on either side of the post about 2 feet apart so if they do grow a little tall they won't cover the entire front of the mailbox.  It can grow over 3 feet unless clipped, so it does require a small amount of maintenance. Rosemary is a great smelling herb that is also evergreen in zone 8.  It prefers well-drained soil and full sun.  Towards the front of the mailbox I chose shorter plants that will stay low to the ground as they mature.  Liriope (lilyturf) is a type of ground cover that reaches 6 inches in height but spreads horizontally.  It does produce small flowers, but they are easily clipped.  Monkey grass is the shortest and closest to the curb, which provides some additional ground cover.
I'm excited to see everything take off as spring and summer get going.  Here's another photo without all the writing.
And another close up of the flax lily… I still need to clean off some concrete residue from the bottom of that post…darn, I am not perfect! lol.
Final product again:
So for the cost of a few plants and some rocks (less than $60 total, including the mailbox), the mailbox got a much needed makeover. 🙂
Link Ups: