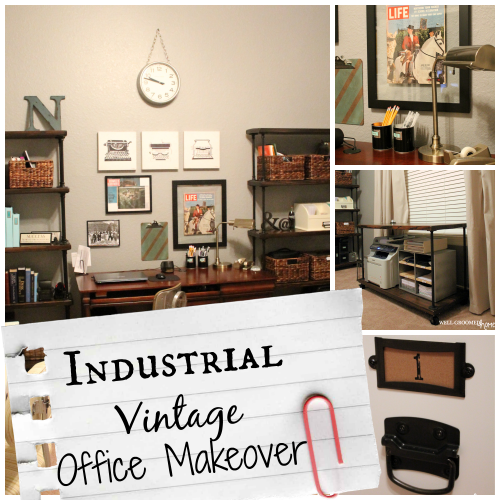 A couple of weeks ago, I showed you how I made my industrial pipe bookcase and I promised to show you the whole office very soon…and here it is!  I have wanted to re-do the office for some time, however, I couldn't decide exactly what direction to take. After over a year in our house, the office has decided for me and has morphed into what has become an industrial vintage office.
I made another set of shelves to flank both sides of my desk.  Although this desk isn't necessarily industrial or vintage, I think it's a nice counterpart to the pipe bookcases.  I love the traditional feel it has and with the beautiful wood tones and oil rubbed bronze hardware; it serves as a nice compliment.
I love the little "&" and "@" accents from the real Restoration Hardware…lol, the only thing I can actually afford from that store!
I'm sure you also noticed the beautiful golden brass accents.  I purchased the lamp from Target and then I gave my stapler and tape dispenser a coat of Rustoleum Champagne Mist spray paint.  My fiance thinks I am going to spray paint the whole house, lol.  Every time he comes home it seems like that's what I am doing.  I also "antiqued" the clipboard with a little leftover paint and Valspar's Antiquing glaze.
The Life Magazine pictured above is one my late aunt was actually featured in during 1966.  She was a bit famous in her heyday as she was Dr. Michael DeBakey's surgical scrub nurse for over 40 years.  I miss her terribly; she had such a fascinating life.
Pictured below is the "vintage" clock I made from an inexpensive plastic lock bought from Target. If you want to see how I did that, click here.  I have had the typewriter photos for years; they were a clearance steal from Pottery Barn. I adore them!
On the opposite side of the room I have my Pottery Barn desk, which has been deemed the "craft desk".
To give it more of a vintage / industrial vibe I painted the brushed nickel hardware (shown here) to match the oil rubbed bronze hardware on the other desk.  It's amazing how such a slight change gave the desk more of an old-world feel, compared to the contemporary look it had before.
To paint them, first a coat of Rustoleum clean metal primer, then two coats of Rustoleum flat black spray paint, followed by some minimal dry-brushing of  DecoArt Elegant Finish Metallic paint in Rich Espresso.  To protect them from normal wear and tear, I used the spray version of Minwax Polycrylic in Satin.
Across from the craft desk, is another DIY pipe build.  I used one 10 foot section of black pipe cut (into 24″ pieces) and threaded for free at Lowes and more of the same floor flanges from the bookshelf project.
I used two pieces of 36″ welding iron cut in half to make braces that hold the boards together.  There are other ways to attach the two 4 foot boards, but to give it more of an industrial look I opted for metal strapping with big chunky bolts.
The drapes are another frugal DIY project.  They're actually painter's drop cloths.  I bought one 12″ x 9″ canvas dropcloth from Lowes for about twenty bucks and cut it in half.  The lucky thing with this size drop cloth is that they actually have a seam running down the middle of the nine foot length, so all I had to do was take the seam out and hang them up.  This is an industrial space so I left the edges sewn as they were from the store and used drapery rings to attach them.
If you haven't already noticed, my drapery rod is more of the same pipe from the bookcases.  I used a 10 foot long section of EMT, cut to size, some 2″ elbows, connectors for the EMT, and two floor flanges attached to the wall. Surprisingly it's very sturdy! All the parts got a coat of Rustoleum flat black, just like the pipe on the bookcases.
Last, but not least, I bring you to my desk chairs.  The one at my craft desk is actually an old Walmart task chair I spray painted and recovered to look like the vintage version (right next to it) that I found on Craigslist by accident.  I was so surprised to find a chair that looks almost identical to a GoodForm brand chair…those sell for hundreds of dollars. Mine was only $50 bucks!  It took a lot of work to get it to look like it does now though.   In an upcoming post, I plan on telling you how I went about refurbishing this chair for less than ten dollars.
You can see my DIY chair in the background of the above photo.  While it's not too shabby, nothing beats this original aluminum base on my vintage chair!
So there you have it!  My industrial vintage office make-over.  I love it because it's not too masculine or feminine and it has stylish storage in every corner.  It was a challenge to marry the vintage / industrial style with our existing furniture, but I think it all comes together quite harmoniously.  The ONLY thing I would change (and I hope someday soon) is the carpet.  Yuck.  However, for now I will ignore its presence and pretend that I am working in a 1950s -1960s warehouse with stained concrete or rustic hardwood floors. 🙂
Link Ups: