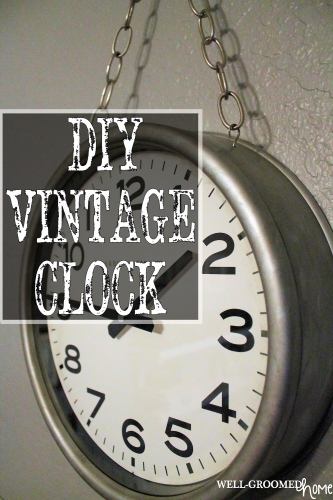 During my quest for a vintage looking wall clock to go in my office I was disappointed in what I found in the stores…so of course I decided I must make my own DIY vintage-inspired clock!
I found several clocks online that I fell in love with, but I just couldn't justify the price plus shipping.  I checked out my local Target and found this medium sized clock (15″ x 15″) they lovingly refer to as the "Dog Bowl Clock", lol.  I chose it because it had classic-style numbers and a simple shape that could be easily modified.  Plus, it was only $29.99.
source: Target 
The first thing I did when I got home was take it apart by unscrewing the backside.  I already knew I wanted to spray paint this clock to make it look like metal, so I grabbed my Rustoleum Aluminum finish spray and did several light coats on all the parts. Fortunately,  I didn't have to tape around the glass because the silver rim came off and I was able to turn the clock upside down on its face to protect it from over-spray.  (*Useless fact = most clocks are set to 10:10 when on display to make them appear to have a "smile" on their face!)
Once I had it coated with the Aluminum spray paint, it was time to antique it.  I used Valspar antiquing glaze in Asphaltum to give it a nice vintage industrial patina.  I love the effect this paint has on everything!  I simply dabbed it on with a brush and blotted it off using a blue shop paper towel.  It really mimicked the look of aged galvanized metal.  However, it needed something else…
Source: Valspar Paint
I wanted to imitate a hanging clock I saw online so I reused some extra chain we had left over form one of our chandeliers.  To attach the chain I drilled two small holes through the top of the clock and inserted two tiny drapery hooks with needle-nose pliers. The chain links held onto the drapery hooks perfectly.
To hang it on the wall I used a large bolt for an industrial vibe. I love how it turned out; it's the perfect addition to my new vintage-industrial inspired office. I'm almost done with the transformation of this room and I can't wait to share it!
Link-Ups: