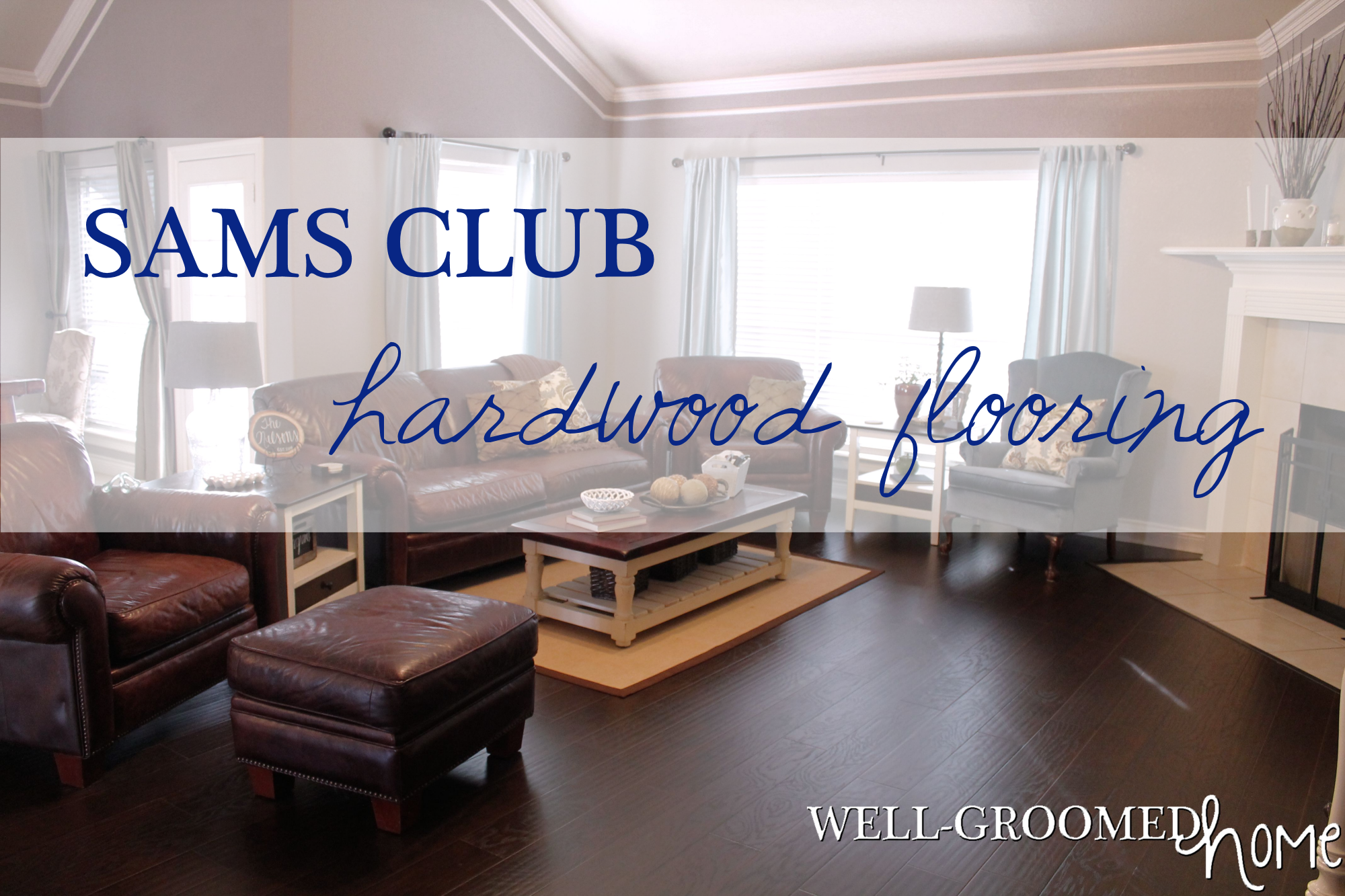 Well, we finally ditched the carpet!  Hooray!  I couldn't be happier that we finally have hardwood floors.  Did I say finally?  Yes, finally, after almost 3 years in this house.  It was well worth the wait though and even if we still had to do the work ourselves, hardwoods beat out carpet any day. The surprise factor here is that these are Sams Club Hardwood Floors  Yep. Sams Club.  Who knew?  I am amazed at the quality and the price is even better than Lumber Liquidators!
Now, these aren't solid wood, mind you.  They are laminate, but great quality laminate.  And me being a solid hardwood snob for years, I never thought I would have laminate flooring in my house.  This though, is not the picture-of-wood-obviously-fake laminate floor of the past people.  This really is good stuff. Before purchasing, I read all the reviews on Sams Club and even some other bloggers experience with the Select Surfaces brand and everyone agreed it was great.
Two main reasons we chose laminate over solid hardwood: 1. we have a huge German shepherd mix that has large toenails and 2. they are obviously more cost effective.  However, most people can't even tell they are laminate until they get down on the floor and give 'em a really hard look…and even then it's pretty difficult to tell since these floors are plank laminate.
So…here's a look at the before:
And now the process…
We purchased 380 sf of Select Surfaces Brazillian Coffee from Sams at $30.00 per box.  Each box holds about 17 sf, so it was an awesome deal and came out to about $1.77 / sf.
 Okay, so then we ripped out the carpet, dug out the tack strips, and we were ready to roll right?  Ummm not quite.  There was a severe depression in our slab (we installed right over concrete) hidden under the carpet that made the living room very un-level.  As for any hardwood floor installation a level sub-floor is a must.  I referenced this website several times to make sure we were doing things right, but from experience of installing hardwood in the past I knew we would need to get some self-leveling compound to fix the depression in the slab.
Once that was poured in the low spot and had dried sufficiently we rolled out the blue plastic moisture barrier you can see in the photos below.  We bought ours from lumber liquidators because it was the best price ($19.99 for over 300 sf).  The laminate floor came with a pad attached and with really flat floors we really didn't need any extra padding.
Finally we finished cutting and measuring and clicking.  Even though the floor is click-together style, it still took a few days to get it all done.
After the main part of the flooring was done we had to order our transition moulding directly from Select Surfaces, because Sams only carries a variety pack of transition strips in 4 foot lengths.  Online at Select Surfaces you can get 94″ length strips of T-moulding to bridge the gap between tile and hardwood.
Ahhh finally done! I love the look of it with the greige walls I recently painted.
I even gave the TV console a make-over to go with the new floors.
Basically, Sams Club surprised me.  Some days I can't believe these floors are laminate, but being so easy to care for, I am glad they are!