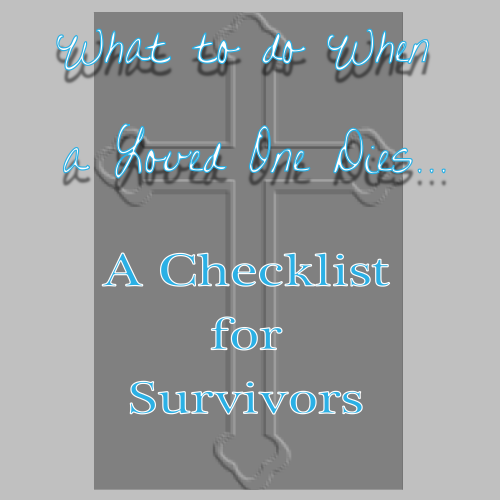 Losing a parent is probably one of the hardest things that any of us will have to go through in our lifetime. Unfortunately, last week it was our turn. The night of April 30th we received a hysterical phone call from my fiancé's mother that his father had passed.  Heartbroken and shocked, we raced to her aid and dealt with the chaos at hand.  There were a dozen family members, friends, and paramedics.  We were not prepared for this situation at all.
When a loved one dies, all the practical things that need to be addressed can be particularly overwhelming during such an emotional time.  To help my fiancé with this, I used my organizing skills to make a checklist that I will be sharing at the end of this post.  Needless to say, this was not the most fun organizing project, but gathering important documents and knowing what needed to be handled was extremely important.
My soon-to-be-father-in-law suffered from diabetes; at age 68 no one thought that his life was so close to the end. I believe that our Heavenly Father gave him some inclination that he needed to say his goodbyes, because he spent his last day professing his love to his wife and talking with relatives and friends. At first, we weren't even sure how it happened, but soon enough we would learn that his life was ended by a massive heart attack.  
The irony of death is that it brings together the living; we are reminded how much people truly care.  My fiancé's mother was met with numerous helping hands. Neighbors brought food and even trimmed her hedges.
It still seems surreal that we won't be able to go over to his house to discuss our latest DIY project or call him up to ask a silly novice question.  His expertise was varied and he was always eager to give advice.  He would readily loan us tools and if possible, lend a helping hand.  In the three short years I knew him, he always made us feel special and important.  His influence in our lives will be greatly missed.
When comforting loved ones in times of loss I think it's important to remember there are no magic words and there is no time limit on grief. Grief is personal and not always well understood. Our presence and support is usually all anyone wants or needs.  Everything else, God will heal in His time.
Hopefully, you won't have to go through this any time soon but when you do I pray this list gives you some peace of mind.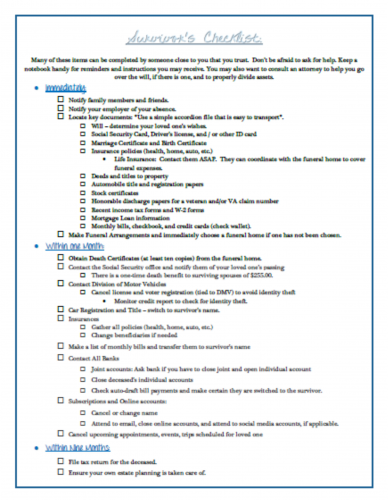 Download the Survivor's Checklist