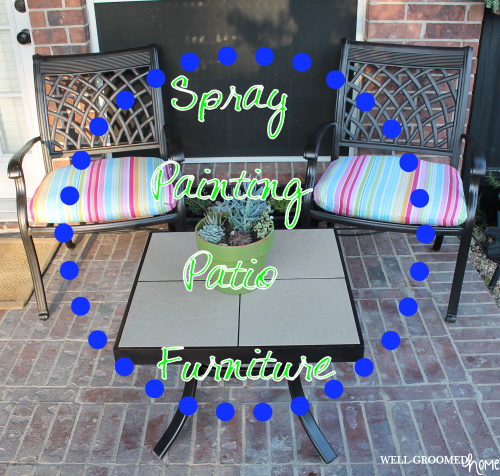 Last week I spent some time updating our patio cushions.  To go along with the new cushions I also gave the furniture a much needed make-over.  The patio furniture is cast aluminum and it has held up really well over the last 6 years.  There were, however, a few chipped areas on the arms and back.  As a quick-fix I decided to spray paint them. This may be a little DIY basic for some, but I'll share my tips anyway.  If you happen to get bored just peruse the pretty pictures. 🙂
Here is the before:
They aren't particularly unique, but I like them, and there's no need to throw away something I can re-do that's still functional.  Before painting the patio furniture, common sense told me I needed to give it a good scrubbing.  This is outdoor furniture and I didn't want to permanently fossilize all the spiders and their friends by spray painting over them. Yuck.
Once that was done I set up shop in the back yard with a canvas drop cloth.  The old surface was a rough finish, which is perfect for painting, so all I had to do was sand down the areas that were chipping.
There are many types of spray paint to choose from, but since I was painting over an existing finish I chose Rust-Oleum Oil Rubbed Bronze Metallic.  This particular formula has a built-in primer to make things easier.  I picked a day that was bright and sunny with no rain in the forecast for the next few days to ensure everything would dry properly.  Spray painting in the wind isn't any fun, so I was glad there was only a slight breeze.  I should have started with the chairs upside down (to avoid having to flip them over on their arms and risk them being stuck to the drop cloth), but apparently I wasn't using my whole brain at that moment.
To prevent drips and runs I used short sprays at about 8″ from the furniture. Patience in spray painting is definitely a virtue.  Three light coats gave me an ultra-smooth, perfect, drip-free finish.  Since I started backwards I did have to flip them on their arms to do the bottom half of the chairs.  I made sure they were completely dry before flipping them so I didn't mess them up.
When it was the table's turn I used my whole brain and started upside down. Yea me; so much easier! The last step was flipping it right side up for the final coat.
Here are the chairs after the final coat of paint before the cushions went on. I waited until the next morning to put the cushions on just to be sure everything was dry.
Okay, pretty picture time as promised!
Love my clock from Target and the decorative tool hanger.
Finally, the patio is complete!  Moving on to the flower beds and yard…one project always leads to another!
Link Ups: