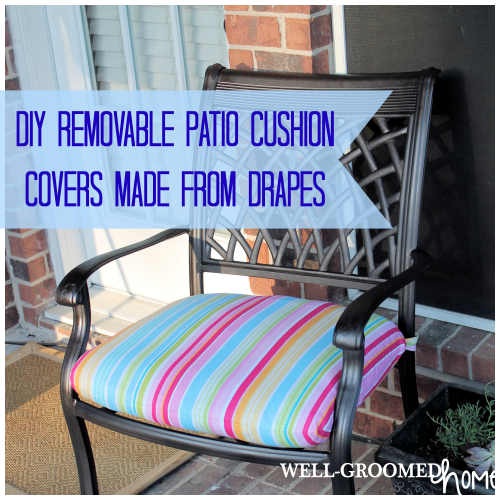 I love our back patio.  It's tranquil and quiet; it's a nice place to sit by the pond and watch the fish.  However, our patio cushions were in need of some love.  I didn't want to spend $20, $30, or even more on new cushions or custom covers. The actual cushion pad was in decent shape, it just needed a brighter look.   The old cushions came with the chairs that I have had for several years now and they were very faded.  Plus who knows what lives in or on them when we aren't outside.  They kind of gross me out sometimes because they can't be washed easily and even though they are under the patio cover they seem to always have a layer of pollen or yuckiness on them.  Not something I wanted to sit on in anything other than crappy gardening clothes.
After pricing several cushion covers and even pricing outdoor fabric from JoAnn (all way too much for me) I was on a mission to make my own cost-effective removable, washable, DIY patio cushion covers. I decided that because the chairs were somewhat protected from the elements under the patio cover, I didn't need to spend the extra money on outdoor fabric.  Plus, I have seen many faded and not-so-great looking, cushions made from that stuff and to me it just isn't worth it.
 I have to be honest though; this is actually the 2nd version of this patio cushion make-over.  I started with a fabric that I had in my collection and shortly after finishing the first cushion, my fiance walked through the door and told me they look like Christmas cushions.  Truth was I knew they kind of did, but I thought I could get around it with some bright pottery and pillows.  I mean, I love Christmas as much as the next person, but I don't really think that look screams warm and inviting outdoor patio.  So that was a fail. On to the next one! I went back into my chest of fabrics and old drapes, tablecloths, etc. and came across these lovely old drapes from my past decorating experiences:
Don't ask why I bought drapes like this: I'm just glad my tastes have matured.  Fortunately, outdoor fabrics can be a little more loud and bright without looking tacky or garish.  To recap this fabric choice: Drapes = not so good; Patio furniture cushions = nice and bright.
I started by cutting the cushion cover off of the old cushion to make my pattern.
Once I had all the pieces separated I pinned it to my fabric (old fabric below – sorry!) and traced around it.  I traced it because the seams were a bit gnarled due to the piping and I wanted to make sure I added enough room for the thickness of the cushion.  Also the old cushion had an additional piece of fabric that was sewn around the sides, which I was not including in my new cushion cover.
I added 2 inches to account for the thickness of the cushion and seam allowance.  I'm not bothering to give you my measurements because realistically, unless you happen to have the EXACT patio set from 6 years ago your measurements would be different anyway.
Next, I pinned my right sides together and cut out the other side of the cushion.  I made sure to line up my stripes so the pattern would remain in tact.  I love striped fabric – so easy to work with!
Once it was cut out, I went to the sewing machine and sewed together all the sides except the back.
 I wanted a snug fit, so I slipped the cushion inside the case to check the fit.  I left it inside out to make pinning easier and pinned any loose areas on the three sides that I had just sewn. While I had the pillowcase on, I also pinned the back side in preparation for my buttons.  I wanted to hem the edges under for a clean look.
Back to the sewing machine for round two!  I cut off any excess fabric after I had everything hemmed and did one last check before turning my pillowcase right side out. I used some spare buttons from my collection (yes I am the person who saves the extra buttons from everything) to hold the back edges together.  Having buttons will make washing and removing the cover very easy.  I was going to use a zipper, but since my cushions also double for Christmas decoration due to my first failed attempt, I didn't need to close up the cushion as securely.  The inner "Christmas liner" provides enough protection from the elements, lol.
Sewing on buttons is not my favorite.  I prefer the sewing machine for making button holes since it's a little easier, but this time I did it by hand since I didn't have too many buttons to sew. I used embroidery thread for a pop of color and because it's thicker and provides a little more strength than regular thread.
Such lovely free buttons!
After finishing the buttons I recycled the tab from the tab-top curtains to make a little strap for the cushion corners to attach to the chair.  The tab keeps the cushion from sliding around or blowing off the chair. I used a couple more buttons and used the sewing machine this time to make the button holes before sewing them to the back corners of the cushions.
I also gave the chairs a quick makeover with some spray paint. I'll be sharing that process very soon too.
Here is the final result!
I love how the colors pop next to the dark oil-rubbed bronze!  They are much happier cushions and a much happier patio than before.
Link Ups: