The garage received a lot of unexpected praise and attention at our garage sale last weekend, so I decided to share my organized garage journey.  This journey, and post, is really long, so bear with me.  Garage organization became increasingly more important for us as we tackled additional DIY projects. Realistically, about half the "junk" in the garage was contributed by yours truly, so I have no one to blame for most of the mess.  As you can see in the before picture below, we had everything from tools to spare furniture stored in the garage.
The "after" is sooo much better.  Before I get into the nitty-gritty organization, let me give you a little background:  the floor was covered with over spray from numerous spray painting projects, motor oil, sawdust, and other miscellaneous grime.  We knew we had to do something, if not for us, definitely for re-sale value.  Even though it is a garage, having a nasty garage wasn't the best thing for our investment. The garage had already been covered in Sheetrock by the previous owner, so really all it needed was a good scrubbing and some organization.
I researched epoxy floors for several weeks before pulling the trigger.  I knew we couldn't afford to hire someone to do it for us, but a DIY project was definitely an option.  I decided on the Rustoleum Epoxysheild kit from Home Depot.  Honestly, the hardest thing was the preparation (emptying the entire garage came in at a close second), but after reading the instructions 1000 times and watching a few dozen Youtube videos, I felt ready. After the epoxy dried I applied the Rustoleum clear coat for extra durability.  I love the results.  Also, I didn't use the little flakes that came in the kit…I substituted the Behr metallic flakes and I am so happy I did.  They're much less blue that what was in the kit and the metallic flakes add a little sparkle.  I took an application tip off Pinterest and used an old Parmesan cheese shaker to spread the flakes evenly.  Now the floor is easy to clean; smooth and shiny, like a showroom floor.
When we emptied the garage I took that opportunity to purge and sort everything.  I already had the garage divided into work zones and I made some rules for myself when deciding how and where everything would go.  I wanted to ensure that items used frequently were close to where I would access them.  For example, a shoe tray corrals messy gear right by the door and safety equipment (masks, gloves, and ear protection) is also right near the garage entrance so we never forget to use it.  Yard equipment is easy to access and wall space is maximized to keep clutter off the floor. In case you're wondering, the random floating tennis ball  in the photo below is a cheap way to keep me from running my SUV into the workbench, lol.
After seeing how great the floor looked, I decided to paint the lower half of the walls grey with a red accent stripe.  It probably should have been done before the floor, but with epoxy, any paint splatters from the wall just wiped up like water.
In the before picture, we didn't even have a proper workbench.  Some time this past winter, I downloaded a plan from Ana White and built this simple workbench out of 2×4's and plywood.  I added some casters for easy mobility too.  The shelf is perfect for power tools and large item storage. Of course, my fiance's "Drummer Parking Only" sign had to be prominently displayed.  An organizing must-have is a work-shop clock, which is easy to see from the yard too.  Another must-have is the power strip, installed below the peg board, which provides enough room to charge everything at once.
Our peg board is painted in chalkboard paint so it can be easily updated if we get any new gadgets.  I used chalk to outline every hanging tool so that it's easy to see what-goes-where and what's missing.
Next to the workbench I have my paint center.  I say mine, because really 90% of the contents of those shelves are from my DIY stuff, lol.   Since the shelves are made from wood, I used simple cup hooks to hold frequently used items, like gloves, that are needed when using tools at the workbench.
The only random item on the paint shelves would be the tractor – it was my fiance's grandfather's and I have yet to find the perfect place for it.   The rest of the shelves are divided by type of paint or painting accessory.  Paint trays, rags, and drop cloths are on the top shelf, followed by specialty paints, stains and finishes, quart sized paints (some using the mason jar method to take up less space), then spray paint, and finally chemistry (chemicals) and gallon sized paints on the lower shelf.
The shelves are from Ikea and the fact that they are wood (and cheap!) makes it easy to hang paint keys, extension poles, and drying paint brushes.
The shelves are open on all sides, so I made use of the extra accessibility by facing bins that hold various painting tools towards the open side, rather than the front. By doing this, instead of facing them towards the front, I can grab things without knocking anything over on the same shelf.
Here, you can see the mason jars that store the "leftovers" from larger paint cans.  I borrowed this space saving idea from pinterest.  Rather than storing small amounts of paint in large gallon-sized containers, the mason jars provide a way to keep that unused paint for touch-ups. I labeled each jar with the room / item it was used for and the color / brand for easy reference.
Accessing the side of the shelves gives me space for my brushes and rollers too.  As I look at this photo I see a random sponge brush out of place, lol.  Oops.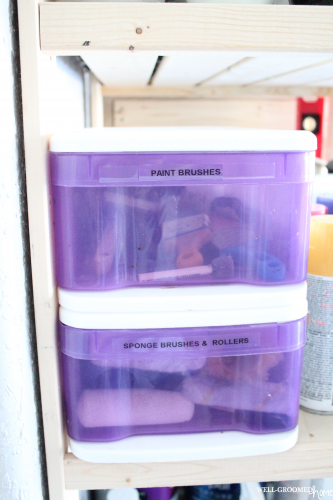 The bottom shelf holds paint thinner, acetone, mineral spirits, and all the "chemistry" involved in painting, or cleaning up after painting.  This is something I will probably need to rearrange for safety when little ones enter our lives, but for now it works.
Near the door to the house we have a shoe tray for outside shoes and wall storage for all those extra plastic shopping bags.  Those little bags come in handy when we clean out the litter box. 🙂  Paper towels also hang out here on a spare curtain rod, so dirty hands can be wiped off before grabbing hold of the door knob.  I utilized a rolling storage cart for trash bags and disposable safety gear; both are close to the door so they are easy to grab on the way out.
This happens to be my favorite storage system.  Why? Because it was free!  I used spare PVC pipe, mounted to the studs, and scrap wood as a platform to hold all our large shovels and hoes.  Some red paint and red duct tape labels  jazzed it up.
Above my homemade PVC tool storage, I used pallet wood painted with chalk board paint and screwed to the studs, to hold additional lawn and garden tools.  The chalk outline helps keep tools in their place.  We also have a large tree trimmer (the huge 12 foot pole above the pallet wood).  Storage was a challenge because it was always falling on something when it was leaned against the wall.  I used drapery hardware meant to hold a large wooden curtain rod to keep it off the floor and out of the way.
I also found a new use for euro toilet paper holders.  I mounted them above my scrap wood storage and used them to hold awkward, long pieces of scrap wood and trim.
Next to the scrap wood shelves I spray painted the recycle symbol on a spare storage container for an easy DIY recycle bin.  I lined it with a trash bag so that it stays clean and the cans are easy to transport.
On the opposite side of the garage, we have ladder and moving storage.  Again, keeping everything off the floor that we possibly could, we even hung the hand truck on the wall.  Lawn equipment over flow is kept near the garage door for easy access.
In some places we have anchors that go directly into the studs, but with so much junk  stuff we didn't always have access to a stud.  These little hooks from Lowes are the answer.  Tornado Hooks can be mounted into drywall or studs and they hold 20 pounds and up!  I have yet to have one fail – even the one holding the 50 lb hand truck hasn't quivered.
The rest of our small gardening tools are kept in these Ikea wardrobe cabinets.  I had these at a previous residence and actually used them for clothes, but after some age and abuse, they were relegated to the garage in this house.  The garage appreciates the cabinets because they are almost 9 feet high and they help organize all my gardening supplies where I can easily see them.  Binder clips and J hooks keep gloves in place, and modular storage drawers fit nicely into the deep storage cabinets.  Fertilizer and pest control even have space to spread out in this tall cabinet.
Finally, storage bins in a garage are a life saver.  I have everything clearly labeled with a Sharpie and matching red duck tape (no fancy garage labels here) and each bin is organized by item type and arranged on these sturdy metal shelves according to frequency of use.
Whew!  That's our journey to an easy to clean, organized and functional garage.  I'm sure as we acquire more stuff our organizational map will change with us, but for now we have a workable space that allows us to continue our DIY journey.
Link Ups: