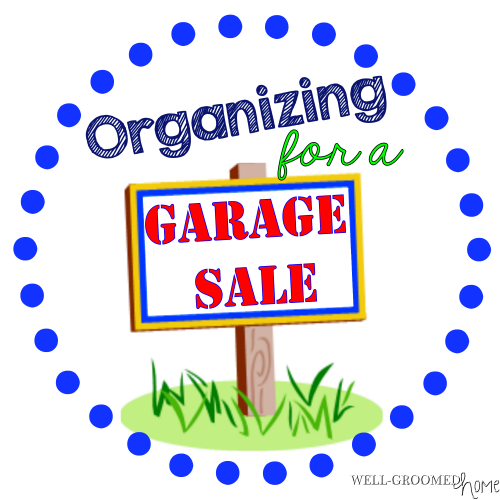 Organizing for a garage sale can be very overwhelming.  I've hosted and helped at many garage sales in my lifetime and although they are hard work, it's usually rewarding to make a little cash and get a jump start on spring (or summer or even fall) cleaning.  Selling anything is a science and getting organized is the first step.  The printable I created is a great checklist that I use to make sure I haven't forgotten anything.
Luckily, our community does a lot of the advertising for us and we have community-wide garage sale days twice a year.  Our garage sale is scheduled for this weekend so I'll be sure to give you an update on how we did.
*Update*
We made over $1000.00!  I couldn't believe it, but I definitely attribute our success to being well-organized! 🙂
Here is my organizational plan for garage sale success.
As far in advance as possible start Collecting Items and stowing them away. I use two large storage bins in the garage to toss both donation and garage sale items into all year long.
Check Community / Neighborhood Regulations.  As I mentioned, our neighborhood has designated two days per year that we are allowed to have garage sales.  Unfortunately, we are not allowed to choose our own dates, so we have to make it work and plan far in advance.
Although the community advertises for us, I also like to Advertise  on my own.  I put an ad on Craigslist about a week before hand and include as many pictures as I can.  I also put an ad on the community website.
Two to three days ahead I start Cleaning and Sorting Items.  Sort items like a store would (clothes; toys; electronics; furniture; housewares; etc.).  I compare myself to Walmart, because I always have a little bit of everything.  I know my dad even sold spare tires (they were new from an old Jeep) at a garage sale one time, lol.  Clean up any dirty or dingy items and make them look their best.
Next, I make a trip to the bank and get some small bills and coin to Set Up a Cash Box.  Twenty dollars in change usually works for me.  You can use an actual money box or designate a small empty storage box or zippered bag as your cash box.  Personally, I prefer locking cash boxes, which separate bills and coins.
As I sort items and clean them I make certain to Clearly and Fairly Price things.  Signs can be made to price clothing rather than pricing each item individually.  Pricing fairly is very important.  Sometimes I start 5 to 10 percent higher so I have room to bargain, but on smaller, less valuable items, I just price them for what I'm willing to take.  I also like to group several small items (like towels or other housewares) and price them as a whole.  Another idea is to consider having a bin labeled "free" for those things you really want to get rid of.
The day before I Make Signs pointing people to my house and I am careful to use stakes that can't blow over.  I like wooden stakes that I can staple signs to since they provide more stability. Neon signs with dark letters stand out and get peoples attention along the road.
Set Up Sale Area:

As I set up my sale area I group similar items into zones and try to have my more valuable items closer to the house where I can keep an eye on them.
It's also extremely important to

Display

Items in an Appealing Way by using tables, colorful signs, and I also find it helpful to pack items together with twine or pretty ribbon.  Presentation goes a long way and adds perceived value.

The morning of the sale, I Post Signs and get everything staged and set up On Time because people will show up early. I like to move things out along the driveway or yard to help make the sale look inviting.  Smiling at visitors and saying hello lets them know who is in charge in case they have questions.
I like to have bottled Water or Snacks for Sale near the cash box.  People get thirsty and hungry walking around; having snacks and drinks on hand encourages them to stay and shop.
Be Careful and Guard the Cash Box at all times.  People can be distracting asking questions and trying out your "products".  I like to have my cash box in my hand at all times unless there is a designated cashier.
Donate Unsold Items to Charity: After the sale, make arrangements with a local charity to have your unsold items picked up.  Most charities that offer a pick up service will also give you a receipt for your taxes.
Deposit Cash and Celebrate!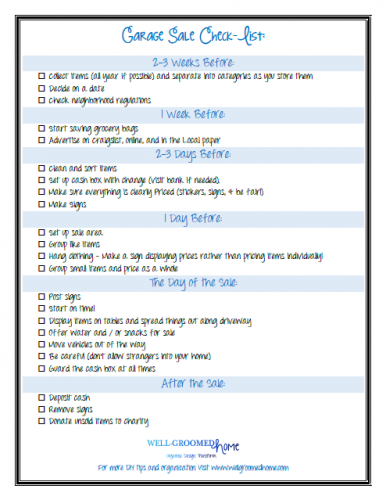 click here to download the Garage Sale Checklist
 Link Ups: