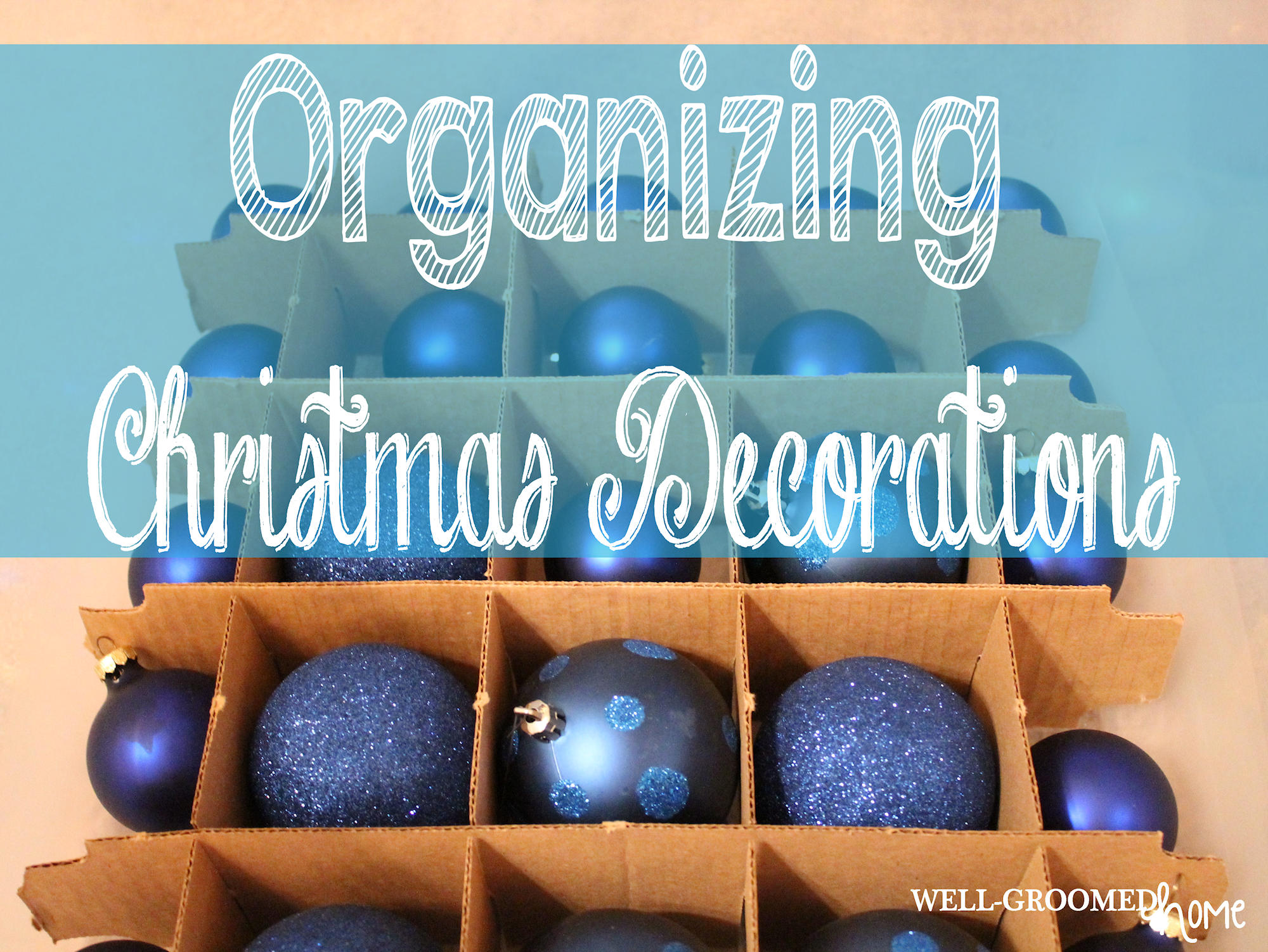 Having my Christmas decorations organized has helped me tremendously when it's time to decorate, as well as, when it's time to put everything away after Christmas.  This is my personal solution for Christmas decoration organizing.
A few years ago I invested in the Sterilite Showoffs Ornament Box Collection from Target. The red and green boxes make it easy to identify Christmas decorations…this is especially appreciated by my fiancé when he's crawling around in the attic.  🙂 I love these storage containers because they came with cardboard dividers and they hold almost 120 ornaments per box!
source: unknown
To my dismay, I can no longer find the large-sized Sterilite boxes with dividers anywhere! So, what's a girl to do?  Well, after scouring the internet for a replacement this is the closest I could find.  They are made by Iris and hold fewer ornaments (3 layers of 15). The benefit is that they hold larger ornaments than the Sterilite version.
Another thought is to purchase the
Sterilite 66Qt Holiday Stor Box (Pack Of 4)
container in the same size and make your own dividers using the plastic cup method via Martha's tutorial shown below.
Martha Stewart's
 website also suggests wrapping your ornaments in acid free tissue paper. This will keep them looking like new.
I also love my snap and stack ornament storage.  It's clear so I can easily identify what's inside and it helps me keep track of ornaments that don't quite go with any particular theme or color.
I store all of my oddly shaped and larger ornaments in large ziploc bags.  Adding a little air and tissue paper for more delicate pieces in the bag provides extra cushion.
Plastic containers work very well for bulk ornaments, however, special sentimental or vintage ornaments need sturdy, acid-free containers like these from the container store.
Sorting ornaments by style, color, and theme also help me save time when decorating…and of course labeling each box is a must! However, I didn't bother with decorative labels on this project.  The heat of the attic requires something practical and durable, but red duck tape and a Sharpie still keep things festive.
One of my large plastic containers holds lights.  I like to keep the plastic inserts that come with most lights and wrap the strand around that to keep them tangle free.  I also use PVC pipe or a spare piece of cardboard if the original packaging was thrown away or damaged.  Separating outdoor and indoor lights is another great idea.
I prefer PVC over the toilet paper roll method simply because the PVC lasts longer and is sturdier. Plus, you can store them on end and save space in the storage box.
Before I throw out any damaged or broken light strings I salvage any working bulbs that can be used to repair light strings I am keeping.
Part of the Sterilite collection also includes the 
Sterilite® Holiday Wreath Box
 which is a fantastic alternative to the soft fabric version. This wreath box will protect wreaths from being crushed or damaged.
The last two boxes I have hold all of my Christmas linens and indoor decor.  This includes stockings, a tree skirt that I handmade (a post I will share later this week), tablecloths, and other decorative pieces (stocking holders, nativity set, etc.).
Every year before I begin decorating I always go through my ornaments and lights to see what needs to be tossed or donated.  There's no need to keep boxes of things that I know I'm never going to use again or that don't work anymore.  Plus, donating gently used ornaments and decorations can be a blessing to someone less fortunate.