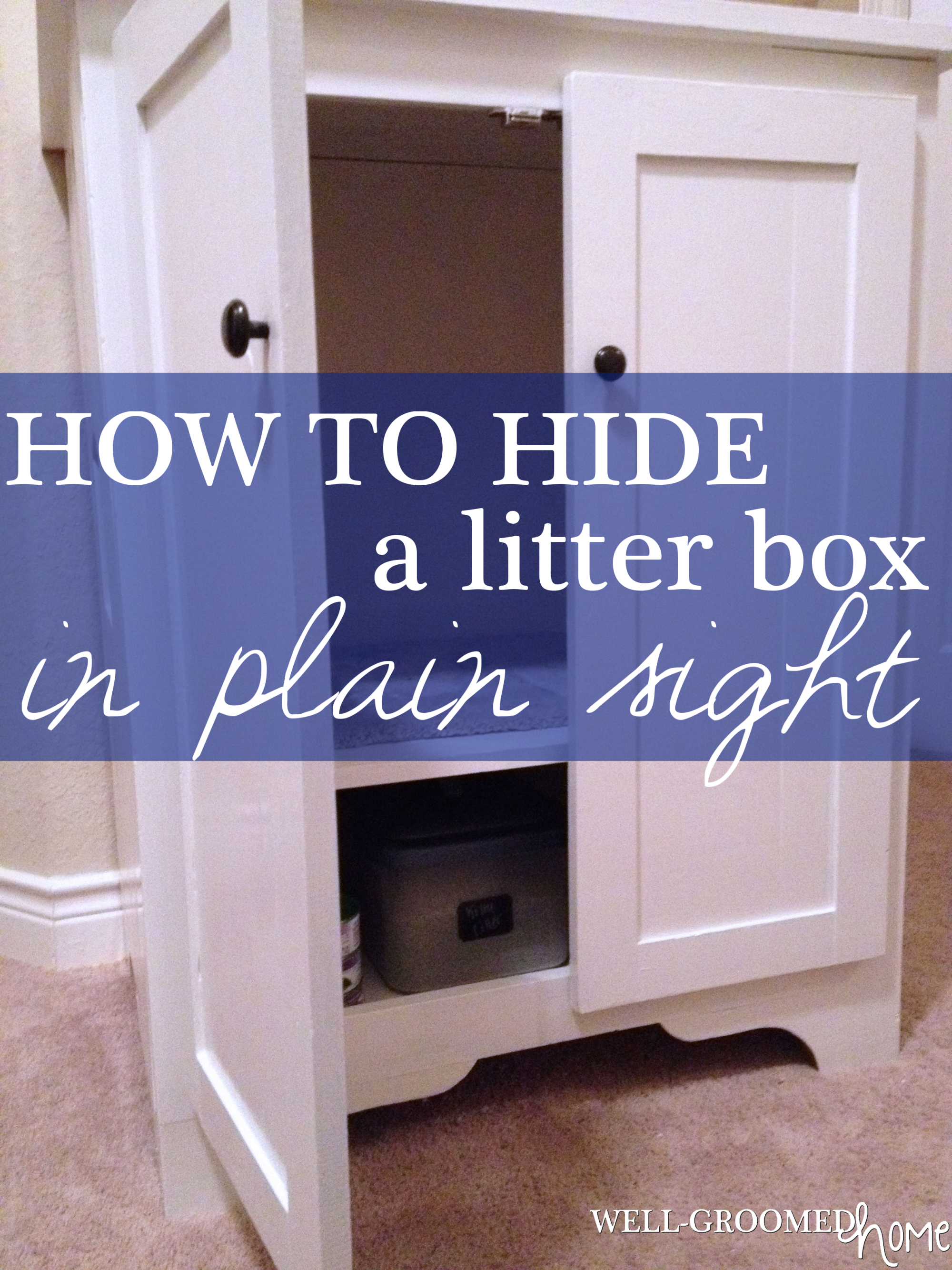 Okay so the litter box has been a long-standing problem in my house.  Where do we put it?  What can we do to get rid of the smell?  How can we control litter being tracked out of it?  How to keep the dogs out of it… etc.  SO… I started surfing the web for ideas.  Most of what I ran across was either the wrong size or the wrong price.  I was not about to pay $300 for a box for my cat to potty in.  Sorry, I love my cat, but I'd rather buy him food.
I started looking at making this cabinet several years ago, by modifying an existing cabinet… but even simple cabinets from Walmart seemed too flimsy and other cabinets from home improvement stores were still too costly.  I didn't want to built it from scratch either.  I began a daily search on Craigslist for solid wood cabinets.  I made sure to ask the seller for measurements since it had to accommodate my cat's extra large litter pan.  He's a big boy so we can't have a smaller one.  I needed the cabinet to measure at least 30″ wide, 24″ deep, and 36″ tall.  My plan was also to feed the cat on top of this cabinet so the dog couldn't eat his food either.
I found the PERFECT cabinet and at a great price too!  It needed some modification and a paint job, but nothing I couldn't handle.  I only paid $55.00 and it measured 42″ tall, 36″ wide and 24″ deep.  As you can see it was a former bar cabinet and the seller said her brother in law built it.  Sturdy. 🙂
I used a jig saw to cut the middle of the wine rack and then I was able to pry it out without any damage to the cabinet's surface.  I sanded the interior and exterior and prepped it for paint.  Before I painted the cabinet I wanted to use my jigsaw to cut out a little kitty door so he could access his litter box without the doors being open.  I measured and drew the shape I wanted.  Then I used my biggest 1/4″ drill bit to drill a starter hole for my jigsaw.  I drilled it into the center of my drawn shape so I could make sharp corners with my jigsaw.
After I cut the hole, I used oil based paint for this project because I wanted something extra durable that would also match our trim work.  I know using oil based paint is messy and smelly, but worth it since I have to wipe the top down daily after the cat eats.
Once the cabinet was painted I added some new pulls to the doors and set up all the kitty's supplies.  His litter box fits inside opposite the cat door I cut out so the dogs can't reach his litter box if they happen to stick their head inside.  I put a little bathmat inside to catch stray litter he tracks out – I find that works better than any of those fancy litter mats.  There is also room inside for my baggie holder (used to collect his presents) and the scoop fits neatly in the back.  There's even some room for litter and food storage under the shelf.
I'm very pleased with my modified cabinet.  Craigslist is still the place to find good quality pieces that can be made to suit your needs!