Okay, so I am not an extreme couponer…I dream of it, but the reality is that I don't have 10-12 hours per week to scour the stores for sales or jump in dumpsters for additional coupon inserts.  Props to those who do…I envy your stockpile.  However, I do enjoy saving and I do need a coupon binder…just on a smaller, easier to manage scale.  My solution: the Mini-Coupon Binder for the wanna-be extreme couponer inside me.
Here's what I used:
1 Mini binder (I started with a Martha Stewart binder – love those-, but for couponing I found it got really dirty floating around in my car, so I switched to a binder I could clean more easily).
4-5 sets of mini binder business card holders OR the Martha brand divided sheet protectors (the MS brand is really awesome and really hard to find)
1 set of plastic dividers
1 set of mini page protectors
1 zipper pouch from Martha
1 vertical bookplate by Martha Stewart / Avery
and COUPONS!!!
Here's what I did:
First, I used the page protectors as divider extensions to keep my binder tabs from getting buried under the page/coupon protectors.Thanks to Organizing Homelife for that awesome tip. Such a smart solution!  I hate not being able to see my divider tabs.
I also added some blank paper for list making on the go.  I also use this paper on a clipboard in my pantry so that when the list is complete, all I have to do it put it in the binder.
After labeling all my categories with my Brother P-touch, I filed all my coupons using the mini binder business card holders.  I used to use these by Martha Stewart, but they aren't available anywhere!!
I've also used these, which are nice, but don't hold as many coupons per page.  So these business card pages are the next best option.  Just like the big binders use trading card pages, these business card pages keep everything sorted and easy to see.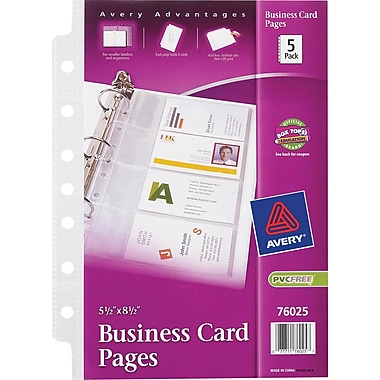 Avery® 5-1/2″ x 8-1/2″ Business Card Pages
Next Step:  Add a label.  My favorite bookplate labels!  These Vertical bookplates by (you guessed it) Martha Stewart, are adhesive and awesome.  They provide beauty and functionality! If you haven't tried them yet, get some.  They can go anywhere.
Last, but not least, I have a zipper pouch in the front of the binder for carrying store cards and coupons.  When I am at the store I can put the coupons in the zipper pouch as I go so that they are all together when I check out.
So there you have it!  A Mini Coupon Binder for non-extreme couponers who still want to coupon.  I've used this mini-binder system for almost two years and it is working out wonderfully.  I love that I switched to a cheaper, easier to clean binder.  No offense Martha, but those pretty teal binders pick up too many scuffs and marks with heavy-ish coupon use.  The OCD person in me wouldn't allow such a mess! The Mini Coupon Binder is an easy way to break into couponing without carrying around a file cabinet in your shopping cart. 🙂  Maybe one day I will have that, but for now this is plenty of extreme couponing for me.