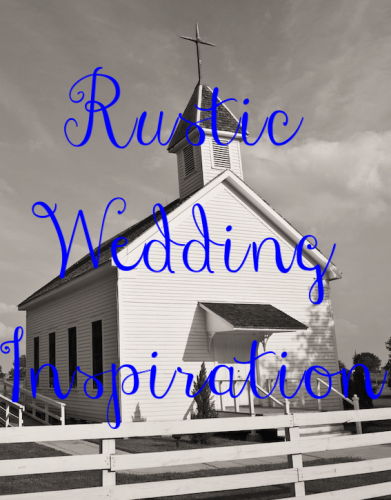 The past few months have been involved some hardcore wedding planning and tons of DIY projects to keep costs down.  I have utilized Pinterest to catalog all my hearts desires and I wanted to share with you some of my most favorite rustic wedding inspiration photos.
I'm sure most brides can relate to the fact that the wedding can become all consuming (even when it's small) because the details matter.  Rustic weddings are also increasingly popular, which is great for smaller budgets because you can do so much yourself…however, I have found that in choosing this theme my house is more like a wedding assembly line for invitations, favors, and decor.  That's perfectly okay with me though because these are memories I will cherish forever.  Okay on with the pics!
This beautiful chalkboard is a great way to greet guests and keep them informed.  Easy to do yourself with many hand-lettering tutorials online.
Wed-Libs or Guest-libs for the alternative guest book or keepsake.  I love this as "busy work" during the cocktail hour and it makes for some funny memories.
Thinking of using bow ties?  I love them and they are perfect for rustic themed weddings.  This tutorial shows you how to make them in your colors for less.
This is absolutely the best cake topper and cupcake stand ever!  No trees to chop down?  No problem.  They sell them on Etsy or you can take a trip to Michael's and purchase live edge wooden plaques for $15 bucks (or less for smaller sizes) each to make your own.
This little window sign is so charming!  I love the creative use for displaying the menu.
The sign below can be purchased on Etsy or made if you have some basic woodworking skills and a stencil.  I love the saying. 🙂
For more wedding inspiration visit my Wedding Ideas board on Pinterest!