Rubbing Alcohol and all its Wonderfulness!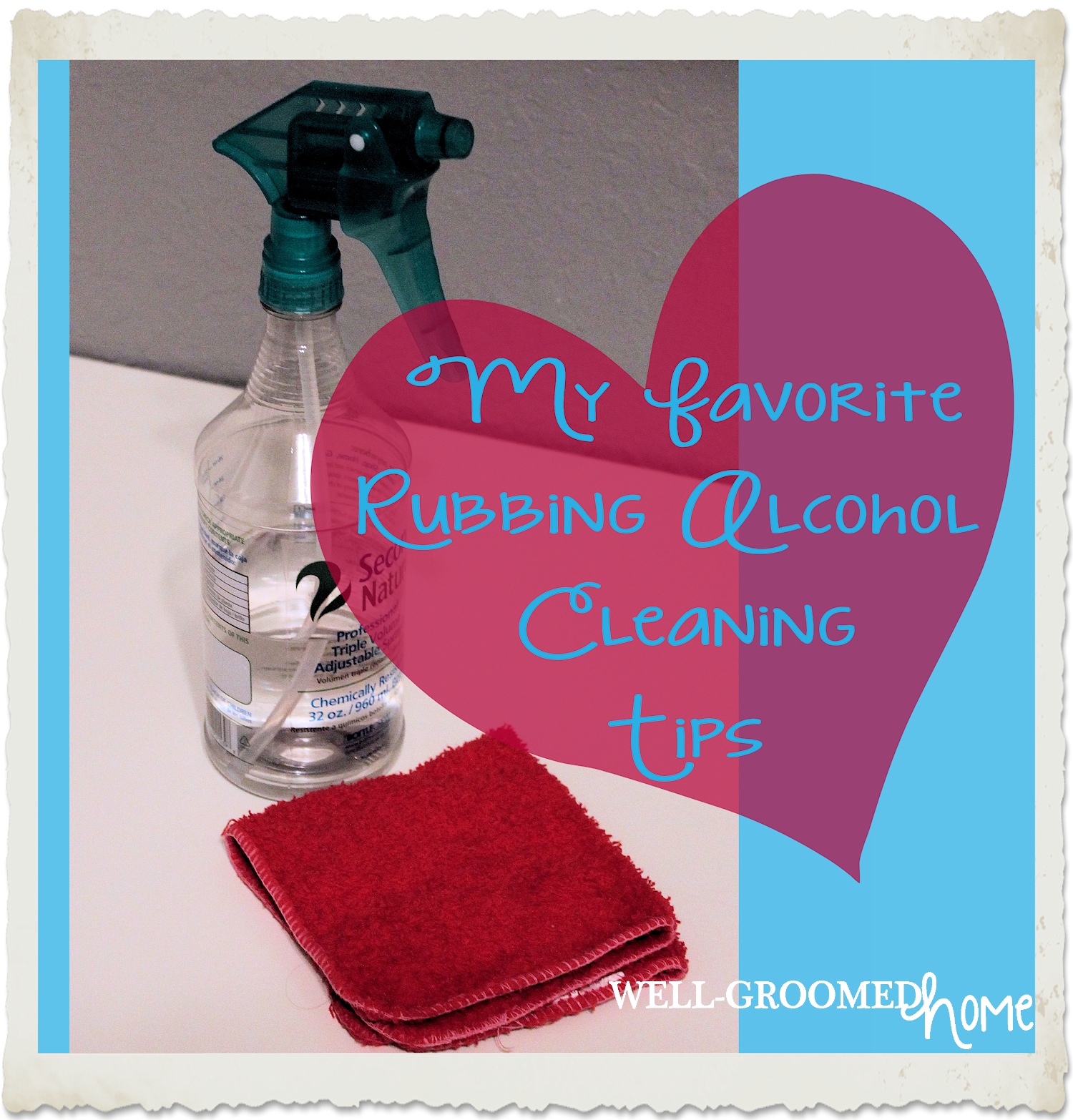 I admit it.  I am a rubbing alcoholic…when it comes to cleaning.   It does SO many things that I never thought it could.  When I visit the local Walmart I stock up and I even have a basket dedicated to my stock in the laundry room; that's how much I love it.  Sanitizer.  De-greaser. Dog accident cleaner-upper. Miraculous little product that costs pennies compared to all the other cleaning products designed to clean our homes.  I usually mix it with 50% water to make it go a little further and it still does a glorious job.  Here are a few of my favorite rubbing alcohol cleaning tips:
Granite Counter Tops:  Rubbing alcohol will leave your countertops sanitized and sparkling clean.  Plus, it won't degrade the sealant.
Ink pen, Sharpie or Permanent Marker: Rubbing alcohol will remove ink stains from clothing and from almost any hard surface (plastic, laminate, etc.)
Chrome fixtures: Rubbing alcohol will shine and clean anything chrome to a mirror-like finish.
Windows / Mirrors:  Of course, it will also shine mirrors and windows without streaks.
Hairspray / Hair Product Build-Up: Use Rubbing alcohol to remove hairspray or product build-up from curling irons / flat irons and countertops.
Remove Sticky Residue:  Price tags, band-aid residue, or tape residue, rubbing alcohol will get rid of it.
Carpet:  To spot clean carpet you can spray rubbing alcohol directly on most carpets and wipe it up with a rag.  It will get out just about any stain. Honestly, I haven't found anything that rubbing alcohol won't remove from carpet!  If you use a carpet steamer, 50% rubbing alcohol, 40% water, and 10% vinegar (approximate percentages) will work better than most commercial brands.  The alcohol sanitizes and cuts grease and the vinegar deodorizes.  Using any type of soap on carpet only leaves residue that will eventually attract more dirt to your carpet.
Acrylic Paint: Crafting a little messy lately?  Don't worry.  Rubbing alcohol can get it out of your clothes.
Cell Phones, Computer Screens, Pretty much all Electronics:  Spray rubbing alcohol on a microfiber or lint free cloth and wipe electronics to get rid of germs, fingerprints, etc. The alcohol evaporates quickly so it's safe for electronics.
Blinds:  We have painted wood blinds and so I use the tried-and-true trick of an old sock on my hand  plus a mixture of 50% water and 50% rubbing alcohol.
Stainless Steel:  Wipe down your stainless appliances with rubbing alcohol first, to get rid of fingerprints and grime.  Then use your favorite stainless cleaner and you won't believe the shine!
Plastic:  Any plastic surface cleans up nicely with some rubbing alcohol.
Microfiber:  If you have microfiber furniture, a little rubbing alcohol on a sponge will get rid of all that gross stuff.
Sinks, Toilets and Tubs:  Instead of bleach try a little rubbing alcohol to disinfect these germy little places. I wipe every surface of the toilet (seat, handle, top, lid, flange, sides..) and even the floor around it to make sure it's as clean as a whistle.  In the tub it works nicely to shine the tile and quickly eliminates ring-around-the-tub. Ewww.
Basically, in our house, if it's a non-porous surface and not made of wood, you can bet I've used rubbing alcohol to clean it.  Do you have a use for it that I haven't listed?  Tell me in the comments below; I'd love to know!
Linked Up at: