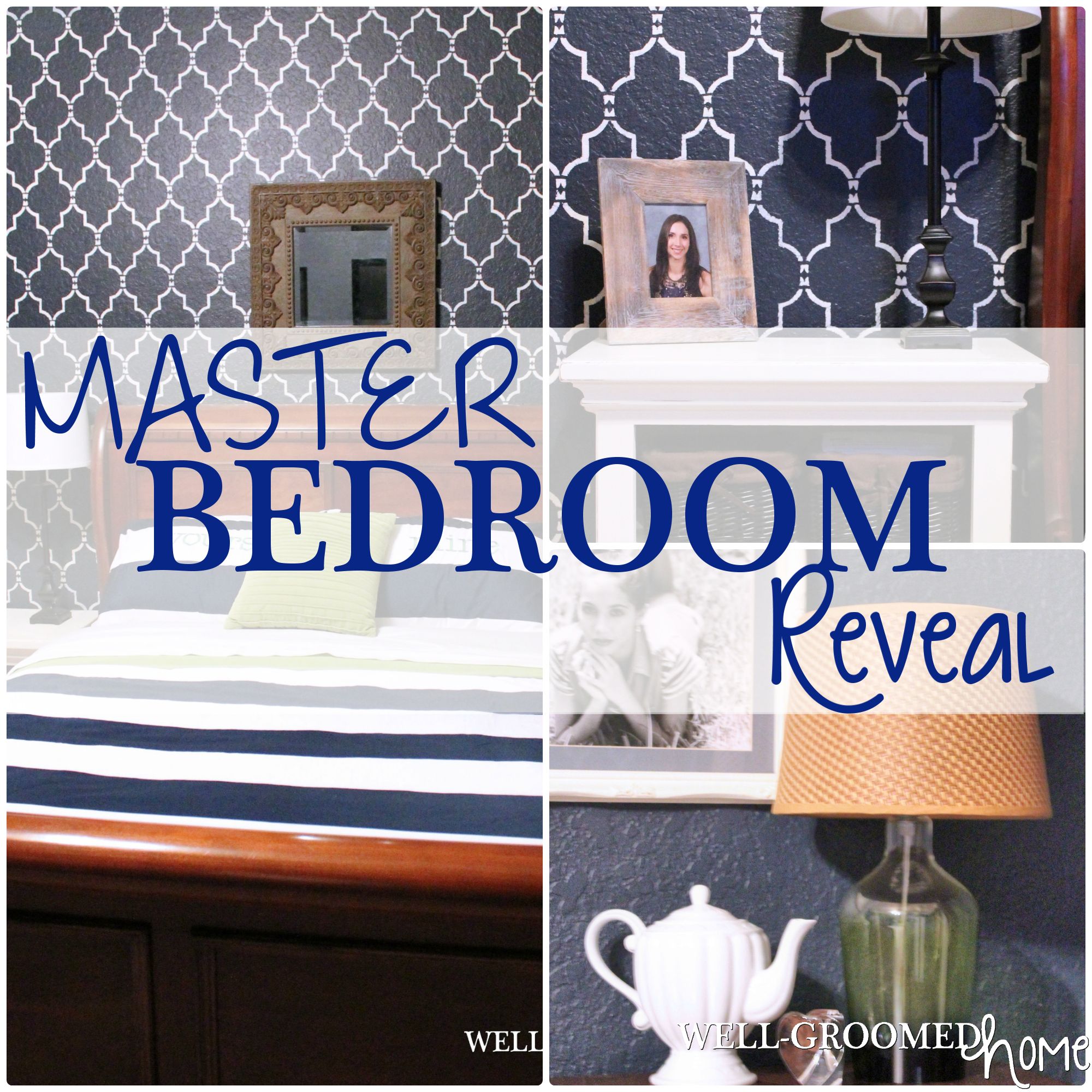 I finally finished painting and decorating the master bedroom. I think hosting Thanksgiving at our house this year gave me the push to get it done.  After some trial and error with my stenciling project I eventually got the look that I wanted and I couldn't be more pleased.
This is what our master bedroom look like before:
…and After!
The walls were a neutral builder beige color and really the only thing that I had managed to do was purchase new bed linens.  I was inspired by the West Elm bedding I saw in their catalog, but to have it monogrammed the way that I wanted would've been way too much, so I opted for the similar version that I found at Target.  I ended up purchasing a queen size duvet cover in this bold navy and white striped pattern for only $19 on sale. I had it monogrammed with the chartreuse green "yours" and "mine" that I first saw at West Elm, and the monogramming actually ended up costing more than the Target duvet set! Total, I spent less than $50.00 on our new duvet set.
I originally purchased our bedroom furniture (the sleigh bed, dresser, and one nightstand) from Sam's Club about 10 years ago.  They're really good quality pieces and I love the rich mahogany stain…so rather than paint all of it I decided just to paint the night stand to coordinate with my fiancé's "new" nightstand.  Believe it or not his "new" nightstand is a dumpster dive find.  I was a little embarrassed to be seen dumpster diving in our neighborhood…lol…but after driving around the block several times hoping no one would see us, I finally gave into temptation and we loaded it into the back of our SUV.  It's a solid wood piece and the only reason someone threw it out was because one of the drawers was missing.  Not a problem for me though!  I took out the remaining drawer, removed the drawer glides and used some decorative baskets for storage. Unfortunately, I don't have a before picture to show you, but it was pretty beat up.  After a good cleaning and a chalk paint make-over it fits in perfectly.
I think the dumpster nightstand coordinates just fine with the other nightstand.  I'm actually glad they aren't a matched set.
We also decided to mount our TV on the wall rather than purchasing or finding another furniture piece for it. This proved to be a little bit more complicated than we anticipated. Hanging the TV was the easy part but now we had all these wires hanging down and plugs were at least 3 feet away.  So of course I talked my fiancé into crawling in the attic so that we could move the outlets up right under the TV.  After some swearing we had the walls patched and the outlets moved up and I was able to hang a simple little shelf for our DVD player and cable box that I made out of some MDF and corbels from Home Depot.
The corbels are only $10.96 a piece and the MDF was less than $5.00 for such a short piece…I like the look of this shelf much better than the pre-fab ones that are laminate and it's about the same price.
I still have some work to do to hide the cords completely (they stick out behind the components about an inch and a half) but it is much better than having three cords stretch down 3 feet from the TV.
I chose to use some curtains that I had from the previous house in our master bedroom. They are dupioni silk and they have almost a copper finish that coordinates really well with the Mahogany wood tones of our furniture.
Painting and stenciling…ugh. It really was a source of frustration. It's no secret that stenciling textured walls is a nightmare and after doing it one time and realizing that I really didn't like the shade of brown that I had chosen to go with these dark navy walls, I had to do it all over again. I posted about that experience here before I knew I would be doing it over.
The second time around I decided to order a different stencil pattern because the one that I used the first time has openings for the shape rather than the lines so you're actually stenciling the majority of the stencil… if that makes any sense.
The second Stencil I ordered came from Cutting-Edge Stencils and I decided to order their Clip-On stencil level with it… What a difference! I knew having a stencil with just the lines as the stencil holes would make a dramatic difference but I really didn't know what I was missing by not having the stencil level the first time around.  It's such a simple product and if you're crafty you could probably make your own but on these dark walls where pencil lines from a traditional level barely show, this was the ticket. It literally took me half the time.
I love the paint color.  It's Wrought Iron by Martha Stewart and it's just divine.  As dark as it is, it doesn't make the room feel smaller or cave-like.  It's rich and warm.  This rocking chair is an heirloom piece given to me by my mother.  She actually used it when I was a baby and someday I hope to use it for my children.
I am so glad that I have my aunt's teapot, now that she has passed.  It makes me smile every morning when I see it.
We also DIY-ed some doggie steps since my little 7lb poodle can't get on the bed without some help.  Yes, the tiny poodle sleeps in our bed…I know some people don't like that, but he's my baby!  We found the pattern online – there are a lot to choose from – and we just picked the one that fit the height of our bed.
So this is our master bedroom and I am so happy it's finally done…now if only I could motivate my fiance to help me finish the master bathroom remodel.