I had some left over wood from the pallet our new bathtub was delivered on so I decided to make some rustic wall art.  This easy little project is quick and it would make a great thoughtful, but inexpensive gift.
First I cut my scrap wood into three equal pieces.  My pieces are about 15″ each.  I used a jigsaw to cut mine, but of course, a circular saw or table saw would work just as well.   Once I had them cut I gave them a quick sanding to get rid of any rough edges.  I didn't want them to look brand new, so I didn't sand them too much.
After sanding, I dry-brushed them with white chalk paint and a little green paint I already had on hand.  For more info on my DIY chalk paint recipe click here.
Then I used some stencil letters I already had to stencil the words "Faith, Hope, Love" on each board.  I chose a neutral brown paint for the letters.  To make sure the word was centered, I started by laying out my center letter first.  I taped the letters to the board so they wouldn't shift and used very little paint on my foam spouncer brush. I didn't need the letters to be perfect; I wanted more of a casual rustic look. (Ignore the pink and blue paint – that was from another project. Click here to read about that project.) The spouncer brushes I used to stencil were purchased at my local craft store for less then $5 for a package of assorted sizes.
Once the letters dried I drilled two holes about one inch below the top edge of each board.  I centered the holes on the board and spaced them about 6 inches apart.  I ran some green craft ribbon through the holes and tied it in a neat little bow so I could hang each board on my wall…and that's it!  This project only took me a couple of hours and most of that time was waiting for the paint to dry.
To hang the boards I used some left over drawer pulls as wall hangers.  This project could easily be used as a gift for someone special.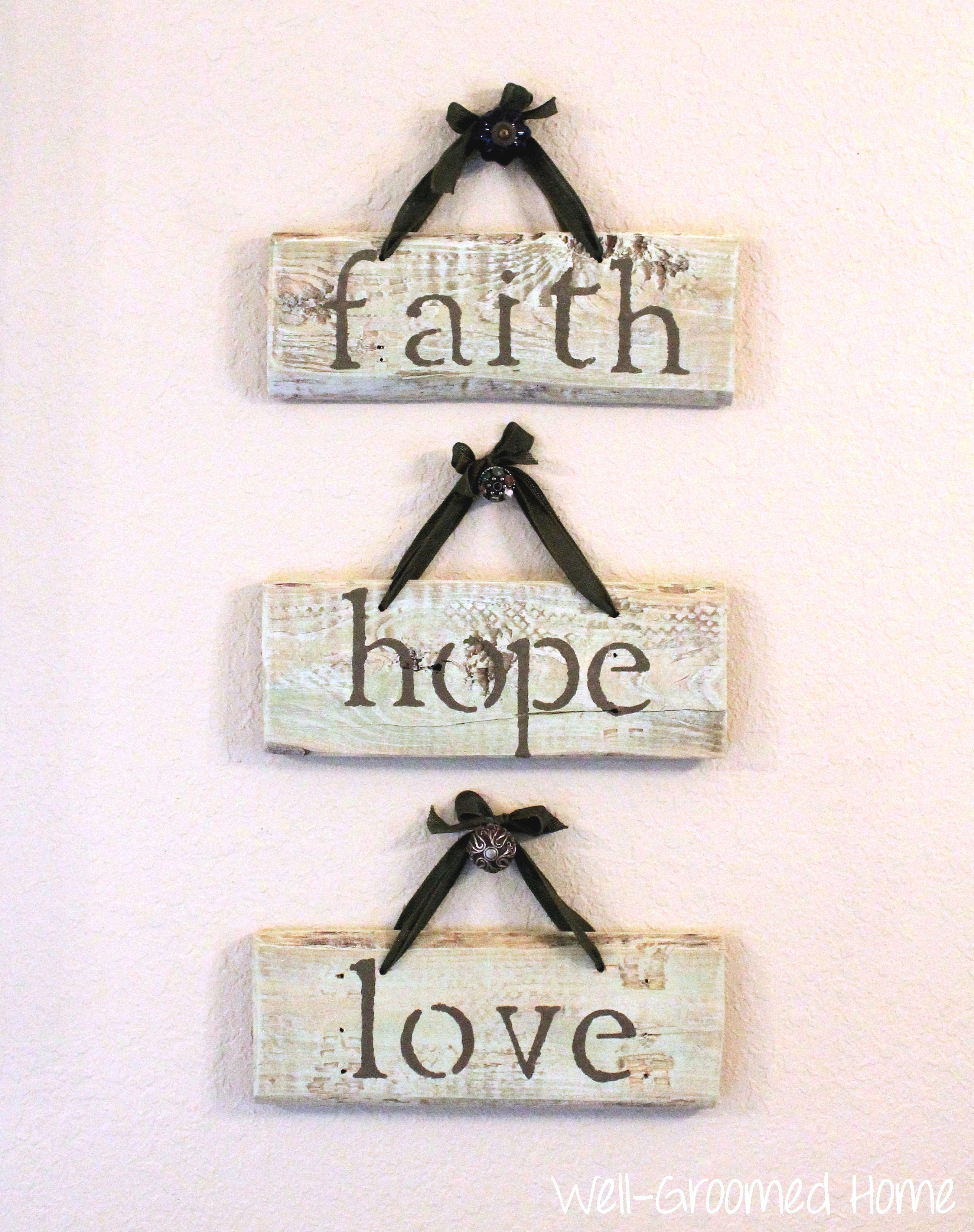 See this post and many more over at Home Stories Link Party #135.