WELCOME! TAKE A TOUR OF MY HOME:
Our first house isn't "tour ready" at this point and I'm sure it will forever be a work in progress.  However, since moving in August of 2012 we have done quite a bit and as projects continue I will post updated photos. 
 ENTRY:
Update:  New Black Door!  Click
here
to see the make-over.
We have a rather long entry way, which means a lot of tile (that will hopefully one day become hardwood) and a lot of stopping points, which need interest along the way.
Below you can see how long our whole entry way actually is…It could be considered a hallway I guess, but because it just keeps on going until you reach the family / living room it just all feels like the entry to me.  In this picture you can also see the heirloom dresser that I received from my Aunt before she passed.  Read about how I refinished it
here
and how I made a replacement knob to match the existing vintage knobs
here
.
Across from the vintage dresser I hung some family photos in a gallery style display.  I love the two pictures of mine and my fiance's eyes.  It's more unique than just the standard "here we are together" photo. It's ironic that both of those close up shots were taken with an iPhone!
Chalkboard Entry Art: So simple.  So easily changed.
KITCHEN:
I repainted my kitchen cabinets with chalk paint and then added a glaze and light distressing to give them an antique look. Click 
here 
to read more about using chalk paint.
A little lot of paint, new hardware, and lighting. Ah, much better.  My next project in the kitchen will have to be that awful back splash though. No floor tile on my walls please!  I also repainted the ENTIRE living room/kitchen/entry with a neutral greige.  That's a word now if you didn't know. 🙂
My spice drawer:  This was a great organizing idea for spices I saw on Pinterest.  All I did was use chalkboard spray paint to cover the lids of some 4 oz mason jars. I used a chalk marker so they can be easily updated.
 No, I did not spend a lot of money on this chandelier for my dining area. It's paint!  Click 
here 
to see how it's done.
LIVING ROOM:
Read about how this room transformed with new paint and hardwood floors.
This room has undergone a slight transformation since we purchased the home.  We plan to put in hardwood floors eventually.  The foreclosure company painted everything in the entire house beige before we moved in, which was good and bad because although we had a neutral palette, we still had to paint.  We will eventually add hardwood floors, but for now it's a comfy space that my husband can play his piano.
With my fiance husband working on his masters degree, me working from home, and having a space for crafts, we needed a well-organized office with numerous spaces to work.  I have a post in the works detailing our office make-over because a lot has changed even since these photos were taken a few months ago.
In our office we have a Pottery Barn desk paired with Ikea shelving for storage.  I recently added some new
industrial shelving
and
vintage decor
that I am just in love with.
We painted the office the same color as the music room since they are across from each other as you enter.  I can't tell you the exact color because it was "oops paint".
I have since removed the geometric contact paper seen below on the top of this desk…it just didn't go with the new industrial theme.  However, you can read about how I did it 
here
.
POWDER ROOM:
This was our powder room before the rustic industrial make-over. Painting stripes in the powder room was a tedious process, but it's not as hard as you'd think.  Click 
here 
for more information on this project.
…and this is our powder room NOW:
GUEST ROOM: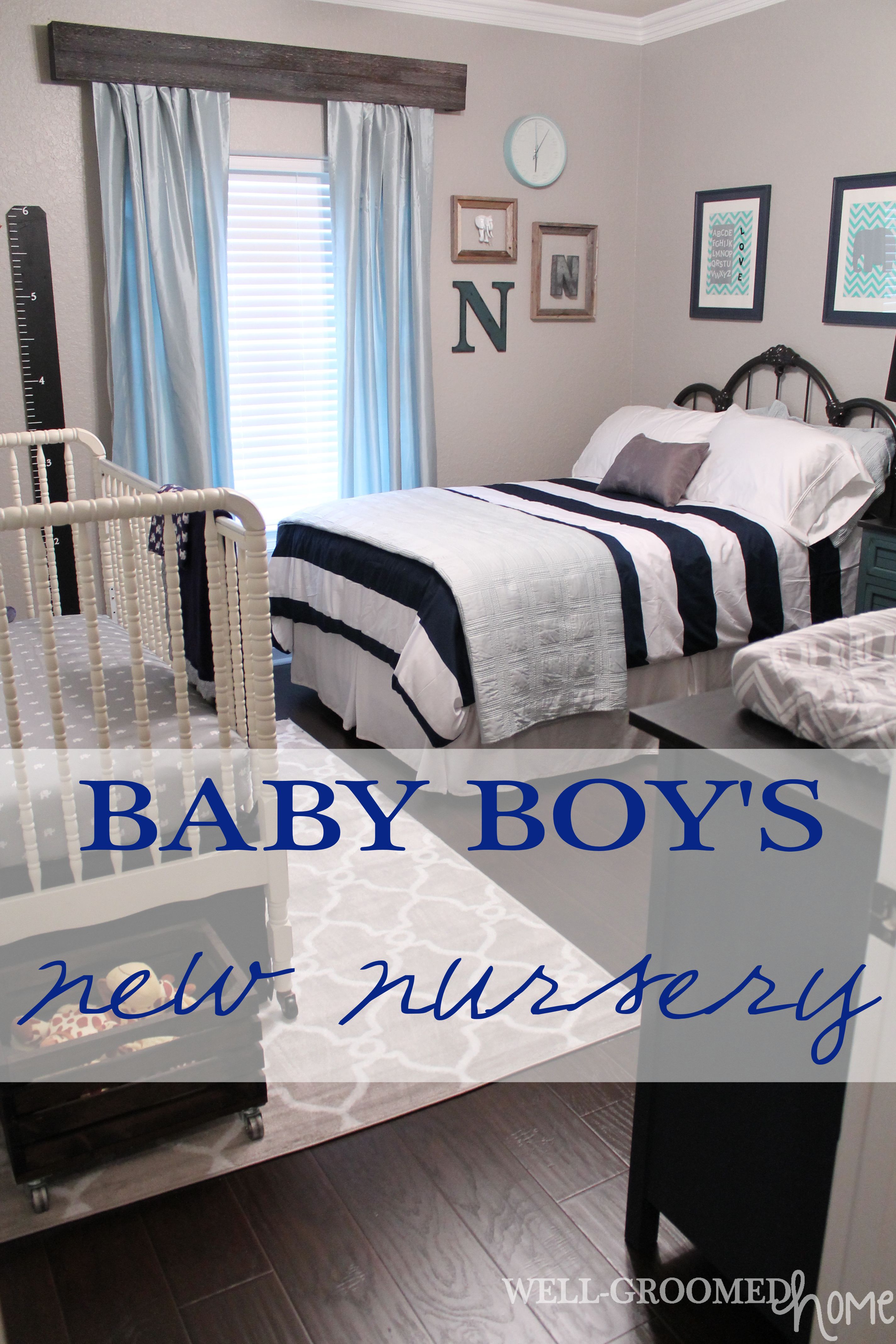 MASTER CLOSET:
One of the best projects to date!  My small closet is now functional for both of us! I love my closet now!  Click 
here 
to read how I maximized space and added more custom shelves.
This little hat organizer was also a DIY project by yours truly.  A little chicken wire and some pallet wood go a long way!
I opted for the non-slip velvet hangers in this closet re-do and I am loving the extra space they give us!
 MASTER BEDROOM:
Finally, our master bedroom is done! After two different stencils and a lot of paint, it is finished.  You can read more about the transformation
here
. As for the master bathroom it's a true construction zone as we are working on installing new tile, a new tub, and new shower. That will be a major post soon to come!
Like the dumpster-dive up-cycled nightstand? I think it turned out really well for my first dumpster-dive experience.
 LAUNDRY:
So this was before:
Then I added some shelving…
…and finally organized everything!
 HOME GYM:
"Jump" into the home gym project here and see how I made a spare bedroom a personal fitness room on a budget.
Our home gym recently went through another transformation (see the photos below) and the blog post is coming soon!

GARAGE:
We finally organized the entire garage and put down an epoxy floor.  Click here to read more about that project.
 EXTERIOR:
Our happy little home from the front:
Our sad little mailbox got a make-over too.  You can read how I transformed it with some paint, copper numbers, and plants
here
.
The backyard got a lot of TLC when we moved in.  We probably spent every evening outside planting or landscaping or killing some type of weed.  Really, our yard had no actual grass…it was ALL clover.  My fiance was about to go insane over the yard, but we got it into shape and managed to add a few extras along the way too.  We also treated for fleas with an 
ultra-natural remedy
that prevents fleas FOREVER.
Here is our back yard before:
View of our patio:
I built this pond all by myself!  It was hard work, and still a work in progress as I keep adding things to it…Click
here
to see my progress.
Finally, here is our backyard after some much needed love and attention:
I hope you enjoyed the tour!  Stay tuned for updates and subscribe by email or social media for the latest projects and Well-Groomed Home DIY. Thanks for visiting our home.