Whew!  These last few months have flown by with all the work we've been doing since Harvey.  Mastering Knockdown Texture has been a challenge to say the least, but hopefully these tips will keep you from making the same mistakes during your learning curve.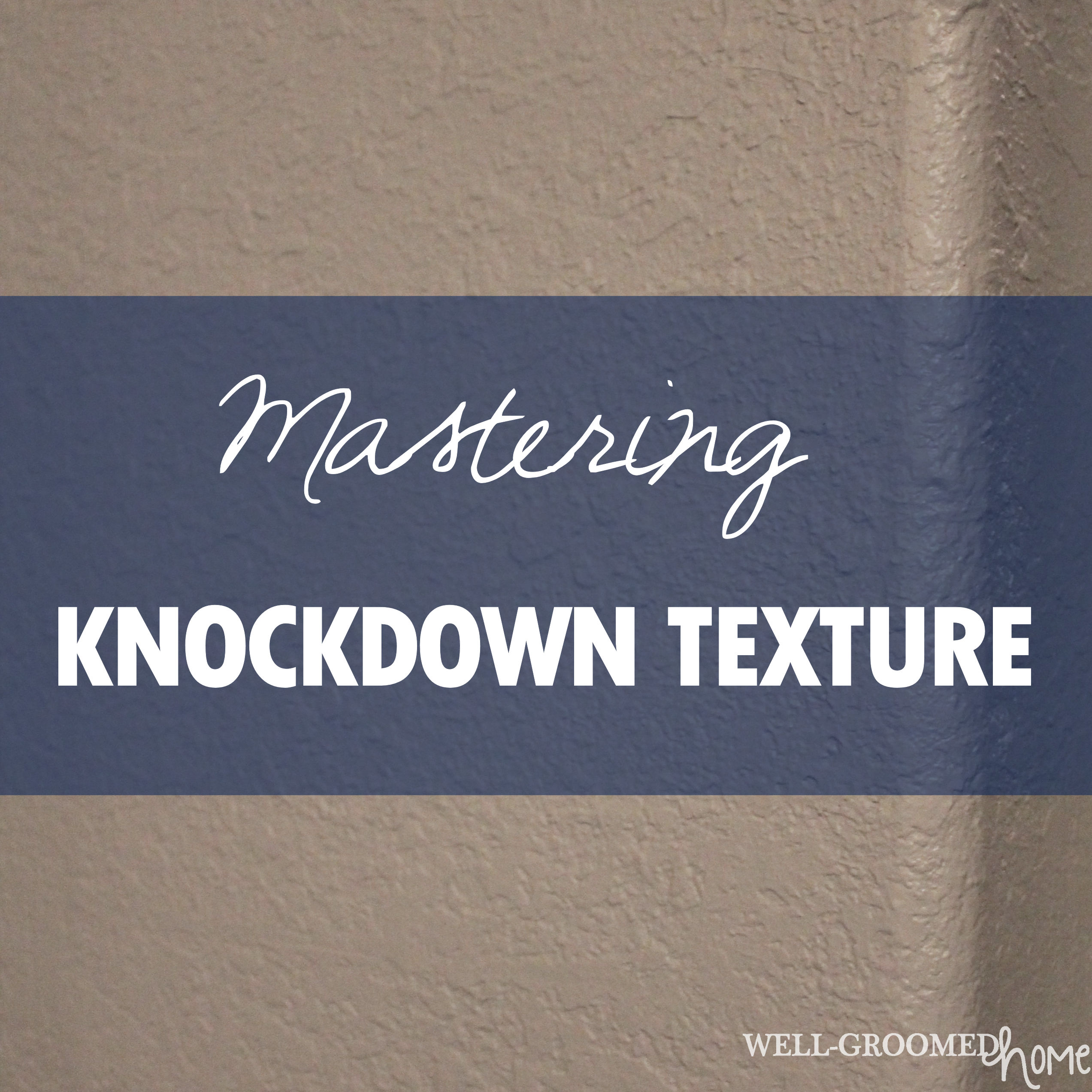 The supplies are pretty basic, it's technique that counts.  We used a hopper that we borrowed from our neighbor, but you can get one here or here.  You'll also need an air compressor and some pre-mixed joint compound or wall texture mix.  I like to just thin out the joint compound because it dries a little faster and isn't as watery.
The joint compound should resemble pancake batter.  So basically I just added a little bit of water to a few scoops of joint compound until it was the correct consistency.  This video from YouTube was especially helpful in getting the mix just right.
After you get everything mixed hook up your hopper to the air compressor and set the pressure to 20-40 psi.  This was probably the best setting I found since my texture is pretty "globby" and large.  You'll need to practice a little on some scrap drywall to see where yours falls to best match what you have if you're patching. The hard part is not spraying the texture though…it's actually knocking it down.  I found that if I waited until there was no longer a sheen to the compound it was ready to be knocked down.  I used a large drywall knife like this for the large areas and then a combo of smaller knives around window sills and tight areas.  Since mine was a large patch job from the flood it took some finesse to get it to match the existing texture.  I had to play around with the amount of pressure and the angle used to knock down the high points.
I found that keeping the knife almost parallel and flat to the wall worked best and for large areas I just went vertically in rows making sure to overlap the last pass by about an inch.  That helped me avoid making lines in the texture with the knife.  It get's pretty monotonous and tedious unfortunately.
Hopefully, with some practice you'll end up with walls that look similar to this:
Now there's debate on whether you should prime drywall before or after texture or both.  Basically, I decided that since the drywall compound we used for texture was the same as the compound used to tape and float there was no need to prime before texture. Those that say to prime first are concerned the texture may wet the drywall too much.  I didn't find that to be the case.  Just do your research and decide what's best for your situation.
I chose to use Glidden primer since it was most cost effective and got great reviews online. A 3/4″ nap roller worked like a charm to get primer in all the knockdown texture crevices.  After it dries take a good look at your seams and make sure you don't need to sand anything off and re-do it or add more texture.  It's a lot easier to sand and make minor fixes now than after you paint.
The last step is paint…and that's the truth-teller. There you'll really see if your texture job matches.  There are still some places I can see on our walls that bother me, but realistically I am happy to have saved $4000 that the drywall companies would have charged to tape/float and texture.  One step closer to getting our house back after Harvey!