After mixing my own custom paint color and foregoing the stripes of the past, our powder room has officially arrived at the destination of Rustic Industrial.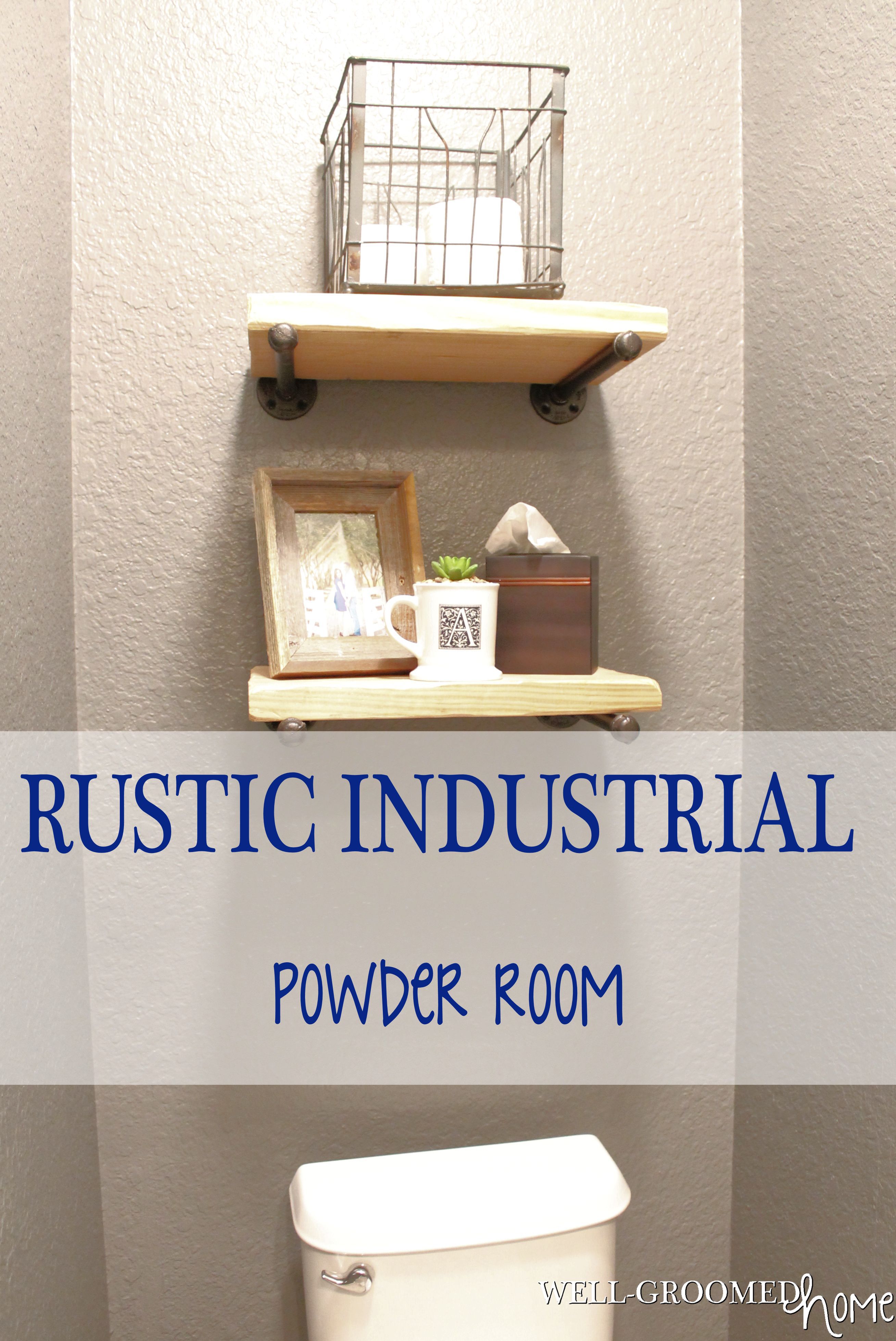 When we first moved in one of the first rooms I painted was the powder room.  I wanted it to have some Wow factor and after seeing a similar version on the DIY channel I decided stripes were my answer.  Fast-forward two and a half years and I am no longer in love with the stripes.  I don't hate them, but our house has taken on more of a rustic vibe and I felt like the stripes were a little too much.
Not wanting to spend money on paint and opting to do this late one evening before my husband came home from work I mixed my own color concoction using left over paint from other rooms.  Ironically, one color (Black Magic) was used to paint the original stripes and the other color Cobblestone, is my new living room greige of choice.
I mixed one part Black Magic and one part Cobblestone, which gave me this lovely velvety deep grey beige color.  The photos just really don't do it justice, because in person it looks so warm and rich, but not overly dark for this tiny room.
The shelves you see in the background were made using left over plumbing parts from my office bookcases.  I spray painted them oil rubbed bronze so they would match the hardware.  To make these shelves you'll need:
4 pipe nipples 6″ long, 4 flanges, and 4 pipe caps all 1/2″ diameter.
The shelves are 2×12 scrap pieces from the same bookshelf project that had been floating around in our garage. I gave them a quick sanding, but didn't bother to stain them because I happen to like the contrast of the dark wall with the light wood tone.  Who knows though, I may change my mind later and stain them 🙂
A few accessories and some spare toilet paper in a beat-up 'ol rustic basket complete the look.