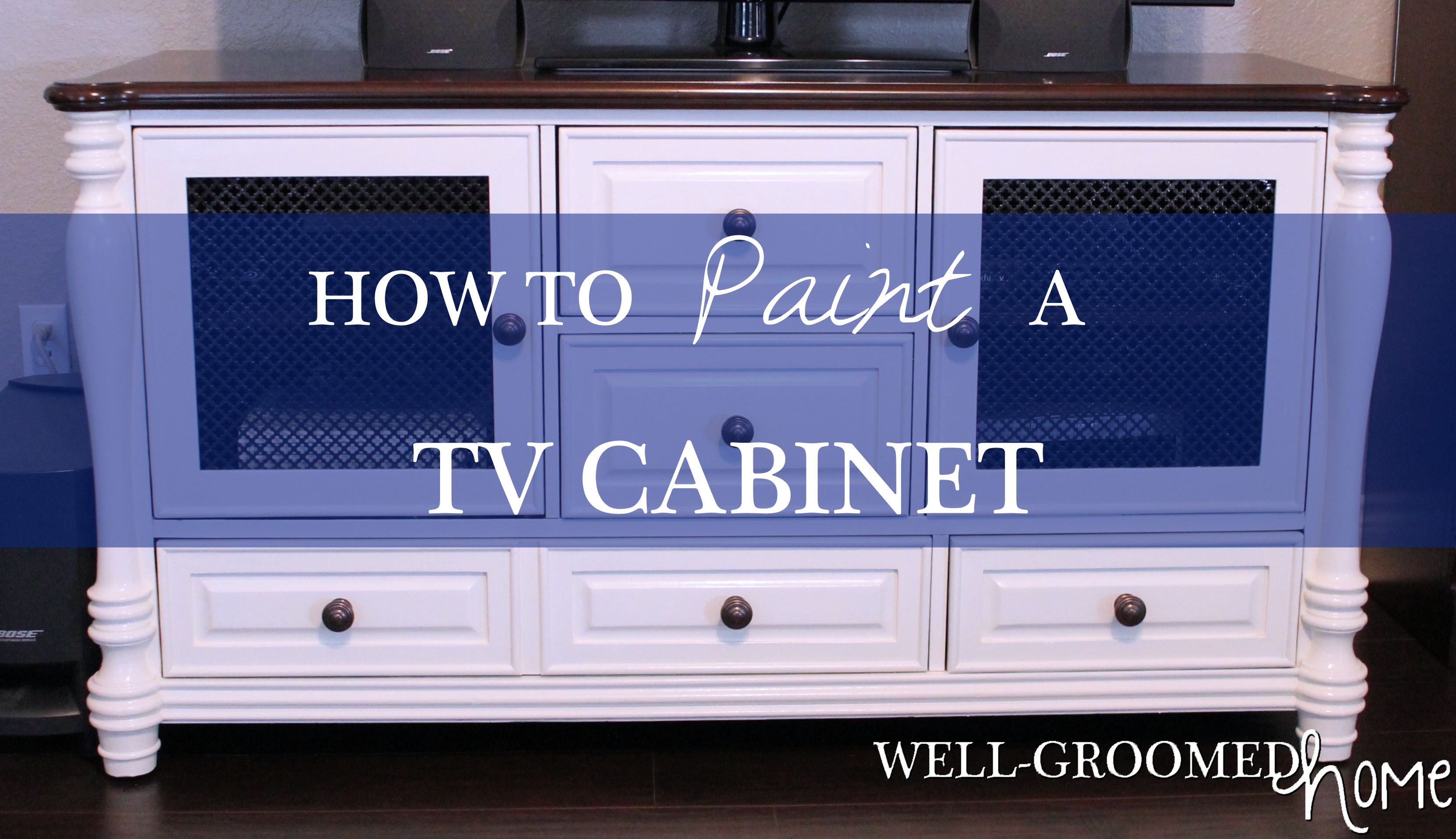 Painting this TV cabinet really wasn't that bad considering that I didn't sand it and did it all indoors in a weekend at 6 months pregnant.  Yes, I am definitely in the nesting stage and it's driving my husband nuts. I just can't help it though, I want our house to be all spiffy for the baby and for the company that will surely be visiting once he is born.
So why did I paint it, you ask?  Well, after staring at it on the new dark hardwood floors we just installed, I couldn't get over how heavy and blah it looked.  It just seemed to blend right into the floor. I wanted a crisper, fresher look, and the easiest, cheapest way to do that is with paint.
So here is the before:
And the after!
Okay so onto the process.  I took the doors off the cabinet because I wanted to replace the glass with something that would hide the ugly stuff, but still allow the remote signal to come through. The great thing about these doors is that the glass was held in place by these wonderful rubber strips that I was able to pull out and then reuse for my new inserts.
 Radiator covers were my solution.  I purchased a 2×3 foot sheet from Lowes like this and after tracing the shape I cut it out with tin snips.  This stuff is sharp, so a pair of leather gloves was a necessity.
A dry erase marker worked perfectly to trace with, because it wipes right off.  At first I wasn't sure if I was going to paint the metal oil rubbed bronze or leave it silver.
Painting Supplies:
First, I used Zinsser primer to make sure that my paint would adhere to the glossy surface of the cabinet.  This thing is big and I didn't want to have to move it outside to paint it… plus my husband would have died without TV for a few days! So we opted to scoot a drop cloth under the feet to protect the floor (with hubby's lifting muscle, of course) and away I went.
I chose pre-mixed latex paint from Walmart in Country White, which is a little softer than a stark white color.  A regular 'ol Wooster brush and very light sanding left me without visible brush marks. After my last coat I let everything dry for 24 hours.
For the final coat I used Minwax Polycrilic for a durable finish.  A foam brush seems to work best with this product to avoid any brush marks.
Last, I re-installed the metal radiator covers that my husband kindly spray painted for me (thank you!) since I am 6 months pregnant.  Spray paint and oil based paints are a huge no-no when pregnant, but water based stuff seems to be okay as long as you are in a well-ventilated area.
So here she is all shiny and new!  I left the top stained to match our other furniture in the living room and to coordinate with the new hardwood floors. I love how it pops against the dark floor.