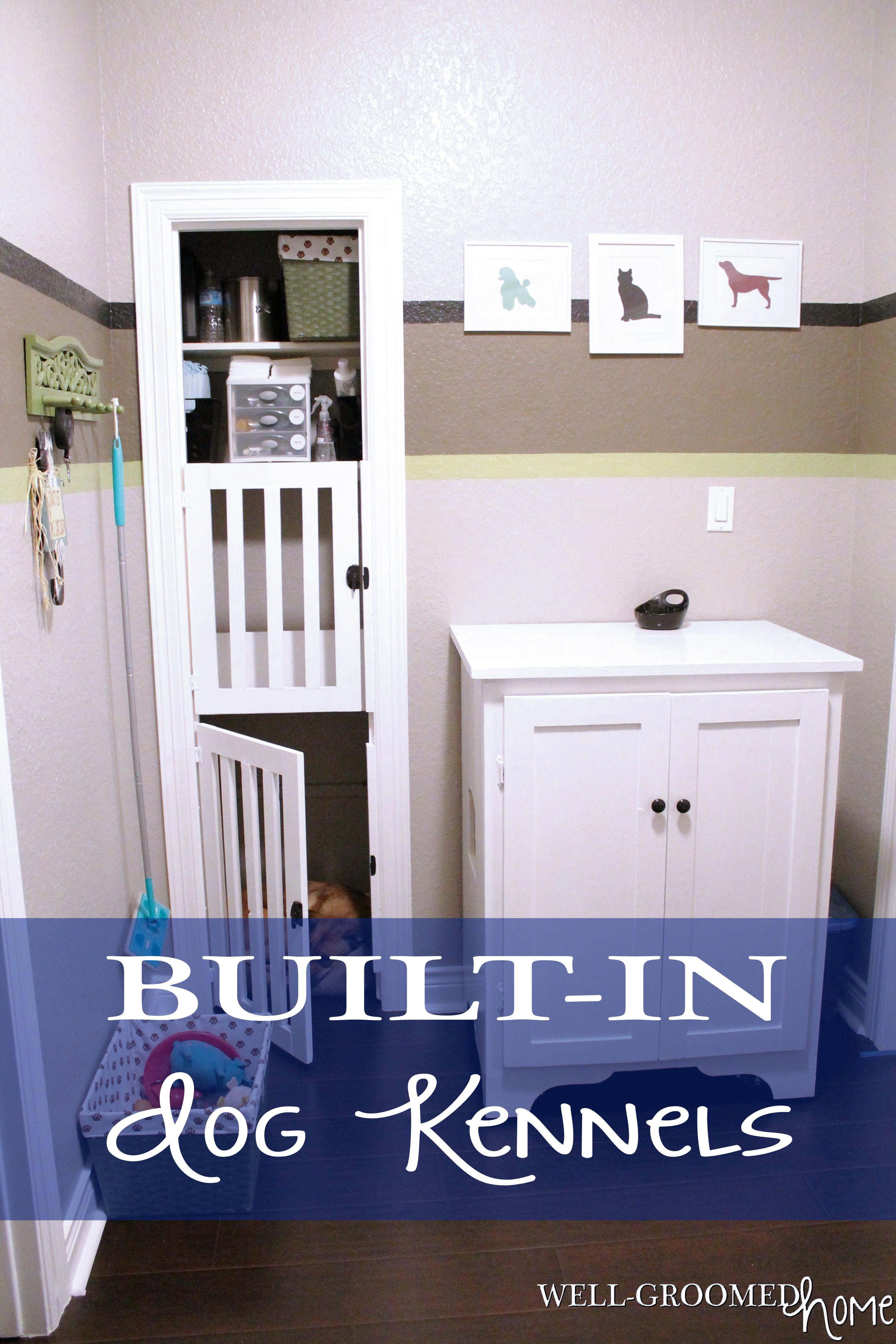 Last year I showed you my solution to the two large kennels taking over our lives.  It worked for the time being and for the most part I was happy with it…but as my husband says , "I can't ever leave anything alone" and I knew I could make it better without sacrificing so much space.  Our garage entrance felt congested to me with the kennels (see photo below) and the cat cabinet so I started researching some built-in dog kennel options.
Nothing I found really fit my needs and budget, although I found some inspiration on Pinterest.  I also researched the size kennel my dogs actually need.  Need.  I put my tiny poodle in something way too big and so unfortunately, he was using half of it as a bathroom.  Gross.  Every day we came home to a smelly mess. Basically, dog experts say that pups only need a kennel large enough to stand up, turn around, and lie down.  Anything else is too big.
My idea began in the former pet storage closet.  I wanted to create some built in kennels and after getting my husband's 45 lb German shepherd-mix to try it on for size, I was convinced this was the best space for it.  The closet actually extends about 8 inches in both directions past the door frame, so it is much larger than it appears.  Once I got the final "okay" from DH I went into full-on demo mode (at 5 months pregnant nonetheless) and tore out all but two shelves. This is what was left:
With my pry bar in hand I took out all the remaining shelf supports and patched the walls in preparation for painting.  While the paint dried, I figured out my exact measurements for two built-in kennel spaces and two kennel doors.  For the doors I used the Kreg Jig Jr, which is a fraction of the cost of the regular Kreg Jig.  The only difference is that it doesn't have the attached clamp.  No problem for me, I have plenty of clamps. 🙂
I built the door frames out of plain 'ol pine and added the spindles using the same Kreg Jig pocket holes.
One door done and the dog has already claimed her spot.
I didn't want to ruin the face of the molding on the door frame so I attached my hinges at a 90 degree angle and added an additional 1×2 for the lock on the opposite side.
Next, I built the shelf / floor for the top kennel and then duplicated the door.  Once I was sure everything fit and lined up nicely, I took off the door lock and primed the wood with Zinsser.  Once that dried a quick couple of coats of Behr in basic white made them match the trim perfectly.
I could barely wait for the paint to dry before reattaching the locks. I picked these up at Lowes and I think they are just too cute.
Inside the upper kennel I put a partition at the edge of the shelf to keep the poodle from scratching the door to pieces.  He gets a little anxious sometimes… Water and food bowls are mounted to the side and everything inside got a fresh coat of paint for easy clean-up.
The supplies were relocated to the top two shelves and I did a little purging to make everything fit nicely.  Our dogs are spoiled and they we had accumulated waaay too much stuff!
Of course, I still had to label everything.
I used the existing leash hooks to hold my Swiffer for easy reach cleaning of our new hardwoods.  Yes, we finally installed the hardwood floors (tour coming soon)!  In reality I think this is what inspired these built in kennels, because I just couldn't stand hiding my beautiful new floors under those massive kennels!
And finally…one final look at this lovely new space for my puppies! I adore it!