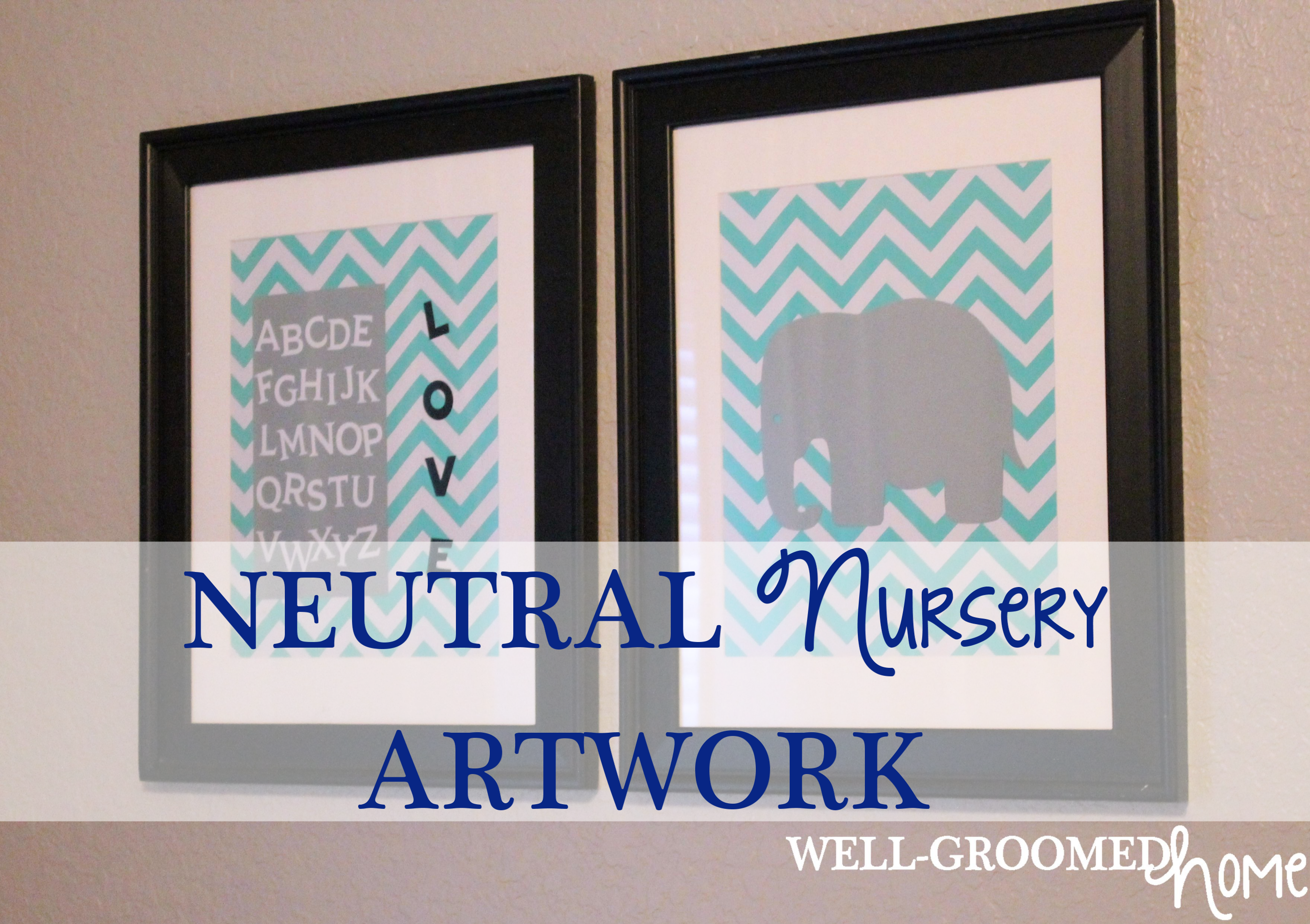 This has got to be the easiest neutral nursery artwork project ever.  I love how it turned out and I couldn't be happier to share the process with you!  I completed two custom art pieces ( 16×20 each) for less than $5.00! This is what you'll need to make amazing artwork of your own:
Materials Needed:
Wrapping paper (purchased from Target @ $2.99)
2 large frames (had on hand – free!)
Artwork template (elephant provided)
12 x12 Cardstock (had on hand – free!)
Scrap-booking sticker letters (Hobby Lobby @ $1.99 per package)
Step 1:  Take your wrapping paper and use the frame backing, glass, or in my case, the inner matting, and trace the shape onto the wrapping paper.  Make sure the pattern is straight!
Step 2: Tape the wrapping paper to the back of the frame, so it doesn't shift or move inside the frame.  Double sided tape obviously works best, but since I didn't have any I'm making tape loops, lol. Put the tape close to the edge so it isn't visible when the frame is put together.
This is the result below.  You can see that I left the bottom edge uncovered.  My frame backing slides into the frame edge so I had to leave it bare so the frame would still close without wrinkling the paper. Some trial and error here. 🙂
Step 3: I put the frame back together to make sure everything was straight and secure.  It actually looks cute just like this and could be a simple graphic, stand-alone print, but I wanted to add some more baby cuteness.
Step 4: Print out the elephant template (click here to download). Trace and cut out your elephant graphic on cardstock.
I searched online for an elephant graphic and found this one for free that I modified.  Feel free to use it as your template.  I printed it on an 8.5 x 11 sheet of paper in Landscape view as large as I could get it on the page.  Then I cut it out and traced it onto my cardstock.
The smarter thing would have been to trace it in the opposite direction that I wanted it to face in the frame, but I am obviously dealing with pregnancy brain so that didn't happen.  I had to trace it lightly with a pencil so I didn't see any lines after I cut it out.
To make the eye circle I used a single hole punch.
Step 5:  Secure the elephant to the wrapping paper background using double sided tape.
Done.  It only took about 15 minutes start to finish!
The 2nd frame doesn't require much explanation.  I used a scrap piece of cardstock with the sticker letters on it and then more scrapbook letters in black for the word LOVE.  Simple and cost effective neutral nursery artwork!