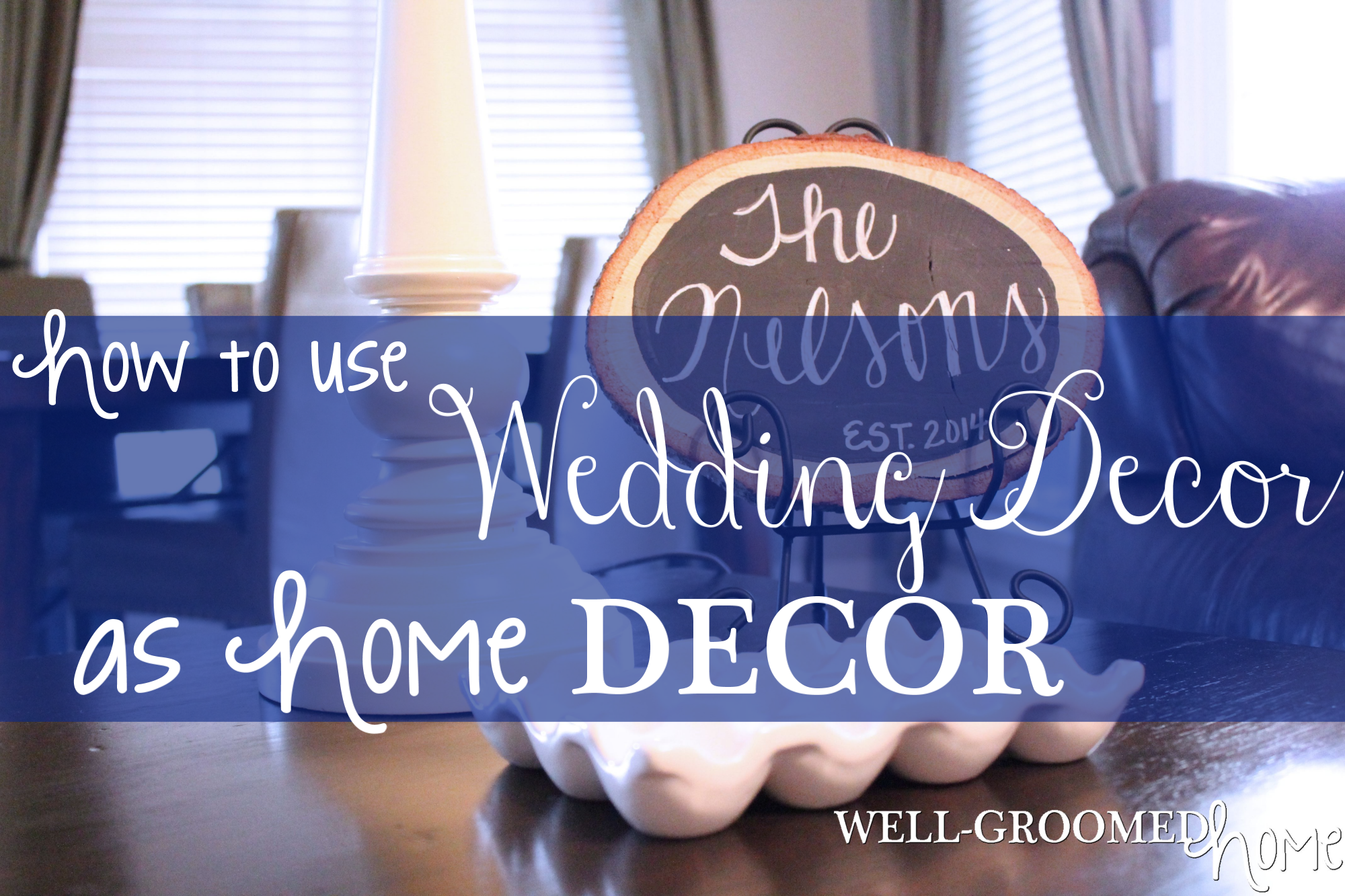 Like most brides, I ended up with quite a bit of "stuff" after our wedding. This left me wondering what I should realistically keep and what I should sell / donate or get rid of.  I decided that most of the personal touches were too precious to get rid of since many were hand made by myself and my husband (you can see everything we made in the DIY Wedding Journey)…so I did what I could to make it less wedding-ish and re-purposed it as home decor.
The most obvious item to keep was the pallet wood made into our welcome sign at the reception.  This was moved into our bedroom as artwork above our bed.  It fits in perfectly with our decor and is a daily reminder of that special day.
The framed photos were easy.  We originally used these around the cake and on the favor table, so these made an easy transition to our living room.
The wood slices were some of my favorite things at the wedding.  We used them as centerpiece parts, pew decor, cake stands, and many other little accents.  The medium one acts as a little message board in our living room.
While a smaller one is hung in our entry way.
The menu window got a spot between the dining room and kitchen.  Yes, it needs to be erased! Eventually, I will have the courage to erase the chalk marker and actually use it as a menu for special occasions or even every day. Almost two months married and I'm just not ready to wipe it clean though!
The last pallet project is a display of our engagement photos.  However, since the photos are only hung by a clothespin I can easily change them out.  It will always have a special wedding element with our names at the top, but it can be updated as years go by with new photos. A new table or bench below it and soon it will blend in without anyone really knowing it was from our wedding.
I love that I can incorporate the memories from our day through out our home without making it look like a recreation of the reception.
On an additional note:
Notice the greige paint?  I recently updated 90% of the common areas in our house with this color.  That reveal will be posted very soon!