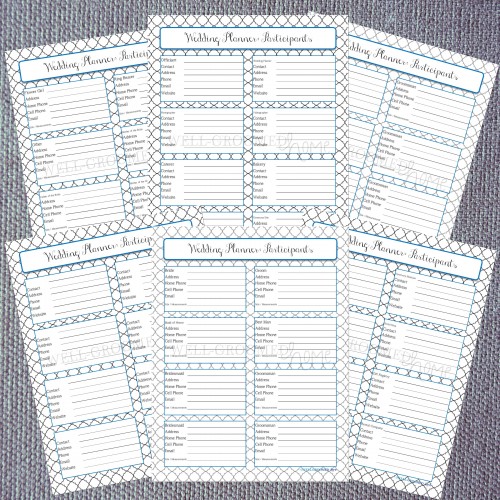 As my wedding draws near, I am reminded of how important organized wedding planning is to every aspect of this journey. No matter the size or formality, wedding planning is stressful and staying organized certainly does help a bride stay sane.
Create a System:
Wedding Binder:

I always wanted to purchase one of those cute wedding planning binders for sale at Michael's and Hobby Lobby, but knowing myself, I would have the entire binder taken apart in minutes and redesigned the system for my own needs.  So I opted to save the thirty plus dollars and make my own binder. Staying organized in a way that works for the individual is ultimately the only way to survive the stress that can suddenly overtake your once calm life during wedding planning. Having everything in one place and categorized is all that matters.  A binder is usually easiest, because it's portable, but an accordion file is also a practical option.
My categories include: Calendar, Guest List, Budget / Receipts, Photographer, Officiant, Venue, Cake / Flowers / Decor, Entertainment.  There are many other tabs you could include, but this is what works for me.  I like things printed and easily visible, so whenever I had a contract from a vendor I printed it and filed it away.  The binder can be as fancy or simple as you like, but when it comes to filing away all those ideas it's a necessary resource.  If you aren't good at designing a system from scratch, that's okay too, and investing in one of those cutesie planners may be worth it.  However, there are tons of online printables to help you design a planner to fit your needs and many are customizable.  Check out these in my Etsy store for some examples.
Digitally Organized: 

As an extension of your wedding binder the following tools can help keep you on track:

A simple flash drive

is also handy for storing electronic documents.  Make it match your binder tabs so that everything corresponds appropriately.  I saved inspiration photos, my digital invitation files, and all my budget information on my flash drive.  My budget is tracked on my computer, but my binder is a place to keep receipts from deposits and supplies. 

Pinterest

is another resource I utilize for organizing my inspirational photos.  Not only do I constantly pin things that inspired me, but when I find websites that have great tutorials, I make sure to pin something for easy reference.  Stay simple with one board for "Weddings" or create multiple planning boards for vendors, decorations, dresses, and more.  

Instagram

is another option for documenting wedding memories.  Many brides and grooms pick a hash tag and give it to their guests at the wedding. You can use the hash tag during the whole planning process to document those memories at your cake tasting, hair run-throughs, showers, and when you get your marriage license, to name a few. 

Wedding Websites and online calendars, like those from knot.com, are another way to keep guests in the loop and stay organized.  Also take advantage of other online calendars available through 

The Knot

,  

Wedding Channel

, 

Real Simple

, and 

Martha Stewart Weddings

. 

There are also tons of wedding planning

apps

for free and available to purchase that can help track your appointments and keep you on schedule.  Personally, I don't use any, because I find them to be over-complicated and full of information I won't use, but the important thing is find something that works for YOU!

Organized Emails:

I 

dedicated one email address

 to all of my wedding emails to vendors.  This way I knew exactly where to find them if I ever needed to reference something.  I was surprised by how many emails I collected when getting bids and discussing the details.  You may even consider creating an entirely new email account just for the wedding. 

I have made sure to

 periodically delete old emails

 from vendors I didn't contract with to avoid digital clutter. I am careful when deleting other vendor emails, because just in case, it's always handy to have written proof if there is ever a discrepancy.  

In my gmail account I made a 

separate folder for all wedding emails

 so that they didn't get lost in my other personal emails.  As soon as I gained a new contact, I made sure to categorize them appropriately.

Master To Do List:

As a list-lover I have the problem of making too many lists and forgetting which list is current.  In wedding planning mode I tried to curb this habit by having two master lists with me at all times.  The easiest place I found was on my phone – it's tied to me 24 hours a day.  In my iPhone Notes section I created a "Wedding To Do" list and a "Wedding Shopping" list.  I have trained myself to ONLY use these lists and update DAILY.  This has helped me a lot because if I'm sitting in traffic and daydreaming about the fact that I need to email the caterer, I can easily access my list with the voice command.  This has proven to be the least complicated way of remembering everything I need to do or buy. 

There are also programs like

 

Evernote

 

that will sync your master to do list to your phone or any other device with internet.  You can also keep notes with things like dress sizes, color swatches, photos of your centerpieces, and so much more, so you will not have to carry around as much stuff when you go shopping for the wedding.  You also can easily share with your loved ones some of the details you have picked out.
Realistic expectations:
Understanding that nothing is ever "perfect" is a difficult thing for someone like me.  I am the ultimate perfectionist and I always want a "do-over" when something isn't quite right.  This is obviously not practical for a wedding.  I can't say, "Oh excuse me, please can we do that over?  My walk down the aisle wasn't good enough and the flowers weren't perfect so let's try this again in an hour".  Ummm no.  I have repeatedly thought to myself that even with my detailed explanations and diagrams, the decor might not be arranged exactly as I envisioned it…and that's okay.
Delegating certain tasks is necessary and allowing other people to be in control is also necessary.  Like many brides, I want to be involved in everything and do everything myself, but that's not practical. I have had a hard time not micromanaging once a task is delegated.  The last thing I want to do is fight with my fiance over whether he has selected our processional music, so I have to remember to let HIM do it and not nag him.
Be flexible and remember that the MARRIAGE is the priority, not having the perfect shade of blue iris.
Communication:
This may seem obvious, because I know I have talked wedding planning to death, but making sure that my communication if effective is very important.  Communication with family, my fiance, and vendors about exactly what is needed and wanted has been top priority every step of the way.  I usually don't have a problem explaining exactly what I want and outlining every detail, but for those who don't find this easy try to correspond with vendors though email so there's a record of what's been agreed upon.
In face-to-face meetings make sure that everything agreed upon is clearly written out and READ it before you sign anything.  I was surprised at how many things I assumed would be included from my vendors were not.
Sort and Purge Often:
Whether it's emails, or paper clutter I always take time to sort and purge.  Purging my wedding binder frequently helps me avoid confusion, especially in the inspiration department.  By getting rid of items I don't need to wonder which boutonniere I was trying to duplicate or what table linens I decided on.
Don't allow things to pile up.  One quick way to add stress is to start neglecting your wedding binder, emails, or anything for that matter.  Ten minutes a day should be devoted to organizing all your files, receipts, and emails.
Breathe and Enjoy the Process:
It's easy to forget that this is one of the most exciting times in your life.  Take some time to breathe and step away from the planning.  Balance is extremely important and ultimately it's about building a successful marriage, not having the "best" party.