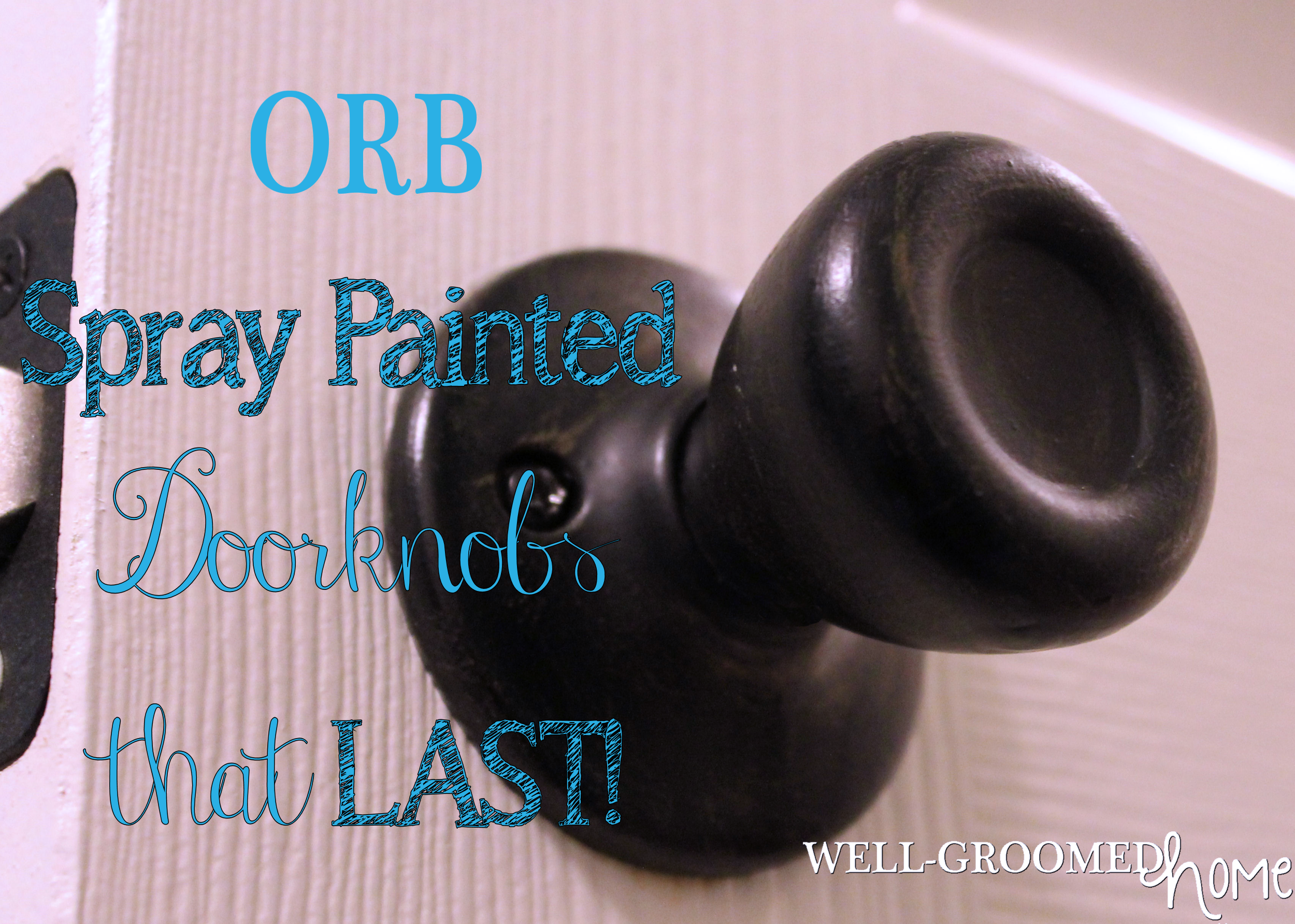 When we moved into this house all the door knobs were silver.  Totally fine and neutral, but not really my taste.  When I added up the cost to replace the door knobs in our whole house the total was well over a thousand dollars!  That was money I just couldn't spend on door knobs.
**UPDATE**  These door knobs have held strong for over a year now, with just a little wear on the plate where the door actually closes. The knobs look just as good as the day I did them!
We saved our budget by replacing the entry door knobs with Kwikset brand oil rubbed bronze hardware and the rest of the house was up to me…so I thought, "Can I spray paint these things?"  I worried about durability though. Would the paint chip off or scratch? Would it look hideously cheap?  I posted on how I transformed the lighting fixture in our dining room from builder beige to oil rubbed bronze here, but door knobs get a lot more use than a hanging chandelier.  All these thoughts rumbled around in my head…
I stumbled upon Rustoleum Oil Rubbed Bronze Spray Paint (paint and primer in one), which seemed too good to be true, but I decided to give it a try.
After removing all parts of the door knob from the door I gave each door knob a good cleaning with rubbing alcohol.  I taped off the interior parts of the knobs so I wouldn't get spray paint inside the mechanisms and went to town covering all sides of each door knob with light, even coats.  Spaying too heavily will result in drips that have to be sanded off…basically forcing you to start over from scratch.  Mom was right: patience is a virtue… even when spray painting.
I wanted the knobs to look a little more antique so I used a dry brushing technique and added some DecoArt Elegant Finish Metallic paint in Rich Espresso.  I found that the less paint I used, the better. I also tried to brush around the circumference of each knob rather than front to back to highlight the curves of the knob. This seemed to mimic the natural copper streaks seen on products like Delta brand faucets (one of my favorite ORBronze finishes)…and this was my result: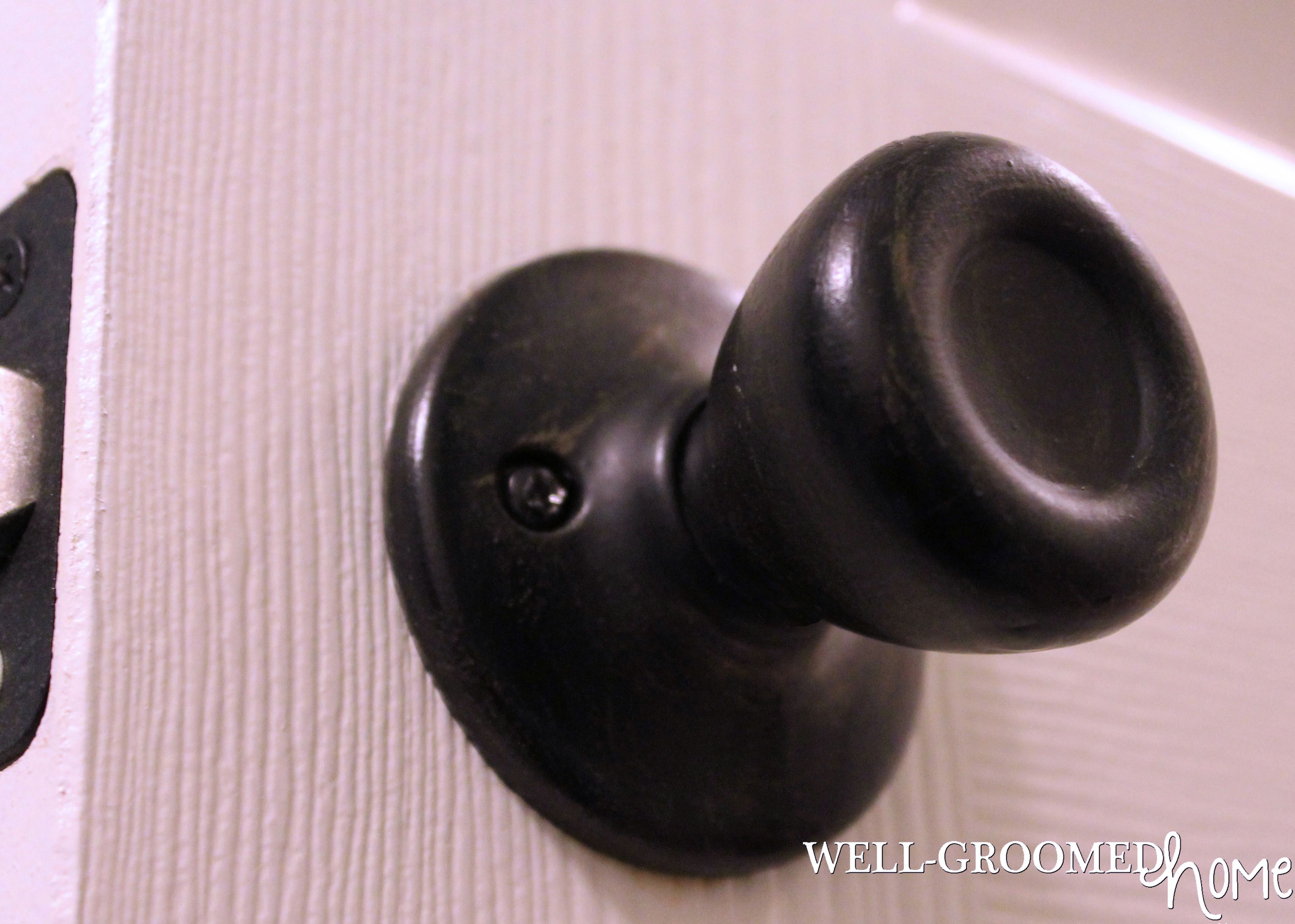 After everything was freshly painted, I still worried about how durable they would be on a daily basis.  So, I decided to experiment with one knob and coated it with some Minwax Polycrylic using a soft foam brush.
This stuff works well on furniture, so why no door knobs?  Plus, I figured if I ruined one knob experimenting, oh well.  It might not be necessary, but I am a worrier and I'd rather have double the protection than not enough.
Luckily it worked!  For the cost of some spray paint and a little polycrylic (and of course, my free labor!), I now have a house full of matching doorknobs.  Surprisingly, I am really pleased with how the Rustoleum Oil Rubbed Bronze Spray Paint performed.  It gave a really natural metallic finish and the DecoArt paint made them look a little less flat.  It was so easy to do I am actually looking around our house for more projects I can use it with. Ceiling fans maybe?  I think they are asking for it. 🙂