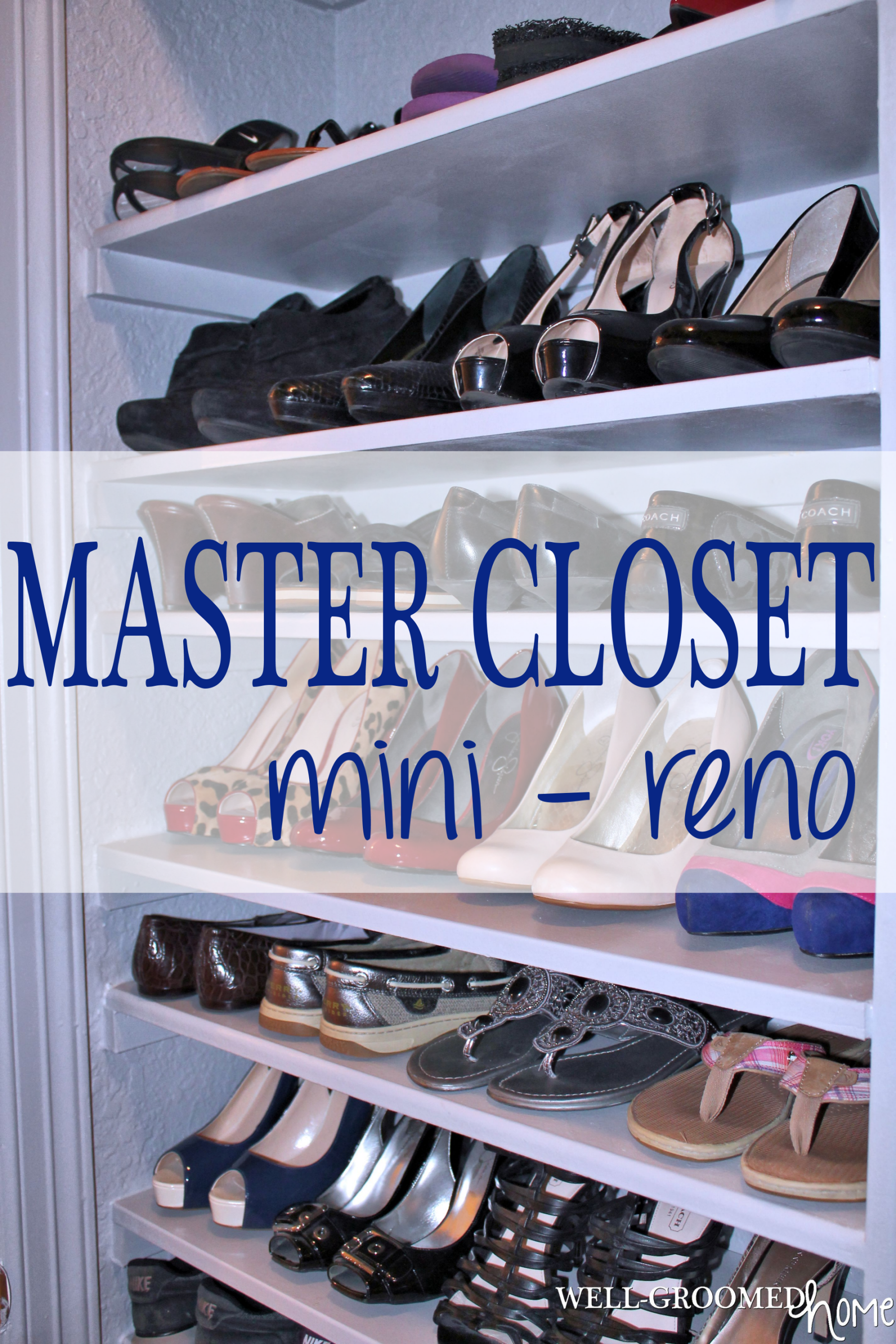 Our Master Bedroom closet has been a source of frustration since we moved in over a year ago.  It is very small for the size house we have and not very well organized.  One day I decided I had had enough and dragged my fiance to Home Depot for an organized closet solution.
We both like our clothes hanging, for the most part, and we both have quite a few shoes.  After looking at many organizing systems for closets online we decided that nothing really fit our needs and modifying our current layout was the only option. Our closet is an L shape and it had the builder grade wooden clothes bars already installed.  Since we needed more hanging space we decided to add two more clothes bars and shelves on top of each.  We bought heavy duty metal bars from Home Depot to support the weight of the clothes and used MDF boards for the shelves and a 1″x 2″ MDF support.
How to Build Custom Shelves: 
To hang the shelves I put support braces along 3 sides of each shelf (see above photo).  On the ends of the shelves I used rectangular braces that would eventually hold the closet bar supports.
First, I measured the length I needed and cut the 1″x 2″ support to fit underneath the back edge of the shelf.
To ensure I had straight and level shelves I used a 2 foot level to draw a nice straight line as a guide for my 1″x 2″ support.
Then I dry-fit the 1″x 2″ in place right along my straight line and nailed it up using finishing nails.  I used a countersink tool (like these pictured below) to tap the nails into the wood and filled the nail holes for a more professional look.
Next, I cut rectangles out of MDF board (I cropped the corner to match what the builder did) the same depth as the shelf and nailed those in place.  For me this was 11 3/4″ x 5″.
Once I had all my supports nailed in place I ran a small bead of Liquid Nails along the edge of my supports before putting my cut and measured MDF shelf in place.  The Liquid Nails is optional, but for me it is just added protection.  Once it dried I hammered nails every 6 inches into my support braces from the top of the shelf with finishing nails.
Before painting, I caulked all my seams.
After the shelves were in place I added the closet bar supports.  These were easily installed with a drill and some screws.  The heavy duty brushed nickel bars are a nice finishing touch.
In addition to more clothing shelves and rods, I added a shelves to the existing shoe shelf built-in.  Using the same shelf building techniques (minus the rectangular end supports) I placed shelves at 5 inch and 7 inch intervals to accommodate my heels and flats.  This way I could add more shelves and all my shoes would fit perfectly!
So after some measuring and building that became this:
I apologize some of my photo angles aren't the best; this closet was really awkward to photograph and the lighting isn't the best either! Okay, now where was I…shoes! They all have a home now!
I even made a smaller shoe "cabinet" for my fiance.
I can't forget the matching hangers!  We bought new matching non-slip thin hangers.  They aren't all Huggable Hangers brand, but they are the same color which makes for a uniform look.  They also maximize closet space more than I ever knew they could.  For suits and heavier jackets we opted for white wooden hangers from Ikea.
My fiance also has a rotating hat collection so I wanted to make something that he could store his hats on and see them all at once.  He's pretty tall so hanging this above the six foot door is still within reach for him. 🙂 He doesn't have a ton of hats, but if you have more this little project could be made bigger or smaller depending on your needs.
Hat Hanger How To:
I took a spare piece of lumber and covered it with chicken wire by wrapping the wire around the board and using a staple gun to secure it. Then I gave the board and wire a light and messy coat of grey spray paint.  Once dry I added some clothespins that I spray painted white.  The hats easily clip onto the chicken wire with clothespins and now he can see everything he has…if only he would always put them back! 🙂
Last I gave the entire closet a coat of soothing grey paint.  The uniformity of this paint color makes my wardrobe stand out and it's not jarring early in the morning when I'm getting dressed and half asleep. I was surprised that the premixed Walmart paint by Glidden in Pebble Grey covered as well as it did.
 Jeans, work-out clothes, and sweats are the few things we fold.  Having a dresser in our master bedroom takes care of most of these items, but jeans we fold and keep in the closet.  Metal bookends with labels help keep stacks separate.
A robe hook on the back of the closet door helps when picking out clothes to wear and it's also a good place to hang dry cleaning when we first bring it home.
In the photo below you can see that I up-cycled two old cabinet knobs and mounted them onto the side of my shoe shelf for another place to hang clothes when getting dressed.
Another finishing touch is this handy little silver hook I mounted right onto the wall.  It puts my belt organizer in plain sight instead of having it smashed up next to my clothes on the clothes bar.
Our laundry bins fit under a newly installed clothes bar and shelf.  I love these bins from Walmart.  Thin and lightweight and inexpensive.  We mounted this shelf and bar a little higher than normal so that these bins would fit under long hanging dresses and slacks.  Labels keep everything nicely sorted for laundry day.
It's still a small closet for two people, but with more hanging space, dressers in our bedroom for folded clothes, and maximized shelving, this closet isn't the pain it once was…and that makes me happy.